Paris Beauvais Airport Train (BVA) serving Ryanair, Wizz Air & Blue Air, is accessible by city train from Paris with either a shuttle bus or taxi completing the journey.  Beauvais Airport is actually located in Tillé, 3.5km north east of Beauvais.  There is no train station at the airport itself, unlike Aéroports Charles de Gaulle and Orly.
Overview
Train Line => Ter Line 19 – Paris / Persan-Beaumont / Beauvais
Departure/Terminus Stations => Gare du Nord (Paris) / Beauvais Gare SNCF (Beauvais)
Travel Time => Train 69 to 74 minutes + shuttle or taxi (30 min. or 10 min.)
Price => Train to Beauvais city center 12€ + 4€ (Shuttle) or 11€ (Taxi) to Airport.
First/Last Train Arrives at Beauvais at => 07:29 (09:08 sundays & holidays) / 22:01
Frequency of trains => Roughly every 40 minutes.
First/Last Train Departs Beauvais at => 05:08 (06:33 sundays/holidays) / 20:10
Details

To get to Beauvais Airport from Paris, one can take a Ter train (Transport Express Régional) from Gare du Nord station in Paris to Beauvais city center for 12€, then complete the journey to Beauvais Airport by either shuttle bus (4€/person) or taxi.  Taxis charge a flat rate between the train station and airport of 11€ between the hours of 7am and 7pm, 15€ otherwise, for up to 4 passengers, baggage handling included.
There is no city bus service between the two cities due to their small size.
Below is a Google map showing the car journey between Beauvais city centre and its airport in Tillé: (click on map to enlarge)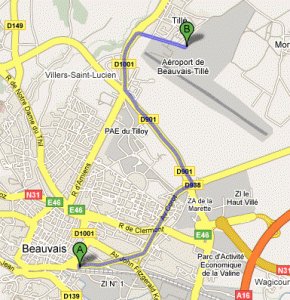 Here is a schedule of Ter trains departing Paris, Gare du Nord for Beauvais city centre: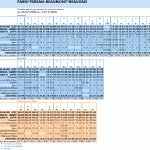 Here are timetables/schedules for trains departing Beauvais for Paris (Gare du Nord station):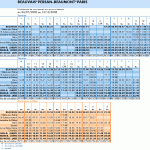 Click here to download the full Paris – Beauvais train schedule in PDF file format for more detail.  For translations of schedule notes (which are in French), see the Beauvais – Paris train schedule article.
You may also check schedules online at the ticket purchase sites listed further below.
The Beauvais train station – Airport shuttle bus schedule is shown on the following shuttle route map: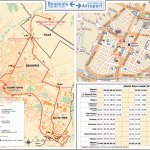 (Click on map to enlarge shuttle bus route map and schedule). Travel time of the shuttle from Beauvais train station at city centre to Beauvais airport is about 30 minutes.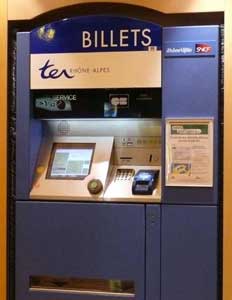 Train tickets for Paris to Beauvais are 12€ one way. Seating is non-reserved so it cannot sell out, thus reservations are not required.  This means you'll get the best price by purchasing tickets either at the Beauvais train station itself, either through a ticket window or at a automated ticket vending machine (shown on right) taking coins and smartchip credit cards. Vending machines like the one shown here is operated through a knob that is turned either clockwise or counter-clockwise to change on screen selections.  Pressing the button in the center of the knob makes a selection.
If you'd like to purchase tickets ahead of time online, for either home delivery or pickup at the train station, you can use the following web sites, depending on your place of residence:
These are all official partner sites of SNCF, the France National Railway Company.  Keep in mind that delivery fees may apply to your purchase, depending on where you live.
The train from Beauvais city centre to Paris – Gare du Nord station takes just over an hour.  From Gare du Nord you'll have access to Metro Lines 4 and 5 and RER lines B, D and E.  RER B connects to both Aéroport Charles de Gaulle and Paris-Orly.  RER D quickly whisks you to Gare de Lyon and RER E to Gare St-Lazare.  To get to Euro Disney from Paris after taking the Beauvais train, take the RER D to Gare de Lyon, then the RER A in direction Marne La Vallée Chessy, which is right at Parc Disneyland.
If you're continuing your journey on the Paris Metro or the RER you'll need to purchase a new ticket for the trip as this Ter journey is outside the fare zones within Ile-de-France (greater Paris Metropolitan area).  This can be done at ticket windows and ticket vending machines within the RER/Metro end of Gare du Nord (eastern half of station).  See the Gare du Nord photo tour for more information on this station.  See the guide to billet Ile-de-France ticket vending machines or Metro ticket vending machines for more information.