ORY to Paris
Line => OrlyVal + RER B (blue)
Direction => Mitry – Claye, Aéroport Charles de Gaulle
Change Trains at => Antony
First Train / Last Train to Paris => 06:00 / 23:00 (from Orly South Terminal)
Frequency => 4 to 7 minutes
Average Travel Time => 38 minutes
Cost => 12,05€ ; child 10,65€ (Orlyval train + Zone 4 => Zone 1)
Passes Accepted => Paris Visite 5 Zone (23,50€ /1 day-5 zone)
(Prices as of January 2015)
Details
The fastest transportation from Orly International Airport to central Paris is by train. After arriving at ORY, take the OrlyVal train from either Orly South (Orly Sud) or Orly West (Orly Ouest) terminal towards Paris. A change of trains is required once you arrive at the OrlyVal terminus (last) station: Antony. From Antony, take the RER B train line in the direction of Mitry-Claye, Aéroport Charles de Gaulle, which passes through central Paris stations Luxembourg (Jardin du Luxembourg), Saint Michel Notre Dame, Chatelet Les Halles, and finally Gare du Nord before leaving central Paris and continuing onto Aéroport Charles de Gaulle in Roissy.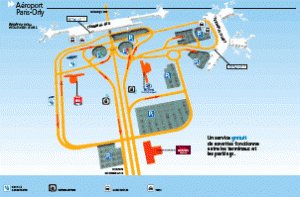 Travel time between Orly South and central Paris (station Chatelet Les Halles) is at longest 40 minutes, station to station, including changing trains at Antony. The travel time from Orly South to Antony is 8 minutes. If you're leaving from Orly West, travel time to Antony is 6 minutes. From Antony to Chatelet Les Halles station in Paris along RER B train line travel time is 25 minutes.
Keep in mind that the Pass Navigo Découverte for Paris is not valid for the OrlyVal train, even if you have the required zones (4 zone) purchased. If you have a Pass Navigo / Carte Orange with at least 4 zones purchased, it would be best to purchase a single ticket for the OrlyVal train just to Antony at a cost of 9,30€ and from there use your Passe Navigo for the RER B line to Paris. A single ticket (a billet Ile-de-France) for the entire journey between Orly and central Paris will cost 12,05€ (adult) and 10,65€ (children).
The cheaper option, avoiding the OrlyVal train fee altogether, would be to take the RER C line from Gare d'Austerlitz towards Massy Palaiseau getting off at station Pont de Rungis – Aeroport d'Orly and then taking the Aeroport de Paris shuttles to the Orly terminals.