This is an overview of how to travel from Charles de Gaulle-CDG Airport to Central Paris by city train (RER B). For instructions in the opposite direction see Paris to Airport CDG by Train.
For step-by-step photo instructions see Terminal 2 to Paris by train or Terminal 1 to Paris by train.
CDG to Paris Overview
Line => RER B (Blue)

Direction => Paris (Robinson, Antony, St-Rémy-lès-Chevreuse)
Arrival Stations => Gare du Nord, Châtelet les Halles, St Michel/Nôtre Dame, Luxembourg, Port Royal, Denfert-Rochereau, Cité Universitaire
Ticket => "Billet Ile-de-France" Aéroport CDG – Paris (Zone 5 -> Zone 1)
Cost => 10€ (adult fare) / 7€ (children 4 – 9) / free (children under 4) Prices updated January 2015
Passes Accepted => Paris Visite, Passe Navigo (Découverte)
First Train / Last RER B Train CDG to Paris => 04:56 / 23:50 (22:59 on 2015 construction dates. See RER-B Construction Impact below.)
Photo Guides: Terminal 1 to Paris, Terminal 2 to Paris
Safety/Security: Thieves work on this train!
Details – Charles de Gaulle to Paris Airport Train
About the RER B Train
The quickest & least expensive way from Roissy-Charles de Gaulle (CDG) Airport to Paris is by taking the RER B suburban city train leaving from either CDG Terminal 2 or Terminal 3/Roissypole.
The RER B train line runs north-south through the centre of Paris, stopping at Gare du Nord, the London to Paris Eurostar station, then at Châtelet Les Halles the "super" exchange station with 4 metro lines and 3 RER lines available, then Saint Michel/Nôtre Dame, Luxembourg, Port Royal, Denfert-Rochereau, Cité Universitaire, and continues south towards Orly Airport (requiring a transfer onto the OrlyVal metro at station Antony).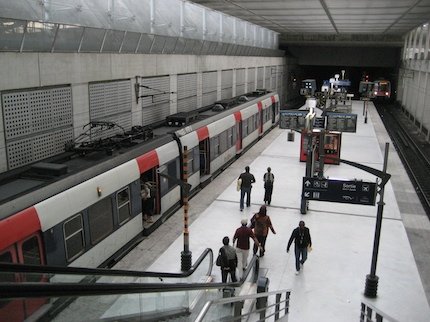 The two train stations at Charles de Gaulle Airport are named "Aéroport Charles de Gaulle 1" and "Aéroport Charles de Gaulle 2 – TGV", the first being located near Terminal 3 in the Roissypole building and the second located between Terminal 2E and 2C. (A map of CDG airport is provided below).
The first train leaving Charles de Gaulle Airport towards Paris departs at 4:56am from Terminal 2, stops at "Aéroport Charles de Gaulle 1" station two minutes later, and then reaches Gare du Nord in Paris at 5:26am.
The last RER B train leaving airport CDG for Paris departs at 11:56pm just before midnight (update: see warning below), arriving at Paris Gare du Nord at 12:26am. This train schedule from CDG to Paris is the same every day of the week, including holidays.  (For a complete timetable, see the schedule of RER B trains).
For normal first and last train times see this timetable of first/last Paris Metro and RER A and RER B trains.

** RER-B Construction Impact **
RER B Line improvement works cause last train depart CDG at 22:59 (10:59PM) on the following 2015 dates (inclusive):
January 12-16
March 23-27
March 30-31
April 1-3
June 15-19
A bus shuttle will replace service along the affected part of the RER B line between CDG Airport and station Aulnay-sous-Bois.  The RER B will operate normally between Aulnay-sous-Bois and Paris city-center. See construction bulletin (in French) for more information.
Where – CDG Airport Train Station
For step-by-step photo based instructions see either CDG Terminal 1 to Paris Photo Guide or CDG Terminal 2 to Paris Photo Guide.
If you're landing at Terminal 1 you'll have to take a shuttle train called CDGVAL to Terminal 3/Roissypole in order to catch the RER train.  The name of this station is "Aéroport Charles de Gaulle 1". Don't mistake the "1" in the name as meaning "Terminal 1″, it doesn't, it's simply the first of the two train stations at CDG Airport.  Just follow the signs for the CDGVAL tram within Terminal 1.
To make things more confusing, Terminal 3 is located between Terminals 1 and 2, so traveling from west to east across terminals you'll hit Terminal 1, then 3, then 2. Keep in mind that the CDGVAL tram stops at parking stations in between Terminals 1 and 3 (Parc P-r), and Terminals 3 and 2 (Park P-x), so don't get off CDGVAL too early. There will be voice announcements at each stop in French and English to help guide you.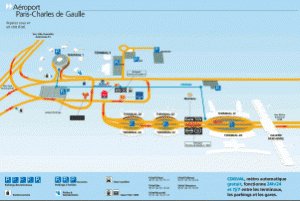 Map of (CDG) Charles de Gaulle Airport (PDF – Courtesy of ADP)
If you're landing at Terminal 2, keep in mind that there are 7 sub-terminals and you must make your way to the train station which is located between sub-terminals 2E and 2F.  There will be numerous signs through the terminals pointing towards the Paris RER train.
Buy Paris Train Tickets
At either the Aéroport Charles de Gaulle 1 train station, a large open concrete atrium, or Terminal 2 train station, a white, triple level, escalator extravaganza, you'll find plenty of ticket vending machines. Be sure to use the Billetterie Ile-de-France blue box machines and not the yellow SNCF TGV vending machines, as only the blue box machines sell tickets for the RER B line that you're after.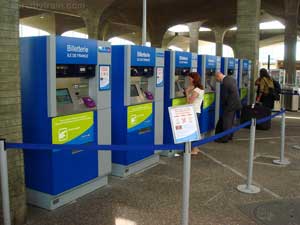 Even more important to note is that American and most other non-European credit cards (without smart chips and without 4 digit pin numbers) will not work with these machines. At the CDG 1 station there is a large ticket window with 3 SNCF employees that will be selling individual tickets for the RER. At Terminal 2 there is a dark glass paned room on the bottom floor, off to one side that will be selling RER tickets and SNCF/TGV tickets. If you're facing this glass room, the entry on the left will be for RER tickets to Paris. The entry on the right is only for tickets to other cities. Almost always there will be at least one ticket seller that speaks English and it will be noted by a little British flag on the corner of his or her window. Either way, you're looking to buy a ticket for "Paris Aller-Simple" [Pear-Ee Alleh-Som-pleh] which is a one way ticket. The price should be roughly €10 for adult tickets and €7 for children (9 and under) RER B train tickets to Paris.
Boarding the RER B Train
For Aéroport CDG 1 station it should be pretty obvious where the platform is as you can see it from the ticket machine areas and you'll see turnstiles with green lights on them. Terminal 2 is not much worse: simply follow the signs that say "Trains to Paris". It'll be quite difficult to miss and all trains from these platforms travel to Paris. You can view the television screens while on the platform to see all the stops the train will make. The stops should include Gare du Nord, Châtelet les Halles, St. Michel-Nôtre Dame, Luxembourg, and others. The four mentioned here are the ones that the majority of travelers will be looking for as they're all in central Paris. Gare du Nord is best for those going to a hotel near Sacré Coeur/Montmarte, Châtelet les Halles for those staying near the Louvre, St. Michel-Nôtre Dame is across the Seine (the Left Bank), and Luxembourg being near the Jardin du Luxembourg (Luxembourg Gardens).
For those extra keen travelers, there are "express" RER B trains that leave from both train stations. Simply look at the television screens on the platform and note how many stops are between CDG train stations and the four central Paris stations mentioned above. The express RER B train will go directly from Aéroport CDG 1 to Gare du Nord, without stopping at any stations in between. The regular train will make about 9 stops in between CDG Airport and Gare du Nord. You'll save roughly 12 minutes by taking one of the express trains, but even the non-express RER B will get you to Paris (Gare du Nord) in about 34 minutes.
Enjoy your stay!
Useful Links
RER B Train Schedule Airport Charles de Gaulle (CDG) to Paris Gare du Nord