These online Metro, RER, Trains, bus route & schedule tools will show you how to get from point A to point B. These route planners show required connections between train lines, travel times and ticket costs (some).
For TGV intercity train route planners & ticket sales, see below.
Route Planners for Paris and surrounding region (Ile-de-France)
Paris Route Planner for Metro, Bus, RER, Trams (RATP.fr) – For central Paris and suburbs connected by RER train (Versailles, Roissy [CDG Airport], Marne la Vallee [Euro Disney], etc.).  For a detailed example of using this Paris Metro Planner see CDG to Paris Metro Route Planner.
Paris Train Route & Schedule Finder (Transilien.com) – To and from major train stations in Paris to cities within surrounding Ile-de-France region. Major train stations in Paris are: Gare du Nord, Gare de Lyon, Gare de l'Est, Gare Montparnasse, Gare d'Austerlitz, Gare St. Lazare.
Detailed Itinerary Builder with fares (www.vianavigo.com – see extensive train route finder help documentation) – For all of central France (Paris + Ile-de-France) on all modes of public transportation. Includes fare prices.
Below is a photo of the route planner tool at RATP.fr.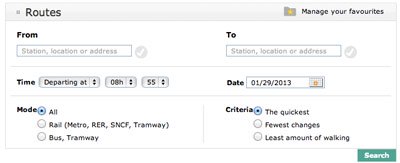 TGV Train Route Planner from Paris to other cities in France
TGV & InterCity Train Route Builder / Schedule Tool (www.Gares-en-mouvement.com) – Detailed route planner for train travel from major Paris train stations to cities within France. Includes TGV, Ter, Transilien, RER, Corail trains. No ticket sales. INSTRUCTIONS: First click on a blue dot to choose a departure station. On the following page, click Search the Timetable on the left column, last link, to access the route planner/scheduler.
Routes, Schedules, Ticket Sales for UK residents (Voyages SNCF UK)
Routes, Schedules, Ticket Sales for US residents (RailEurope.com)
Routes, Schedules, Ticket Sales for Canada residents (RailEurope.ca)
Routes, Schedules, Ticket Sales for Paris – London Train (Eurostar.com) – See notes on finding cheap Eurostar fares.
Routes, Schedules, Ticket Sales for Other Countries (TGV-Europe.com) – See notes on using TGV-Europe.com for ticket sales.
Useful Resources