The closest Paris Metro station to the Eiffel Tower is Champ de Mars / Tour Eiffel on line RER C. Other Metro stations close to the Eiffel Tower include Ecole Militaire on Line 8, and Bir-Hakeim on Line 6.
The best view of the Eiffel Tower is actually from the opposite side of the river Seine at the Trocadéro, accessed by station Trocadéro on metro line 9 and line 6. The picture of the Eiffel Tower here is from the Trocadero.
(Photo by Edgley Cesar)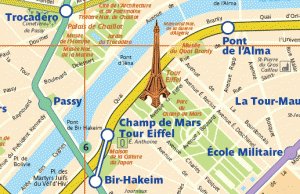 (Map courtesy of RATP)
Links
Compact Printable Metro/RER Map
Full Size Paris Metro/RER Map (PDF)

What Next?
Search this site:


Ask a question

on the Paris by Train forums and we'll get back to you personally with an answer. (Or visit the forum archive).
Save this page using a bookmarking site from the button below. Then you'll have this information accessible later from any computer, anywhere in the world (like Paris!).
Related Articles:
Tags: bir-hakeim, champ de mars, ecole militaire, eiffel tower, tour eiffel, trocadero