Paris Metro subway – Maps, hours, tickets, passes & more
Below you'll get Paris subway maps, hours, info on tickets, day passes & Navigo week passes, zones and learn how to use the Paris Metro in this first of a series of articles.


The Paris Subway / Paris Underground has over 300 Paris Metro stations on 16 lines covering the 10x10km area of central Paris. [1][2] Metro Paris lines are numbered from 1 to 14 with two "bis" or secondary lines 3b and 7b.

Paris Metro Maps
Here you can download three different Paris subway system maps to help you see all 16 Paris Metro lines and help you plan a route:
a basic Paris Metro map of lines with stations and interchanges (PDF – opens a new window)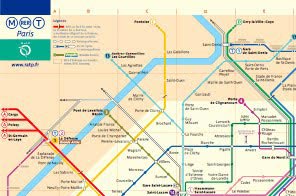 a condensed small format Paris subway map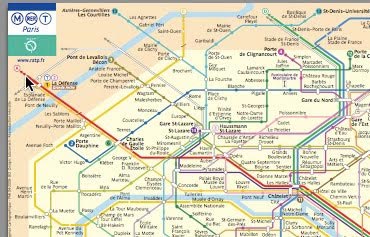 a Paris Metro map with city streets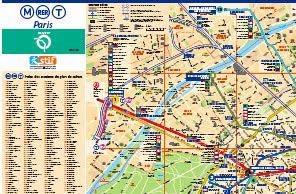 Other Metro maps such as individual line maps can be downloaded directly from RATP.fr (in french).  Note that there are no Paris Metro Zones for the Metro system. The Paris Metro is a single zone (even if some lines reach into zone 3).  The zones visible on some older Paris Metro / RER maps are for RER trains which are subject to fare zones.
Paris Metro Hours

Paris Metro hours run from roughly 05:30 to 00:40 (5:30am – 12:40am) Sunday thru Thursday and 05:30 – 01:40 on Fridays, Saturdays and on days before a holiday. Paris Metro times between trains range from 2 minutes during rush hour up to 13 minutes during late night hours, holidays, and Sundays, depending on the Metro line and the Metro station.  For example, Metro line 1 time between trains ranges from 2 minutes in morning/evening rush hours to every 5 minutes after midnight (Metro Line 1 is arguably the most central & popular Paris Metro line).  The outer ends of Metro line 13 which splits into two separate lines in the outskirts, late night trains can run as slow as every 13 minutes as trains alternate between each end, effectively halving the frequency of train service.  On average, expect 8-10 minutes between train times in the late evening and 2-4 minutes during rush hours.
Download a Paris Metro timetable showing first and last Paris Metro trains. Paris Metro hours change very little year-to-year and the RATP has stopped producing this full schedule in 2013 so this timetable of Metro Paris times is still useful to find Paris Metro opening hours and closing time. Times are approximate! This includes times of first train / last train of Paris RER A (Disneyland) and RER B (airport).
Route Planning
The RATP offers a route planner via their website which can use street addresses, station names or well known locations to create a travel itinerary for you, including necessary connections and total travel time. Route options under "Criteria" can be chosen for fewest connections, least amount of walking and quickest route (the default).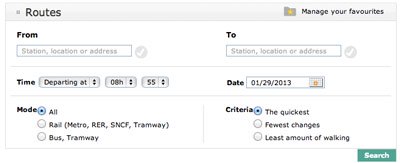 Tickets & Passes
The Paris tube has a wide variety of tickets available while I'll describe in detail below: single ride tickets, books of 10 or 20, preloaded ticket cards, single day passes, multi-day passes, youth weekend passes, Monday to Sunday week passes, monthly passes and year passes.
Zones
Regarding fares for different zones: Paris Metro zones don't exist! The entire Paris underground is one zone, unlike the Paris RER trains which have zones & different fares per zones traveled.  Even though a few Paris Metro stations are actually outside of Paris fare zone 1, a single Paris Metro ticket is still valid for travel from inside zone 1 and ending at a Metro station outside of Paris zone 1.
Paris Metro Prices
Paris Metro prices as of Jan. 1, 2023 is 2.10€ for a one-way ride lasting up to 2 hours. There are a variety of Paris Metro tickets to buy and several Paris Metro Pass options shown in detail below.
Single Use Tickets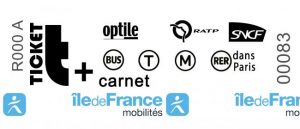 Basic Paris Metro tickets are known as "Ticket t+". These tickets are valid for a single continuous journey of any length throughout the Paris Metro system, including changes to other Metro lines and RER interurban trains within Zone 1. These tickets are sold as single one-way fares or in books of 10. If you want a return ticket, you simply buy two Metro tickets. Paris Metro tickets have no expiry; You can use them at any time in the future.
Tickets can be purchased from ticket windows inside stations or through automated ticket vending machines accepting Euro coins and smart chip credit cards. The single ticket price as of Jan. 1, 2023 is 2.10€.
Books of ten, called a "carnet" [kar-nay], are sold at a discount for 19.10€ (paper tickets) or 16.90€ if put on Navigo Easy (1.91€ / 1.69€ each, a little under 20% off the regular fare). Children from ages 4 to 9 years old (inclusive) can use reduced fare tickets, which are available only in books of 10, for 9.55€ per book of ten. Children 3 and under ride for free. Keep in mind that non-smart chip credit cards will not work at either the automated ticket machines nor at ticket windows, thus Euro cash or coin would be required.
Read more about Paris Metro Tickets and transfers allowed.
Ticket Cards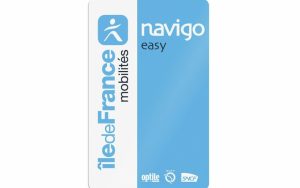 In 2019 Paris introduced a ticket card called Navigo Easy which holds digital single-use Paris Metro tickets. Holding up to 30 Paris Metro tickets, a Navigo Easy ticket card can be reloaded and used over a period of ten years. Navigo Easy also holds Navigo Day Passes and tickets for Roissybus and Orlybus.
Read more about Paris Metro ticket cards on the Navigo Easy page.
Day tickets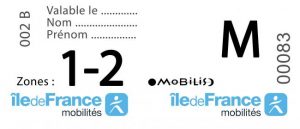 A day ticket is called the Ticket Mobilis which is good for unlimited rides on the Metro system during operating hours for the day it is used. (Now valid for airports, see note below.) Physically it's a coupon of about the same size as the Paris Metro Ticket t+.
Ticket Mobilis is available in various fare zone coverage from 1-2 zones to 1-5 zones. If you'll be traveling strictly within central Paris, zones 1 & 2 cover the entire Metro system, and a 1-2 zone Ticket Mobilis is the recommended ticket. Price as of Jan 1, 2023 is 8.45€.
The complete price schedule for Ticket Mobilis as of Jan 1, 2023 is as follows:
Ticket Mobilis Prices




Adult & Child (no discounts by age)

| Zones | Coverage | Price |
| --- | --- | --- |
| 1 – 2 | Central Paris | 8.45€ |
| 1 – 3 | Central Paris + La Défense | 11.30€ |
| 1 – 4 | Paris + Versailles + ORY | 14€ |
| 1 – 5 | Paris + Versailles + ORY + Disney + CDG | 20.10€ |
As the Ticket Mobilis can be purchased on one day and used someday in the future you must print the date of use on the ticket before use. To prevent people sharing tickets, first and last names are also required.
Note: Ticket Mobilis day pass is now valid for Paris CDG Airport and Paris Orly Airport where previously (2017 & prior) Ticket Mobilis was only valid for airports by using Paris airport bus 350 or Paris airport bus 351 for CDG Airport and buses 183 or 285 or Tram 7 for Orly Airport.  (Non-express city buses means 2x-3x travel time.)   This means that RER B train, Roissybus, Orlybus are all now valid for the Mobilis day ticket. (Orlyval train is still excluded from use of any multi-use ticket except Paris Visite.)  This changed when the Navigo Day Pass was introduced which did cover CDG Airport / Orly Airport (granted you purchase 1-5 zones and 1-4 zones, respectively) and cost the same as a Ticket Mobilis 1-5 zone cards.  It would have been an awkward situation to have two multi-use day tickets/passes, Navigo Day and Ticket Mobilis both costing the same price but not providing the same access to airports, so the RATP decided to make both equal in terms of coverage.
Multi-Day Paris Metro Tickets
Multi-day tickets aimed at tourists and visitors are known as the Paris Visite, available in 3 zone and 5 zone versions, for 1, 2, 3 or 5 day lengths. Prices for duration and zones are as follows (updated as of Jan 1, 2023):
Paris Visite Adult Prices




Ages 12+

| Zones | 1-day | 2-day | 3-day | 5-day |
| --- | --- | --- | --- | --- |
| 1-3 Central Paris | 13.55€ | 22.05€ | 30.10€ | 43.30€ |
| 1-5 Paris+CDG/ORY | 28.50€ | 43.30€ | 60.70€ | 74.30€ |
Paris Visite Child Prices




Ages 4-11 (under 4: free)

| Zones | 1-day | 2-day | 3-day | 5-day |
| --- | --- | --- | --- | --- |
| 1-3 Central Paris | 6.75€ | 11€ | 15.05€ | 15.05€ |
| 1-5 Paris + CDG/ORY | 14.25€ | 21.65€ | 30.35€ | 37.15€ |
The Carte Paris Visite is a multi-use paper ticket coupon (similar to a Ticket Mobilis or Ticket t+). Formerly (prior to 2014) the Paris Visite also came with a black folding card which required the printed name of the bearer and the ticket coupon requires the card number and date of use to be written on in pen, as to avoid ticket sharing between passengers. This is no longer in practice as of mid-2014. You will only receive the white paper Paris Visite ticket itself.
Discounts to attractions in and around Paris are included with the Paris Visite card. (See the discounts on Paris Visite.) To take advantage of the discount at the attractions, simply present your Paris Visite ticket during its validity period (which you must mark on the ticket itself using a pen, along with your first & last name).
Buy Paris Visite Online – You can buy Paris Visite tickets online for home delivery through the Paris Visitor Bureau website, but I wouldn't recommend it due to the delivery cost. For USA/Canada/Australia/Japan (anywhere overseas) the cost of delivery is 24€ through DHL Express. In United Kingdom, delivery of Paris Visite is 14,50€. There is one free "delivery" option for buying Paris Visite online – pickup your Paris Visite at the Paris Visitor Bureau. But, I can't imagine why you'd purchase Paris Visite online to have it delivered to the Paris Visitor Bureau, in Paris, which would require a Metro ride in itself, a trip that would likely take 90 minutes round-trip from your hotel. You could just purchase the Paris Visite at any Metro ticket machine or ticket window, anywhere in Paris, at CDG/Orly airports or at any of the major intercity train stations throughout Paris.
Paris Metro Week Tickets/Passes
Week long tickets are sold in the form of plastic contactless smartcards known as a Navigo Pass or more precisely the Navigo Decouverte Pass. (Navigo Découverte is for visitors while the Navigo Pass with a photo & name of owner is for local residents).

Navigo pass is valid for travel strictly from Monday till Sunday, rather than any continuous 7 day period, which makes it less attractive for visitors arriving mid-week.  You can buy Navigo for use in the current week from ticket windows at most Paris Metro, RER and large train stations up until Thursday 11:59 PM. Starting from Friday, week passes for the following week are on sale. The Pass Navigo Découverte week pass is not available from automated ticket vending machines. 4 different fare zones are available although nearly everyone will want all zones which covers central Paris out to zone 5 which includes CDG Airport & Disneyland.  The other three zones available (2-5, 3-5, 4-5) do not include central Paris. Navigo pass prices are as follows (Tarifs Semaine = Weekly Price, Tarifs Mois = Monthly Price, updated as of Jan 1, 2023):
Navigo Pass Prices Week + Month




Adult & Child (no discounts by age)

| Zones | Week | Month |
| --- | --- | --- |
| 1 – 5 | 30€ | 84.10€ |
Zones 1-5 will cover travel to & from Airports Charles de Gaulle (CDG) and Orly (ORY, by Orlybus, not Orlyval train), which are in zones 5 and 4 respectively and Paris-Versailles trains (zone 4).
The prices above do not include the 5€ fee for the plastic card itself, non-refundable, unlike the London Oyster card.
To purchase the pass Navigo Découverte you will be required to present and attach a face photo measuring 3cm tall x 2.5cm wide to the paper nominative card that comes in addition to the plastic smart-card. The paper identification part of Navigo Decouverte has a peel-off sticky section for holding your headshot photo.
Home printing of this photo is OK and colour is recommended. (There's no official statement that a black & white photo for Navigo is not accepted but I have been asked to use a color photo when presenting a black & white photo.) You will be required to print your name on this card as well. The contactless smart card and the paper card must be carried together to be valid for travel.
There is some confusion between the Carte Orange and Pass Navigo in terms of week passes. Carte Orange was previously a physical coupon like ticket (much like the Ticket Mobilis) and paper nominative photo card that is now no longer in use. This coupon and paper card has been replaced by the new contactless smart cards known as the Navigo Pass and Navigo Découverte Pass (for non-residents of France). The Paris regional transit authority has phased out the name "Carte Orange" as the name of the weekly or monthly "subscriptions" that you must purchase and "add" to your Pass Navigo or Navigo Découverte Pass.
Read more about the Navigo Decouverte card
Riding the Paris Metro
Paris Airports
Paris airports are accessible via the RER train system, rather than the Paris Metro. See instructions on the RER B from CDG to Paris, Orly to Paris and Paris Beauvais Airport Train for more information.
Paris Stations & Metro Tickets
Most of Paris' 300 Metro stations are located underground with a handful above ground. Stations are marked with various styles of signs as shown below.
Photo jmanners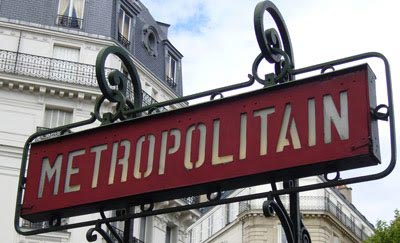 Photo tinkerbells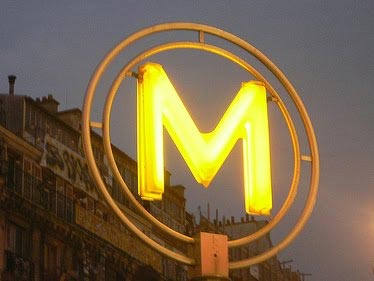 Photo SarahR89
Some Metro stations are joined with large train stations ("gare") serving other types rail transport such as intercity surface trains and RER regional express trains which travel both above and below ground. Some notable large stations within Paris serving all three types of train transport include: Gare St. Lazare, Gare du Nord , Gare de l'Est, Gare de Lyon, Gare d'Austerlitz and Gare Montparnasse. Most stations and Paris Metro lines are not handicap accessible save for a few exceptions . Stations have multiple entrances/exits, up to ten for the largest underground station, Chatelet Les Halles.
Photo Mirka23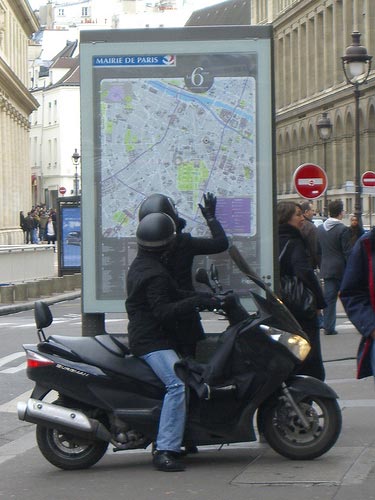 Street maps are posted throughout central Paris providing information on the local district ("arrondissement"). These maps can be useful in locating nearby Metro stations.
How to buy Paris Metro Tickets
This next section shows how to buy tickets for Paris Metro at ticket machines, staffed ticket windows and how to buy Paris Metro online tickets (with a delivery fee).

Buying Paris Metro Tickets at Ticket Machines
Within a Paris Metro station, Paris Metro tickets (but not all pass cards) can always be purchased from automated vending Metro ticket machines.  You can buy Paris Metro cards / day / week passes from any Metro station ticket window, but only a few multiday Paris Metro cards can be bought through Paris Metro ticket machines such as the Paris Visite card and Ticket Mobilis day ticket.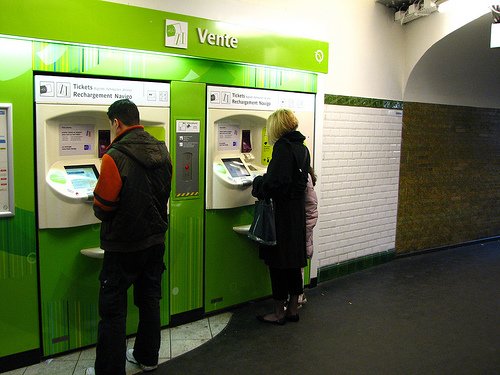 Metro Ticket Machine Payment Methods
Paris Metro ticket machines all accept Euro coins (for purchases up to 30€) and European debit cards (with smart chip) as payment.  Visa and Mastercard credit cards are accepted for buying tickets at most Paris Metro ticket machines and ticket windows.  American Express / Amex is not accepted for Paris train tickets at vending machines nor ticket windows. Some combined Metro/RER/Transilien ticket machines (one example pictured below) at major train stations (Gare du Nord, Gare de Lyon, etc.) and airports such as CDG Airport train station or Orly Airport, accept Euro coins, Visa & Mastercard credit cards, French and foreign chip debit cards, but Paris Metro station ticket machines inside of central Paris Metro stations usually do not accept cash notes for payment.
Below is a photo of several combined Paris Metro / RER / Transilien ticket machines found at RER train stations, large main-line (Grandes Lignes) train stations like Gare du Nord, and any combined Metro/RER station.
Every Paris Metro/RER ticket vending machine accepts Visa/Mastercard credit cards (not AMEX), Carte Bleu (French debit card), foreign chip-enabled debit cards, and Euro coins (2€, 1€, 0.50, 0.25, 0.10, 0.05 Euro coin denominations). The newest machines accept Visa Mastercard tap to pay option as well, visible as the yellow pad. The blue square pad to the right of the PIN pad is a Navigo reader, used for recharging Navigo cards.
Paris Metro ticket machine Navigo card reader recharge pads are often circular and purple like in the below photo:
See Paris Metro ticket machines for step-by-step details on buying Paris Metro tickets from automated ticket vending machines inside central Paris or combined Metro/RER/Transilien ticket machines for buying Paris transportation tickets/passes from machines found at major Paris train stations and Paris airports.
If you need to use a credit card to buy Paris Metro tickets or Paris Metro pass card and the automated ticket machine doesn't show a Visa or Mastercard symbol, then visit a ticket window to buy Metro tickets & Metro pass cards where you'll be able to use a credit card for the purchase.
Buying Paris Metro Tickets at Ticket Windows
You can also buy Paris Metro tickets from personnel staffed ticket windows at any Paris Metro station.  Keep in mind that Paris Metro stations often have several entrances and a manned ticket office is usually only open at one of those entrances at any given time.  The other Metro station entrances will have ticket machines and fare gates / turnstiles for pass card & ticket holders to enter without human staff nearby to help.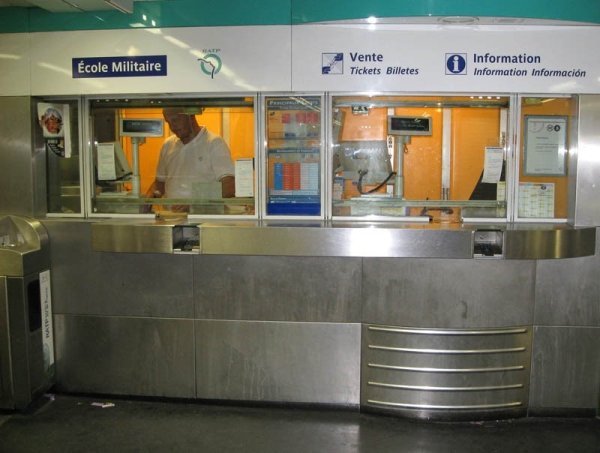 There are several different Paris transit passes / unlimited ride tickets and single-use tickets for Paris Metro, bus, tram or Paris RER and specific tickets for CDG airport and Orly airports by RER or Roissybus / Orlybus as shown on the below fares sheet:
The basic Paris Metro ticket is the Ticket t+.  When buying single Metro tickets you would ask: "Un ticket Metro" [ungh-teekay-mehtro].  This ticket is good for a single ride anywhere on the Paris Metro system, including transfers between Metro lines without zone limitations (or RER lines within Paris Zone 1), within 2 hours of validating the Paris Metro ticket using a turnstile or fare-gate.  Paris Metro tickets can be bought one day and used at any time in the future as they are validated / activated upon use (in a turnstile or fare-gate), not upon purchase.  See Paris Metro ticket t+ for detailed information on the basic Paris Metro ticket, costs, how to use it, etc.
Buy Paris Metro Tickets Online
To buy Paris Metro tickets online, you can visit the website of the Paris Convention and Visitors Bureau
The online Paris Metro ticket sales are sold in booklets of 10 Metro tickets. The price of online Paris Metro tickets is 18,60€ for adults and 8.20€ for children age 4-9, per booklet of 10 tickets, as of Nov. 1, 2019.  Online purchased Metro tickets are 10% more expensive than at Paris transport ticket windows in the city.  Paris Metro tickets can be used at any time in the future.  There are no expiry dates on Paris Metro tickets so they are essentially good for use at any time in the future after purchase.
The Paris Convention and Visitors Bureau online Paris Metro ticket sales have a delivery fee which is substantial.  As of Nov. 1, 2019 the delivery fee for online Paris Metro tickets is 12€ for delivery to a hotel in Paris.  Delivery fees for online Paris Metro tickets to cities outside of Paris by DHL courier cost a minimum 14,50€ to 22€ for EU countries and 24€ for USA/Canada/Australia and other countries to which delivery is possible.
Here is a complete list of countries & delivery fees that online purchased Paris Metro tickets can be delivered to:
Zone 1…………………………………………….€14.50
Austria, Belgium, Denmark, Finland, Germany, Gibraltar, Greece, Ireland, Italy, Luxembourg, Norway, Portugal, Scotland, Spain (except Canary Islands), Sweden, Switzerland, the Netherlands, Turkey and United Kingdom.
Zone 2…………………………………………………€22
Bulgaria, Croatia, Estonia, Hungary, Poland, Dem. Czech, Romania, Slovakia and Slovenia.
Zone 3…………………………………………………€24
Argentina, Australia, Brazil, Canada, Cayman Islands, Chile, China, Colombia, Costa Rica, Emirates, Guadeloupe, Hong Kong, Iceland, India, Indonesia, Israel, Japan, Lebanon, Malaysia, Martinique, Mexico, New Zealand, Oman, Philippines, Qatar, Reunion, Russia, Singapore, South Africa, South Korea, Thailand, Uruguay, USA and Venezuela.
If your country is not on the list above, unfortunately you cannot buy Paris Metro tickets online for home delivery from the Paris Convention & Visitor's Bureau.
There is an option of picking up online purchased Paris Metro tickets, but the pickup location is within central Paris at the Convention & Visitor's Bureau offices (29 rue de Rivoli 75004 Paris or Gare du Nord at 18 rue de Dunkerque 75010 Paris) which must be done between the hours of 10 AM and 6 PM and not on December 25/Christmas day.  Keep in mind that if you buy Paris Metro tickets online from the Bureau, the Paris Metro tickets are not available for pickup at CDG Airport nor Orly Airport.  In other words, it doesn't make much sense to purchase Paris Metro tickets online, fly into Paris and then have to pick up Metro tickets in Central Paris which would require you to visit a Paris public transportation ticket office beforehand where you could buy the exact same Metro tickets for 10% cheaper than you can online.
How to Use Paris Metro Tickets & Passes
After buying your Paris Metro ticket, we'll now show you how to use your ticket or Navigo pass card to get past fare gates, then get to train platforms, opening train car doors, etiquette on boarding, exiting, seating and more, to help you ride the Metro like a Parisien.
This section explains:
where to go after buying Metro tickets or passes from ticket windows or vending machines
how to use your Metro fare to pass through gates & turnstiles
how to get to the right Paris Metro train platform
Ticket Gates
Access to Paris Metro train platforms is controlled via turnstiles or gate type barriers.  After buying Paris Metro tickets from ticket windows or ticket machines make your way to the closest fare gates or turnstiles.  Below is a photo of typical Paris Metro fare gates which separates public spaces from areas reserved for Metro ticket & Navigo pass card holders.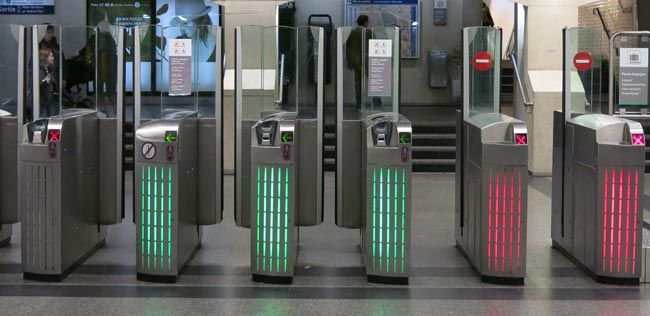 Recognize Different Fare Gates
Things to note about Paris Metro turnstiles & fare gates pictured above:
All green/green arrow Paris Metro turnstiles / fare gates accept Navigo pass cards
Some turnstiles are reserved for exiting the fare-paid area (red with X's)
Most Paris Metro fare gates accept both paper tickets & multi-use Metro cards
A few fare gates will only accept Navigo pass cards and no paper coupon-style tickets of any sort
The key point: choose an appropriate fare gate depending on the Paris Metro ticket or card you are holding.
Navigo Only Fare Gates
You don't want to walk up to a Navigo-card-only "reserved" gate holding a paper ticket, which won't be accepted, while a horde of hurried Parisians wait impatiently behind you to pass through and you are forced to apologize & weave your way back out past them to a line up for a different gate that will accept paper tickets.
Navigo reserved gates often have a sticker on the front indicating that no paper coupon Metro tickets can be used. If you're using Paris Metro Ticket t+… don't use these turnstiles / fare gates.  There are no slots for inserting paper coupon tickets and only have Navigo pass card readers.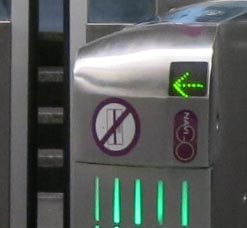 Open/Entry Gates vs. Closed/Exit Gates
Also, don't walk up to red color fare gates which are open by default, expecting to get past without using your Metro ticket or Navigo card.  These red exit gates will slam shut as you approach, preventing you from passing through and you cannot use your pass or ticket to open them.  They are reserved for exiting passengers only.
Most Paris Metro fare gates will have a ticket slot on the front, some with a green arrow pointing towards it, indicating this fare gate is open and ready to accept magnetic stripe coupon-style tickets such as Paris Metro Ticket t+, Paris Visite, Ticket Mobilis, RER tickets, etc.  Underneath the green arrow can be a sticker reading: NaviGO, showing that this turnstile also accepts Navigo pass cards, which are used by holding the Navigo card on the top of the ticket slot device, where a large purple circular reading pad is located (see image further below).
Inserting Tickets into Gates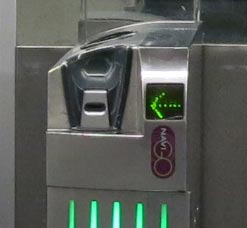 To operate a Paris Metro fare gate barrier or turnstile such as the ones pictured above with a Paris Metro ticket, insert the ticket magnetic stripe side down, into the barrier's ticket slot.  The ticket slot should be on your righthand side while inserting the ticket.  If you find yourself inserting a ticket on your left, you're opening the next gate over to your left, not the one you're currently standing in.
Upon inserting your Paris Metro ticket, it will be read, stamped (with a validation code) and then ejected at the top of the machine where you need to retrieve your ticket to open the gate / unlock the turnstile.
Collect Your Ticket to Pass
If the ticket is accepted, a short high pitched buzzing sound will be emitted, sometimes along with a message displayed on the turnstile requesting you take your ticket back ("Reprenez votre ticket"). Remove the ticket and walk through the turnstile or approach near the gate barrier and wait for it to open. Some gates are slow to open, especially double door gates which slide/retract outwards to let you pass. If your ticket appears to have been accepted, yet the gate has not swung open, be sure you have retaken your ticket from the top of the machine and that you're standing near enough to the gates in order to trip the visual sensor.  Be patient and don't panic. The gate should swing open within 5 seconds maximum. A ticket that is not accepted will cause the turnstile to emit a longer, lower pitched (unpleasant) buzzing noise, sometimes with a message in red indicating your ticket was not valid. Show your ticket to an employee at a ticket window or information booth for help in this case, saying your ticket does not work. They will usually open a wheelchair accessible gate for you to pass through.
Using Barrier Turnstiles
Pictured below is a turnstile barrier gate inside a Paris Metro station with a locking barricade behind the rotating arms of the turnstile to prevent people jumping over the bars.  Notice there is no green arrow near the ticket slot (it's located further below on the front face) nor is there a Navigo sticker on the front (although you will see a large purple Navigo card reader area on top of the machine).  After the turnstile has been unlocked/opened with your ticket inserted into the front slot, you will need to retrieve your validated ticket from the top of the barrier machine.  Your validated ticket will be located past the purple card reader, where there is a rectangular depression in the metal and a dark area, which has the ticket exit slot and a little mechanical rotating sign that will read: "Reprenez votre ticket" / "Retrieve your ticket".  Collect your validated ticket and walk through the barrier.  Be sure to keep your Metro ticket with you until you complete your journey and exit your final destination Metro station.  If you are intercepted by a ticket controller without your validated ticket or Navigo pass, you will be fined on the spot for 35€ for having a valid, but non-validated ticket (i.e. a ticket that wasn't put through a ticket reading machine on the turnstile or fare gate) or 50€ for not producing any valid ticket at all.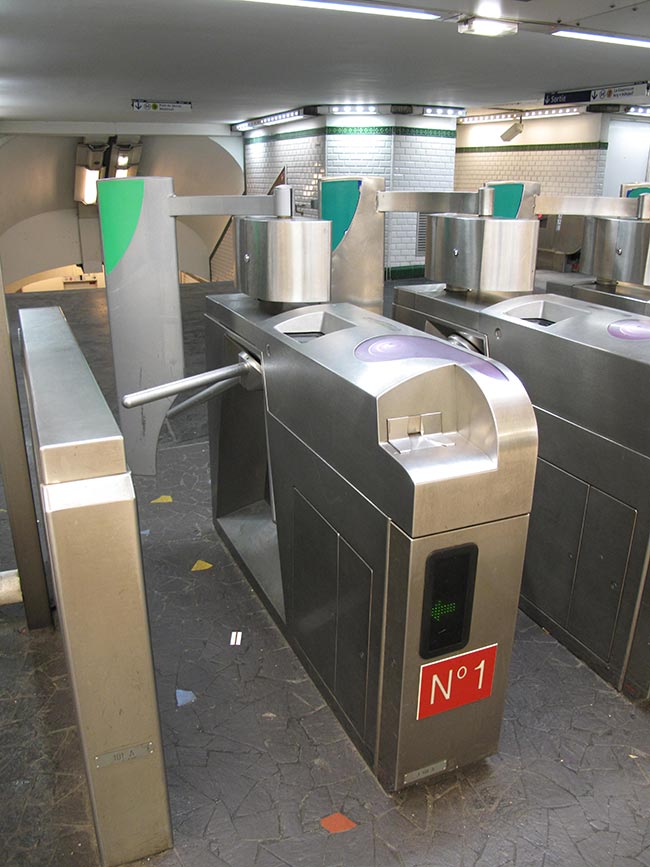 Using Navigo Passes
See the Paris Navigo pass article for details on using a Navigo on turnstiles & fare gates.
Find Your Metro Platform
Many Metro stations serve multiple lines through several different train platforms within a single station. To find your way to the correct platform in the correct direction requires that you to keep a mindful eye on signs posted throughout the pedestrian tunnels.
Metro Destination & Station Signs
At each subterranean intersection you will see Metro line numbers and possibly station names which are used to denote direction of travel. Direction of travel is always denoted by the terminus station, the last station or stop on the line, rather than magnetic pole directions such as north, south, east, west. To understand whether the line is going in the direction you wish to travel, you should refer a Paris Metro map, which are posted near station entrances and on all train platforms.
Next Train Signs
Nearly all train platforms have overhead signs showing the time remaining till the next two trains arrive at the station, denoted in minutes. These signs are also a way to verify that you're on the correct line, heading in the correct direction. The photo below shows Metro Line 4 in direction of Porte d'Orleans with 4 minutes remaining till the next train arrives. On the opposite side of this platform will be another sign of exact same color and number, but the direction will be marked as Porte de Clignancourt, the opposite direction.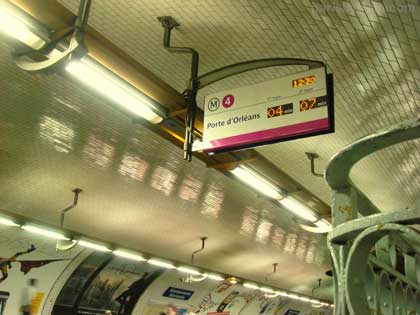 Keep in mind that the train arrival times posted on these signs are only estimates and are not always accurate. Due to traffic congestion and rider issues minutes may be added or subtracted at any moment.
On rare occasion, but worth mentioning, some Metro line platforms are accessed by traversing another platform for a different line. This means you'll arrive at a platform and think the current platform is the correct one, but in reality, your desired line is further along. Pay special attention to the overhead signs and the system maps posted on the platform walls to ensure you're on the correct platform.
How to Ride the Paris Metro
Now that you've got tickets and passed through Paris Metro turnstiles & gates we'll show you the physical details on how to ride a Paris Metro train such as opening train car doors, etiquette on boarding, exiting train when arriving at your Metro stop, seating and more, to help you ride the Metro like a Parisien.
Metro train cars come in a variety of different shapes, colors and sizes. Some Paris Metro trains are completely automated, without a driver/conductor, with automatically opening doors and in some stations, gates on the train station platform which close and open in sync with the Metro train car doors.
Photo daveknapik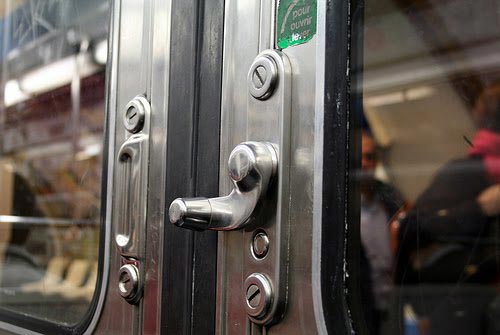 Opening Metro train car Doors
Nearly all Paris Metro train cars require a rider to use a lever or a button to manually open the train car door. If you are the person nearest the Paris Metro car door when the train arrives and there are no passengers exiting, who will open the door as they need to exit before you can enter, you will be expected to open the train car door. This is done through either a lever (older) or a button (newer) on the door itself near the center of the two sliding doors of a Metro car. Metro Line 14 is a notable exception being completely automated and driver-less.
To operate the lever, take hold of the handle that points toward you and rotate the lever upwards to unlatch the train car door. The doors will then slide apart (they are assisted by springs/air pressure) to allow you to enter. On occasion the Metro car doors can be sticky and do not slide open fully to let you enter. In this case a firm pull to the side with your hand on the door itself in the direction it was attempting to travel, will usually suffice to open the train car door the rest of the way.
Photo otherthings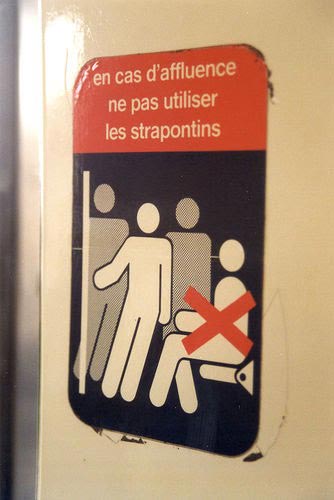 Using Paris Metro Seats
Fold-down seats are available just inside Metro train car doors (called strapontins), but these seats should only be used when there is sufficient space for travelers to easily enter and exit the train car. This means you shouldn't use these seats during rush hours as generally the Paris Metro will be too busy to use these seats. Instead, stand where the fold-down seats would otherwise be. Rush hour travel on the Paris Metro is a chance to exercise your "personal space" limits. Don't be surprised if you end up completely pressed up against other passengers. It's normal and commonplace, happening every rush hour… it's simply a slice of commuter life in Paris.
During busy hours on the Paris Metro, passengers are expected to move towards the center of the train car in order to make more space for passengers wanting to board the train car. There will be Metro passengers standing in the aisles of the train car holding on to the many hand holds placed at the tops of seatbacks, to vertical poles throughout the train car and poles attached along the ceilings of the train car, some with straps, some without.
Exiting
If you find yourself in the middle of the train car with your stop nearing, try to move closer to the doors during the arrival at the station before your desired stop. This puts you in a better position to exit the train when your Metro stop arrives. At each Paris Metro stop there will be an exchange of passengers getting off the train car and entering the car. When arriving at the station before your desired stop, join the group of passengers moving toward the exit, but stop short of the doors to allow other passengers to pass you to exit (and to enter). You want to be close to the doors for your exit, but not right in front as you would block those who need to exit/enter at this stop. Don't worry about not being able to descend the train when your stop arrives. Simply say "Excusez-moi" and people will immediately begin making room for you to alight, even if it requires that they descend the train also, just to let you off. Parisiens are very well versed in Metro manners and if you've read up to this point… you are now as well.
Exiting a Paris Metro station
After having arrived at your desired station you can make your way out of the station by following the blue "Sortie" signs.


These signs will often be mixed with directional signs for various Metro lines shared by a station. This photo shows the multitude of exits and lines available for both the Metro and the RER at the world's largest underground station: Chatelet Les Halles.
Each exit is usually referred to by the street or landmark upon which it exits.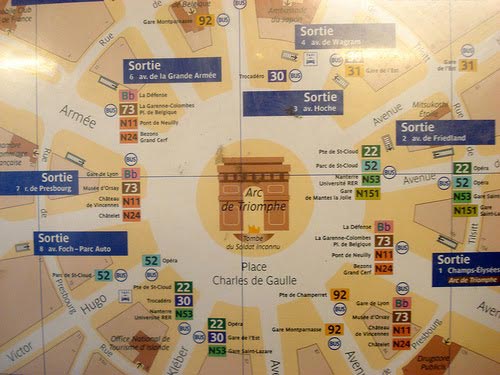 To determine which exit is best for you refer to an exit map located within the Metro station, usually just after exiting the fare paid zone.
To exit the fare paid zone within stations you'll either pass through exit turnstiles (look for green lights on the face of the turnstiles or for open gates) or through doors opened by pressure plates or infrared sensors.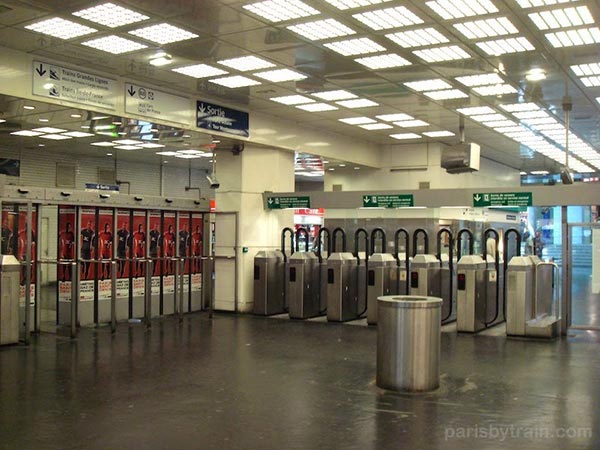 Frequently Asked Questions
Difference between Paris Metro and RER?
The Metro is a classic subway system: mostly underground, many stops, frequent service, short line distances, serving the urban city centre, non-scheduled train timings. The Paris RER (Réseau Express Régional) is a commuter train system that covers much of the greater metropolitan area of Paris (Ile-de-France ), much further out than that covered by the Metro, including specifically both Paris Airports: Paris Roissy-Charles de Gaulle (CDG) and Paris-Orly (ORY) , Disneyland® Paris, and Chateau Versailles. The confusing part is that the RER traverses central Paris with a handful of stations, acting like an express Metro system with fewer stops, larger trains and faster movement. Paris fare zones apply to the RER train system, unlike the Metro and there are five of them. Using a Paris Metro ticket, the Ticket t+, is permitted on the RER, but only to the limits of Zone 1, the true center of Paris, bordered by the ring road surrounding it, the Boulevard Periphérique.
What's the best ticket to buy?
If you arrive Monday to Thursday, Navigo Découverte week pass is nearly always your best option. If you arrive Friday to Sunday Navigo Day Pass, Mobilis day ticket, Paris Visite tickets are other options to consider. More info on choosing a Paris Metro pass and choosing what tickets to buy.
Have a question? Ask here and I'll answer it. Commonly asked questions will be reposted here.
Further Reading
Guides on Paris Airport trains, Paris Disneyland train and Paris train stations
History, facts and figures of the Paris Metro (wikipedia, en français )
Paris Regional Transport Authority, RATP (partial site available in in English )
References
STIF: Les Chiffes, 2005. "Le Reseau du Transports en Commun". http://www.stif-idf.fr
Extension of M14 & M13 lines in 2007 & 2008 has added 3 new stations, now totalling 300. http://extension-reseau.ratp.fr
What Next?
Paris Metro
was last modified:
December 21st, 2022
by