How to use the Paris Metro subway
Paris Metro maps, schedules, tickets, passes, helpful travel tips.

The Paris Metro consists of 300 stations on 16 lines covering the 10x10km area of central Paris. [1][2] Metro lines are numbered from 1 to 14 with two "bis" or secondary lines 3b and 7b.

Paris Metro Maps
The public transit authority of Paris (RATP) offers three Metro system maps that can be downloaded together at ParisByTrain.com :
a basic Paris Metro map of lines with stations and interchanges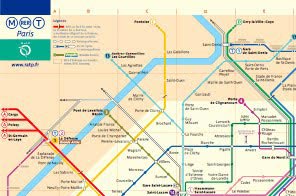 a condensed small format Paris Metro map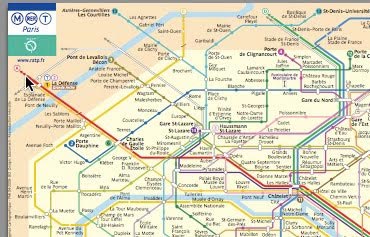 a Paris Metro map with city streets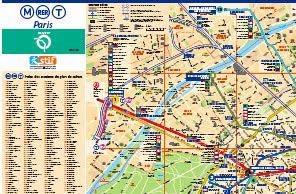 Other Metro maps such as individual line maps can be downloaded directly from RATP.fr (in french).
Paris Metro Schedules
The Paris Metro runs from roughly 05:30 till 00:40 (5:30am – 12:40am) Sunday thru Thursday and 05:30 – 01:40 on Fridays, Saturdays and on days before a holiday. Frequency between most trains range from 2 minutes during rush hour up to 8-10 minutes during off hours, holidays, and sundays.
Download a schedule/timetable of first and last Paris Metro trains. Updated January 2013. (Even though this is quite old, the times are roughly unchanged and the RATP has stopped producing this full schedule.) Times are approximate! This includes schedule of first/last Paris RER A (Disneyland) and RER B (airport) trains.
Route Planning
The RATP offers a route planner via their website which can use street addresses, station names or well known locations to create a travel itinerary for you, including necessary connections and total travel time. Route options under "Criteria" can be chosen for fewest connections, least amount of walking and quickest route (the default).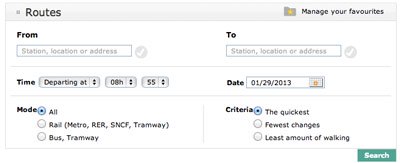 Tickets & Passes
There are a wide variety of tickets available including single ride tickets, books of 10 or 20, single day passes, multi-day passes, Monday to Sunday week passes, monthly passes and year passes.

Single Use Tickets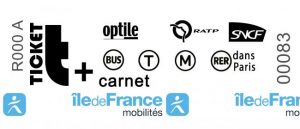 Single tickets for the Metro are known as "Ticket t+". These tickets are valid for a single continuous journey of any length, throughout the Metro system, including changes to other Metro lines and RER interurban trains within Zone 1. These tickets are sold as single units or in books of 10.
Tickets can be purchased from ticket windows inside stations or through automated ticket vending machines accepting Euro coins and smart chip credit cards. The single ticket price is .
Books of ten, called a "carnet" [kar-nay], are sold at a discount for ( each, a little under 20% off the regular fare). Children from ages 4 to 9 years old (inclusive) can use reduced fare tickets, which are available only in books of 10, for per book of ten. Children 3 and under ride for free. Keep in mind that non-smart chip credit cards will not work at either the automated ticket machines nor at ticket windows, thus Euro cash or coin would be required.
Read more about Paris Metro Tickets and transfers allowed.
Day tickets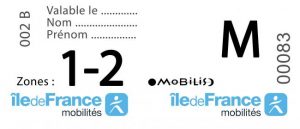 A day ticket is called the Ticket Mobilis which is good for unlimited rides on the Metro system during operating hours for the day it is used. (Not valid for airports, see note below.) Physically it's a coupon of about the same size as the Paris Metro Ticket t+.
Ticket Mobilis is available in various fare zone coverage from 1-2 zones to 1-5 zones. If you'll be traveling strictly within central Paris, zones 1 & 2 cover the entire Metro system, and a 1-2 zone Ticket Mobilis is the recommended ticket. Price is .
The complete price schedule for this Paris day ticket is as follows:
Price schedule courtesy of RATP
As the Ticket Mobilis can be purchased on one day and used someday in the future you must print the date of use on the ticket before use. To prevent people sharing tickets, first and last names are also required.
Note: Ticket Mobilis day pass is not valid for Paris CDG Airport nor Paris Orly Airport except by using Paris airport bus 350 or Paris airport bus 351 for CDG Airport and buses 183 or 285 for Orly Airport.  (Non-express city buses, 2-3X travel time.)   This means that RER B train, Roissybus, Orlybus, Orlyval train are all not valid for the Mobilis day ticket.
Multi-Day Paris Metro Tickets
Multi-day tickets aimed at tourists and visitors are known as the Paris Visite, available in 3 zone and 5 zone versions, for 1, 2, 3 or 5 day lengths. Prices for duration and zones are as follows (updated ):
Price schedule courtesy of RATP
The Carte Paris Visite is a multi-use paper ticket coupon (similar to a Ticket Mobilis or Ticket t+). Formerly (prior to 2014) the Paris Visite also came with a black folding card which required the printed name of the bearer and the ticket coupon requires the card number and date of use to be written on in pen, as to avoid ticket sharing between passengers. This is no longer in practice as of mid-2014. You will only receive the white paper Paris Visite ticket itself.
Discounts to attractions in and around Paris are included with the Paris Visite card. (See the discounts on Paris Visite.) To take advantage of the discount at the attractions, simply present your Paris Visite ticket during its validity period (which you must mark on the ticket itself using a pen, along with your first & last name).
Buy Paris Visite Online – You can buy Paris Visite tickets online for home delivery through the Paris Visitor Bureau website, but I wouldn't recommend it due to the delivery cost. For USA/Canada/Australia/Japan (anywhere overseas) the cost of delivery is 24€ through DHL Express. In United Kingdom, delivery of Paris Visite is 14,50€. There is one free "delivery" option for buying Paris Visite online – pickup your Paris Visite at the Paris Visitor Bureau. But, I can't imagine why you'd purchase Paris Visite online to have it delivered to the Paris Visitor Bureau, in Paris, which would require a Metro ride in itself, a trip that would likely take 90 minutes round-trip from your hotel. You could just purchase the Paris Visite at any Metro ticket machine or ticket window, anywhere in Paris, at CDG/Orly airports or at any of the major intercity train stations throughout Paris.
Paris Metro Week Tickets/Passes
Week long tickets are sold in the form of plastic contactless smartcards known as the Pass Navigo Découverte.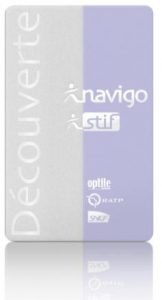 This pass is valid for travel strictly from Monday till Sunday, rather than any continuous 7 day period, which makes it less attractive for visitors arriving mid-week. It is purchasable for use in the current week from ticket windows at most Metro, RER and large train stations up until Thursday 11:59 PM. Starting from Friday, week passes for the following week are on sale. The Pass Navigo Découverte week pass is not available from automated ticket vending machines. 4 different fare zones are available although nearly everyone will want all zones which covers central Paris out to zone 5.  The other three zones available (2-5, 3-5, 4-5) do not include central Paris. Pass Navigo prices are as follows (Tarifs Semaine = Weekly Price, Tarifs Mois = Monthly Price, updated ):
Price schedule courtesy of RATP
Zones 1-5 will cover travel to & from Airports Charles de Gaulle (CDG) and Orly (ORY, by Orlybus, not Orlyval train), which are in zones 5 and 4 respectively and Paris-Versailles trains (zone 4).
The prices above do not include the 5€ fee for the plastic card itself, non-refundable, unlike the London Oyster card.
To purchase the pass Navigo Découverte you will be required to present and attach a face photo measuring 3cm tall x 2.5cm wide to the paper nominative card that comes in addition to the plastic smartcard.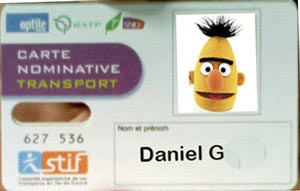 Home printing of this photo, black & white or colour, is acceptable. You will be required to print your name on this card as well. After the paper card is completed a self-adhesive clear plastic cover is folded over the face of the card, protecting the picture and name of the holder. The contactless smart card and the paper card must be carried together to be valid for travel.
There is some confusion between the Carte Orange and Pass Navigo in terms of week passes. Carte Orange was previously a physical coupon like ticket (much like the Ticket Mobilis) and paper nominative photo card that is now no longer in use. This coupon and paper card has been replaced by the new contactless smart cards known as the Pass Navigo and Pass Navigo Découverte (for non-residents of France). The Paris regional transit authority has phased out the name "Carte Orange" as the name of the weekly or monthly "subscriptions" that you must purchase and "add" to your Pass Navigo or Pass Navigo Découverte.
Riding the Paris Metro
Paris Airports
Paris airports are accessible via the RER train system, rather than the Paris Metro. See instructions on the RER B from CDG to Paris, Orly to Paris and Paris Beauvais Airport Train for more information.
Paris Stations & Metro Tickets
Most of Paris' 300 Metro stations are located underground with a handful above ground. Stations are marked with various styles of signs as shown below.
Photo jmanners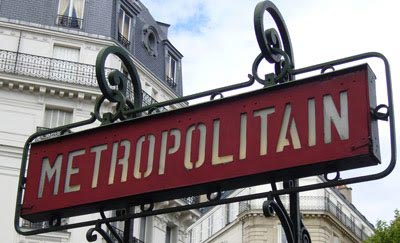 Photo tinkerbells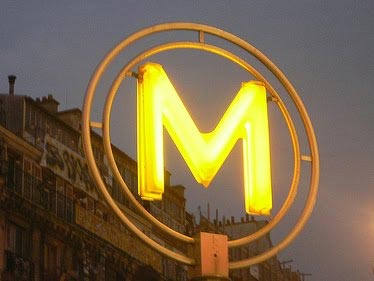 Photo SarahR89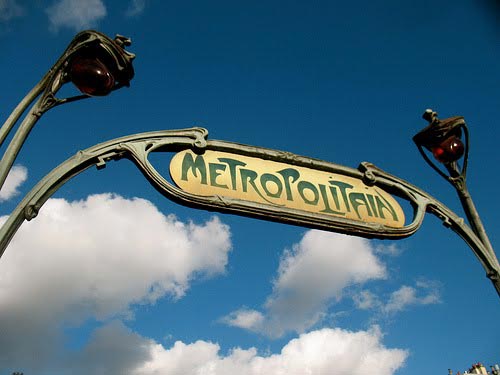 Some Metro stations are joined with large train stations ("gare") serving other types rail transport such as intercity surface trains and RER regional express trains which travel both above and below ground. Some notable large stations within Paris serving all three types of train transport include: Gare St. Lazare, Gare du Nord , Gare de l'Est, Gare de Lyon, Gare d'Austerlitz and Gare Montparnasse. Most stations and Paris Metro lines are not handicap accessible save for a few exceptions . Stations have multiple entrances/exits, up to ten for the largest underground station, Chatelet Les Halles.
Photo Mirka23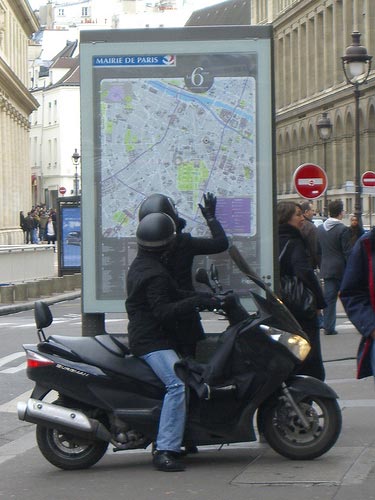 Street maps are posted throughout central Paris providing information on the local district ("arrondissement"). These maps can be useful in locating nearby Metro stations.
Continue to…
Learn how to buy Paris Metro tickets from automated Metro ticket machines, from staffed ticket windows or online at Paris Tourism and Convention bureau.
References
STIF: Les Chiffes, 2005. "Le Reseau du Transports en Commun". http://www.stif-idf.fr
Extension of M14 & M13 lines in 2007 & 2008 has added 3 new stations, now totalling 300. http://extension-reseau.ratp.fr
What Next?
Paris Metro
was last modified:
May 3rd, 2019
by