(cliquez ici pour français

)
This article explains how to take a RER A train from Paris to Disneyland® Paris. If you're going from Charles de Gaulle airport to Parc Disneyland, you can take either a TGV train direct from CDG to Disney (Marne la Vallée) or first take the RER B train to Paris then at station Chatelet Les Halles, switch to the RER A train line towards Marne La Vallée.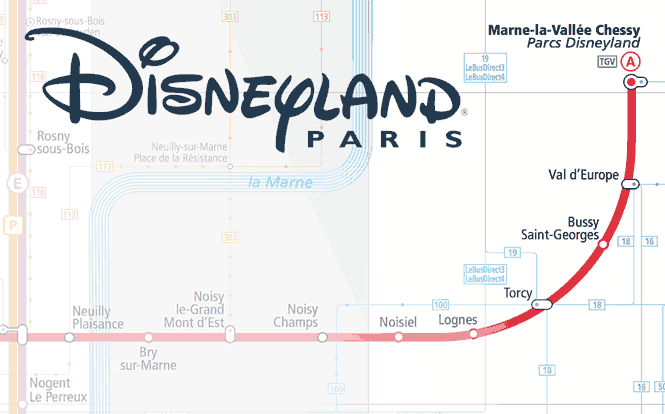 Promotions
:
Disneyland Paris - Package Price estimate calendar
Overview
Line => RER A (Red)


Direction => Marne-la-Vallée (RER line A4)
Departure Stations => Charles de Gaulle Etoile, Auber, Chatelet Les Halles, Gare de Lyon, Nation
Arrival Station => Marne-la-Vallée — Chessy
Map => Full RER train network map (PDF)
Price => 5€ (Zone 1 -> Zone 5, price valid as of January 1, 2023, 2.50€ for children 9 & under)
Passes Accepted => Paris Visite Card (5 Zone), Pass Navigo Decouverte 5 Zone, Ticket Mobilis 5 Zone
Travel Time => 39-45 minutes
First Train TO Disney (from Paris/Chatelet Les Halles) => 05:18
Last Train FROM Disney (to Paris/Chatelet Les Halles) => 00:20
Frequency of trains => approx. every 15 min. (9 minutes to 30 minutes between trains)
Full Schedule => RER Train Schedule/Timetable
Details
RER Stations
RER A city trains travel from central Paris to Disneyland throughout the day at roughly 15 minute intervals from five large central Paris RER A Stations: Charles de Gaulle Etoile (at Arc de Triomphe), Auber (at Galeries Lafayette shopping center), Chatelet Les Halles (massive underground shopping centre and largest underground/subway station in the world), Gare de Lyon (largest Paris train station), and Nation.
Tickets & Passes – RER Paris to Disneyland Paris
A single one way ticket, a billet Ile-de-France, from central Paris to Disney costs 5€ ( as of January 1, 2023). You can buy these tickets from any metro or RER station ticket window or from the automated ticket vending machines (using coins or smart-chip enabled credit cards) within stations. You can start your journey from any Metro / RER station within central Paris (Zone 1) using this one ticket and simply transfer to the RER A train line if you're not already on it. You don't need to buy a separate ticket just for the metro portion of your trip. The normal metro ticket t+ will not work for this trip since Marne la Vallée / Parc Disney is in Zone 5.
The following passes are accepted for traveling from Paris to DisneyLand:
Inside an RER Station
From inside any of the above mentioned Paris RER stations, you'll want to take RER A train in direction Marne-la-Vallée, but keep in mind that the direction may also read Boissy-St-Léger such as in the photo below.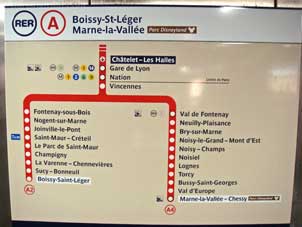 You'll find station panels and signs similar to the one above at any of the above RER A stations. Follow these signs to the correct RER A train platforms. At certain stations, Chatelet Les Halles and Gare de Lyon for example, these RER train signs & panels will lead you to a single central platform with RER trains running along either side in opposite directions. To avoid confusion as to which side is the correct direction look up at the RER station stop panels hanging above each side of the train platform such as the one shown here: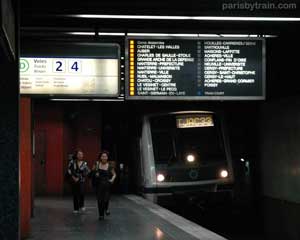 Each station along the line will be shown on these panels, but the next train to arrive will only stop at stations names lit with a yellow square (the left half in the previous photo). Thus, these panels serve two purposes:
to indicate that you're on the correct side of the platform: if you see your arrival station on the panel, you're at least on the correct side of the platform. In this case you'd want to see Marne La Vallée – Chessy as one of the stations.
to indicate whether the next train will stop at your desired station. If Marne La Vallée – Chessy is lit with a yellow square, take the train. If not, wait for a train that will stop at Marne La Vallée/Parc Disney.
Once on board a RER A train to DisneyLand Paris, remember to keep your ticket handy throughout your trip as you may be asked to show it to ticket checkers, known as controllers in France. If you fail to produce a valid ticket the controller will charge you a fine somewhere in the range of €40 payable on the spot through credit or debit card. And even though ticket vending machines don't take non-smart chip credit cards, the mobile credit card swipe machines these controllers carry, definitely do. At the end of your trip you'll also need your ticket or pass to exit through the turnstiles when you arrive at Marne La Vallée / Disney.
This is the Marne La Vallée train platform at DisneyLand Paris when you arrive: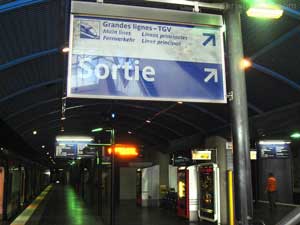 Once you exit the RER A train make your way up the escalator or stairs in the direction of the Sortie signs. This leads you to the exit (and entry) turnstiles for the RER trains as show in the following photo: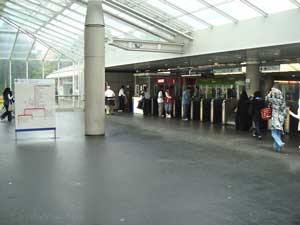 Using your billet Ile-de-France in the turnstiles allows you to pass through into the main section of the station which has an information booth, ticket window, and various shops selling newspapers/magazines and snacks.
After exiting Marne La Vallée–Chessy station, you'll notice the motif of the station itself is Disney-like with its castle like spires.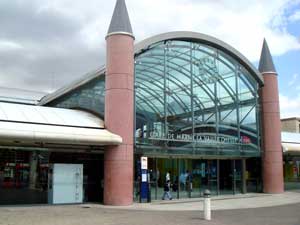 Here's a panoramic photo of Marne La Vallée–Chessy RER/TGV station amongst some attractions at DisneyLand Paris.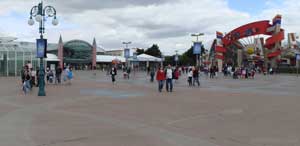 When it's time to return to Paris, you'll be making this trip in reverse. Within Marne La Vallée–Chessy train station, you'll need to again purchase a Billet Ile-de-France to Paris (5€) either from a ticket vending machine or from the ticket window, pass through the turnstiles, and descend down onto the RER A train platform. The platform will be well marked with a sign indicating which train will depart next for Paris: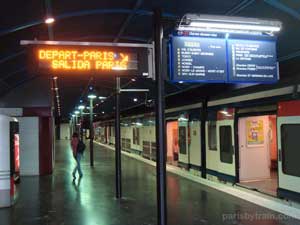 Have a great Disneyland visit!
Promotions
:
Disneyland Paris - Package Price estimate calendar
What Next?
RER Train Paris to Disneyland

®

Paris
was last modified:
December 21st, 2022
by