The Paris RER is 5 express train lines connecting Paris city centre to surrounding suburbs. In Paris the RER acts as an express underground or subway train. Beyond Paris city centre, the Paris RER is a ground level commuter train connecting outlying suburbs and popular destinations such as CDG Airport (RER B), Disneyland Paris (RER A) and Versailles (RER C) to the heart of Paris.
The RER Paris has 5 train lines:

Paris RER Maps
The public transit authority of Paris (RATP) offers multiple RER maps that can be downloaded here:
Paris RER First & Last Trains – Schedules & Timetables
Paris RER trains operate as a scheduled service, unlike the Paris Metro.
Here are some examples of first and last Paris RER trains to popular destinations:
CDG Airport Terminal 2 to Paris, Gare du Nord station
First RER B train leaves CDG T2 at 4:50 a.m. and arrives in Paris at 5:26 a.m. at Gare du Nord
Last RER B train leaves CDG T2 at 11:50 p.m. and arrives in Paris at 12:26 a.m. at Gare du Nord
Paris RER to CDG Airport Terminal 1 / 2
First RER B train leaves Paris Gare du Nord at 4:53 a.m. and arrives CDG T2 at 5:31 a.m.
Last RER B train leaves Paris Gare du Nord at 12:15 a.m. and arrives CDG T2 at 12:50 a.m.
RER A Paris to Disneyland (Marne La Vallée station)
First RER A train leaves Paris Chatelet les Halles at 5:18 a.m. and arrives at 6:00 a.m. at Disneyland
Last RER A train leaves Paris Chatelet les Halles at 12:36 a.m. and arrives at 01:15 a.m. at Disneyland
Disneyland to Paris, Chatelet Les Halles
First RER A train leaves Disneyland at 5:13 a.m. and arrives at 5:54 a.m. at Paris Chatelet les Halles
Last RER train from Disney at 0:24 a.m. and arrives at 1:03 a.m. at Paris Chatelet les Halles
Full Paris RER Timetables for download and print can be found here:
Paris RER schedules can be confusing to read. Here are some instructions on reading Paris RER train timetables.

Paris RER Tickets
Paris RER trains use two different types of tickets depending on which part of the RER network you will be traveling. When taking a RER train strictly within central Paris Zone 1 (visible in the first RER Map), you can use basic Paris Metro tickets for travel on the RER. Travel beyond Paris Zone 1 on the RER requires a special ticket: a Billet Ile-de-France.
Paris RER tickets (Billet Ile-de-France) are similar to the one shown here: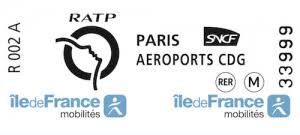 Paris RER ticket prices are determined station to station for travel beyond Zone 1 and range from 1.90€ to upwards of 12.10€. Some example trip RER fares (prices valid as of Nov. 1, 2019):
Tickets for the Paris RER can be purchased at any RER or Metro station ticket window or ticket vending machine. Metro station ticket machines will appear like the following: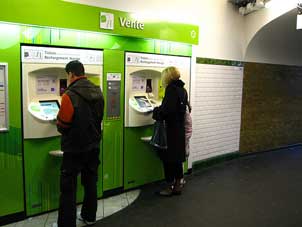 (photo courtesy of squarejer)
(Metro ticket vending machines may also be white or purple in colour).
Paris RER ticket vending machines may appear like the following: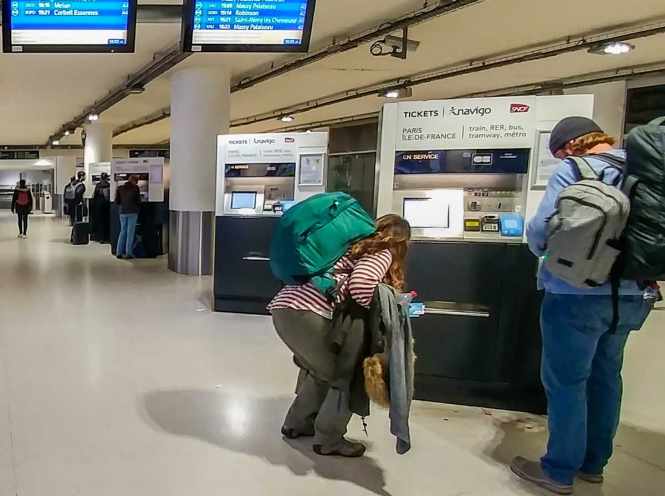 These machines are known as Billetterie Ile-de-France and can also be blue in colour.
Do not try to purchase Paris RER tickets from Grandes Lignes TGV ticket machines which only sell/exchange TGV & intercity train tickets: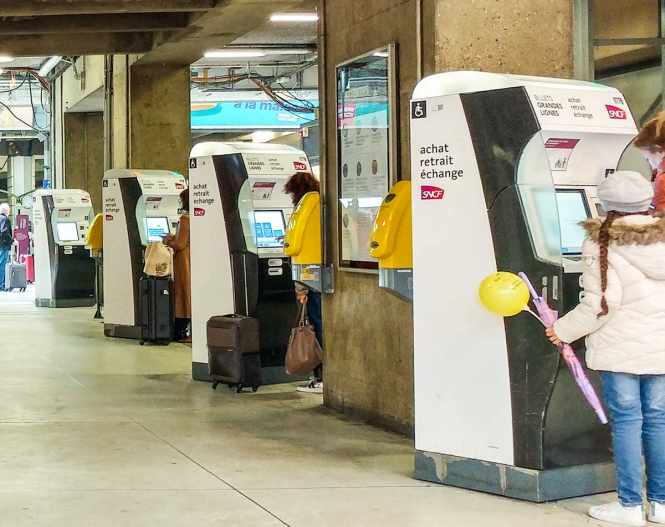 RER Train Passes
Paris RER train passes include the following:
Paris RER travel passes (known as Pass Navigo) are subject to fare zones, split into either an all zone pass (the default which includes zones 1 through 5) or sub-zone passes excluding central Paris (zones 2-5, 3-5, 4-5), which determine the price of the multi-use pass or ticket. The above transit passes are valid for travel not only on RER trains, but also on the Paris Metro and Paris Buses, Trams & Transilien trains within the fare zone you have purchased.
Day Tickets
The Ticket Mobilis day ticket looks like this: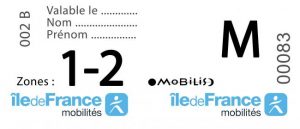 This particular day ticket is valid for zones 1 & 2 (the minimum possible), which as of Nov. 1, 2019 costs 7.50€. Note the writing spaces on the top left hand corner? To be valid for travel those fields should be completed in ink with: date in format dd/mm/yy (Valable le), last name (NOM), and first name (Prénom).  Read more about the Ticket Mobilis day tickets.
Multi-day Passes
The Paris Visite ticket is a coupon like ticket which looks like this: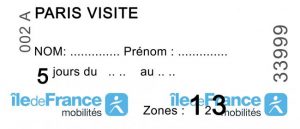 The Paris Visite ticket is available in only two zone choices: 1-3 or 1-5. (To travel from CDG or Orly Airports to central Paris, you'll need the 1-5 zone Paris Visite ticket). Paris Visite can be purchased with 1, 2, 3 or 5 days of use.
Remember to complete the blank lines of requested information on the ticket coupon before using the Paris Visite ticket, which is last name (NOM), first name (PRENOM), first use date (DU which means "from") and valid until (AU which means "to") with a format of: dd/mm (day before month).
Paris Visite Prices (as as of Nov. 1, 2019) range from 12€ for 1-day 1-3 zones to 65.80€ for 5-day 1-5 zone, good for CDG Airport, Orly airport, Versailles, Disneyland, Fontainebleau and everything within Paris Zone 5.
For all Paris Visite prices and information see Paris Visite passes.
Week Passes
Paris RER week passes are known as Navigo Decouverte (a physical card) that must be purchased along with a week long "subscription", such as Navigo Week or Navigo Semaine in French. The Navigo week pass provides unlimited travel within certain zones, all 1-5 Paris Fare zones by default. You can choose smaller zones outside central Paris, such as zones 2 to 5, 3 to 5, 4 to 5, if you were travelling only from say a Hotel near Disneyland at Val d'Europe and Disneyland Park, which a Navigo 4-5 zone would cover. The physical Navigo card itself costs 5€. The Navigo Week price is 22.80€ on top of the 5€ card fee.
A standard 1-5 zone Navigo Decouverte covers popular destinations like CDG Airport and Paris Disneyland, both in Zone 5 and Versailles Chateau in Zone 4.  (Prices current as of Aug 1, 2019.)
This week pass system works strictly from Monday start of service, till Sunday end of service, not an arbitrary seven day period. If you arrive in Paris on Thursday, you have until midnight to purchase a Navigo week subscription. Starting on Friday, passes for the following week (valid starting Monday morning) will be on sale.
The Passe Navigo Découverte radio frequency (RF) card is roughly the size of a credit card and has no identifying information on it: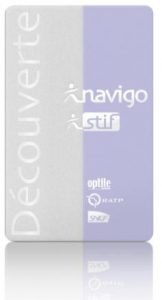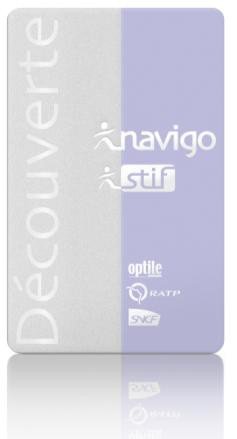 Each plastic RF card also comes with a paper identification card which is meant to hold your hand written name and a face photo of the traveler measuring 3cm tall by 2.5cm wide. Note that some Paris Metro ticket agents request that you use a color photograph as opposed to black and white, although this isn't stated in the rules & regulations.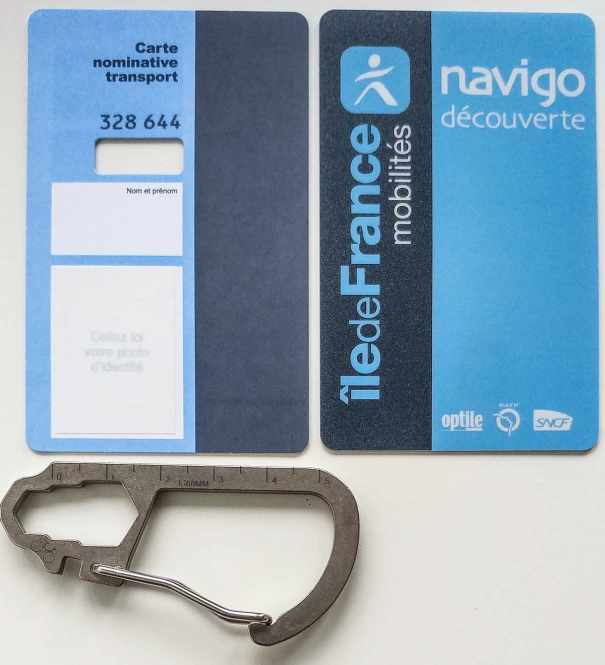 The paper identification card has a sticky plastic fold-over sheet which holds your photo in place. You must already have a photo with you when purchasing the Navigo Découverte card at Metro or RER ticket windows. The photo can be black & white or color, professionally done or home printed or even photo copied and reduced from a driver's license and trimmed to the required 3cm x 2.5cm size. Automated, coin operated photo booths can often be found in larger Metro, RER and train stations within Paris, charging roughly 5€ for 4 photos. Paris transit authority workers often have scissors handy for trimming your photo for use on the Navigo card.
Restrictions on Passes
Some restrictions apply to the use of the above passes:
Ticket Mobilis and Navigo passes (Day or Week) are not valid for travel on the Orlyval train to Paris-Orly Airport from Antony station on the RER B line. Use the Orlybus or Tram 7 instead.
Paris RER Stations
Paris RER stations are marked with signs like the following: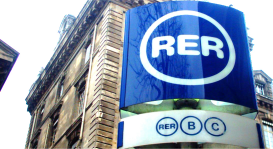 (Photo courtesy of Gregory Deryckère).
Here's an example of an RER station entrance at Auber station on the RER A line near Galeries Lafayette in Paris' 8th district: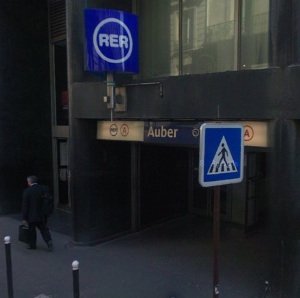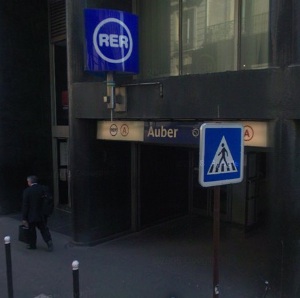 (Photo courtesy of Google Maps which is a great way to visualize your route. Google Maps with Street View, allows you to virtually tour the streets of Paris).
Paris RER stations are often shared with Metro lines such as at Paris' largest underground station, Chatelet Les Halles. In the following photo at the top left corner is a sign showing RER A and RER D joining five Paris Metro lines within one Paris station – Chatelet Les Halles: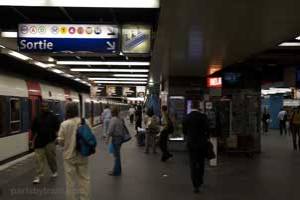 RER stations in Paris can also be found within large train stations (gare) such as Gare du Nord. Here is an example of a combined RER & Metro station sign at Gare du Nord: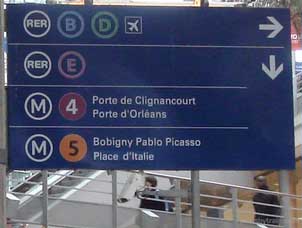 Inside of a RER train station, access to the train platforms is restricted by the use of turnstiles and double door gates such as this entrance into the fare paid zone within Chatelet Les Halles: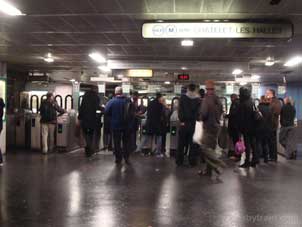 Things to note in the above RER station turnstile/barrier photo:
Turnstiles or gates are marked with green arrows or red circular lights. Only green arrow marked turnstiles can be used for entry. The red marked gates (such as the one at the extreme left) are for passengers exiting the fare paid area.
Certain turnstiles are reserved for Navigo pass card holders. Notice the traveler on the far left? He is using a reserved turnstile, marked on the front with a ticket crossed out. There is also no ticket slot on these reserved turnstiles and access will only be given to Navigo pass card holders.
Using Tickets: Normal turnstiles and barriers have a small ticket slot which will be on your right side when entering a turnstile. Insert your ticket into the slot, magnetic stripe down. The ticket will be read for validity and ejected for you to retrieve near the top of the turnstile. You must retrieve the ticket before the gate or turnstile will open or operate. If you're using a double door barrier gate, retrieve your ticket, approach the gates and wait patiently for them to open, then pass through. These gate style barriers can often be slow in opening. But, do not back out and try your ticket again as tickets can only be successfully used for entry once, which prevents ticket "pass-back". Simply stand close enough to trigger an electronic eye which senses the presence of a traveler.
Using Passe Navigo cards: As you enter a turnstile, the top right hand portion of the barrier will have a purple area meant for reading Navigo pass cards. Simply place your Navigo card on top of this area and wait for a "ding" or high pitched short buzzing to signify your card has been successfully read. If the barrier is a double door gate, approach the doors and wait for them to slowly open. Turnstiles are often faster to pass through since you provide the force to open the barrier, rather than these tired machines. The following is a photo of the Navigo pass card reader area found on turnstiles.
(photo courtesy of RATP).
Finding your RER Train
Once past the turnstiles you need to make your way to the correct Paris RER platform where you'll be able to board the train. Within RER stations, signs will note lines along with direction of travel, which is denoted by the final or terminus station for the line. Here is an example Paris RER A sign: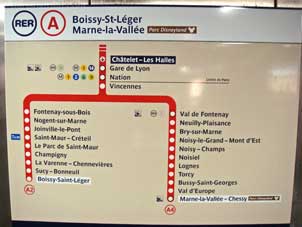 Things to note in the above photo:
The top left corner designates which Paris RER line, in this case, RER A.
The names to the right of the line indicate the direction for this platform. There are two: Boissy-St-Léger and Marne-la-Vallée (Paris Disneyland).
In this particular example there are two end points or directions for RER A trains using this one train platform, thus we need to refer to an overhead station panel on the train platform itself to determine the final destination of the next train.
On the train platform you will find overhead station panels such as this: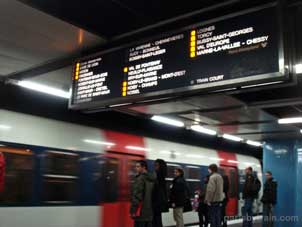 Things to note about the above RER station panel:
Station names are either lit with a yellow square or dark. Lit RER stations will be stopped at by the next RER train passing through.
In the above photo, the RER A train pulling into the station is serving the Marne La Vallée direction, as opposed to the Boissy-St-Léger terminus since the station name Marne La Vallée–Chessy is lit with a yellow square. The next train to arrive at the station will likely serve Boissy-St-Léger.
RER stations within central Paris Zone 1 (visible on the RER Map with zones) will always be serviced by RER trains. It is only RER stations outside the centre of Paris that may or may not be serviced since some RER trains are considered "Express" and make only a few stops before arriving at their final destination.
The Train Court square at the bottom right hand corner, when lit, signifies that the next train will be "short" meaning it will have fewer train cars than the length of the platform. It would be wise to stay away from the ends of platform when the next train is court as you'll need to run to the middle of the platform to get onto the few train cars available.
Riding RER Trains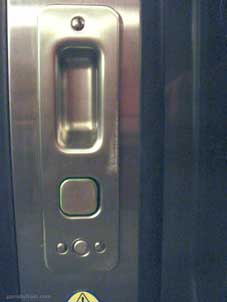 Paris RER train doors do not open automatically. Whether you're getting on or getting off, you'll need to activate the train car doors through a button located on the handle near the middle of the double doors (unless someone pushes the button first).
On board the RER train itself, there will often be folding seats near the doors themselves, which should be used only when there is room to do so. Obviously at rush hour, these seats should remain up to allow as many passengers board the train as possible.
Above the doors of each RER train car are RER line maps showing all stops along the current RER line. At times these maps can be active, showing a flashing light beside a station name designating it as the next stop, with lit station names showing the path of travel, dark station names showing stations already passed. At other times, the maps will be simple stickers showing all stations and connecting Metro lines and large train stations along the route.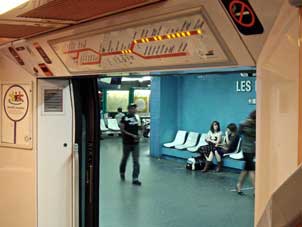 Exiting RER Stations
Upon arriving at your desired RER station, you need to alight the train car (remembering to open the door using the button) and make your way past the turnstiles and barriers. RER stations often require the use of tickets and passes while exiting RER stations, using the same turnstile barriers as when entering, but in reverse. This is a measure against travelers paying less than the appropriate fare for their travel. There is little preventing passengers from buying a lower cost fare, boarding a RER train and riding it beyond the fare's validity. Forcing riders to use their tickets or passes to exit RER stations and random checks by ticket controllers, doling out penalty fares of around 35€ per infraction, are the few measures against improper use of the RER.
Many Paris RER stations have multiple exits (sorties) which can be up to ten minutes walk apart (such as at Chatelet Les Halles). Exit maps can be found near station exits which help you get your bearings before leaving the station. Exits will be marked in blue and often have a number and exit number associated with them: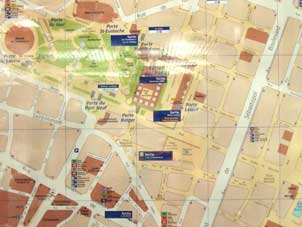 Popular Paris RER Routes
FAQ
What time does the RER Open?
The RER opens between 5:20-5:30AM in central Paris.
How often does the RER run?
The RER runs from 6 minutes to 15 minutes between trains during rush hour and off-hours.
What time is the first RER B?
The first RER B is 4:50AM from CDG Terminal 2 to Paris. The first RER B from Gare du Nord Paris to CDG is 4:53AM. See full RER B timetable.
Can I buy RER tickets at Metro stations?
Yes, you can buy RER tickets at any Metro station ticket office.
Questions? Suggestions?
If you have questions about the Paris RER information presented here, don't hesitate to ask for help on the Paris By Train Questions and Answers page where I or some other knowledgeable traveler will get back to you with an answer.
What Next?
Paris RER
was last modified:
November 8th, 2019
by