Paris RER B Trains travel from CDG Airport to central Paris. Below are downloadable / printable schedules for RER B trains from Charles de Gaulle Airport to Paris and from Paris to Orly Airport (ORY) which requires a connection from RER B's Antony station to the Orlyval train servicing Orly Airport terminals West & South. (Schedules current as of Oct 2022.)  Help me read Paris train timetables.
RER B First Train / Last Train – Full Schedule & Timetable
From Charles de Gaulle (CDG) Airport to Paris
From Paris Gare du Nord station to CDG Airport
RER B Service Disruption
=============================
Popular Destinations along RER B Train line
Popular destinations found along RER B train line from Aéroport Charles de Gaulle towards Paris:
RER B Schedule – CDG Airport to Paris
RER B Train Saturday/Sunday Schedule CDG to Paris (and onto Orly) and also the Weekday RER B train schedule (Direction Robinson, Antony, St-Rémy-lès-Chevreuse) (PDF updated Oct 19, 2022)
If you're arriving at Charles de Gaulle Airport and wish to travel to central Paris by train, this is your schedule.  See also the instructions on traveling from CDG Terminal 2 to Paris by train and CDG Terminal 1 to Paris.
If you're traveling from Paris to Orly Airport by RER B train, this is also your schedule.  Your stop will be Antony station, where you must transfer to Orlyval (dedicated) train towards Orly Airport terminals.  There's an additional fee for the Orlyval train.  See Paris to Orly by train for additional information.
RER B Express Trains
Note that there are "express" RER B trains departing CDG Airport towards Paris that will not make any stops between CDG and Paris Gare du Nord train station. These trains are designated as such through their four letter "mission" code that's visible on the front of the trains and on the overhead screens on train platforms which show stations served. CDG express trains to Paris often start with the mission code letters "KA" or "JA" (although other codes exist). In the example shown below, KARI mission code trains are express trains to Paris from CDG airport.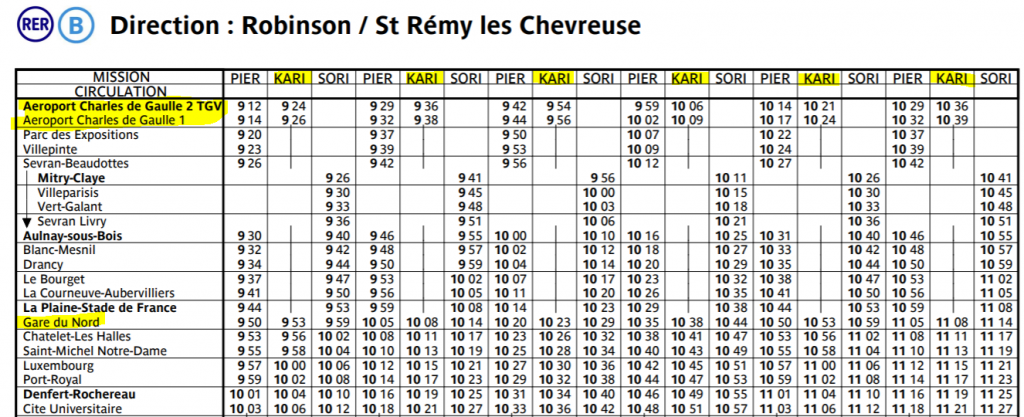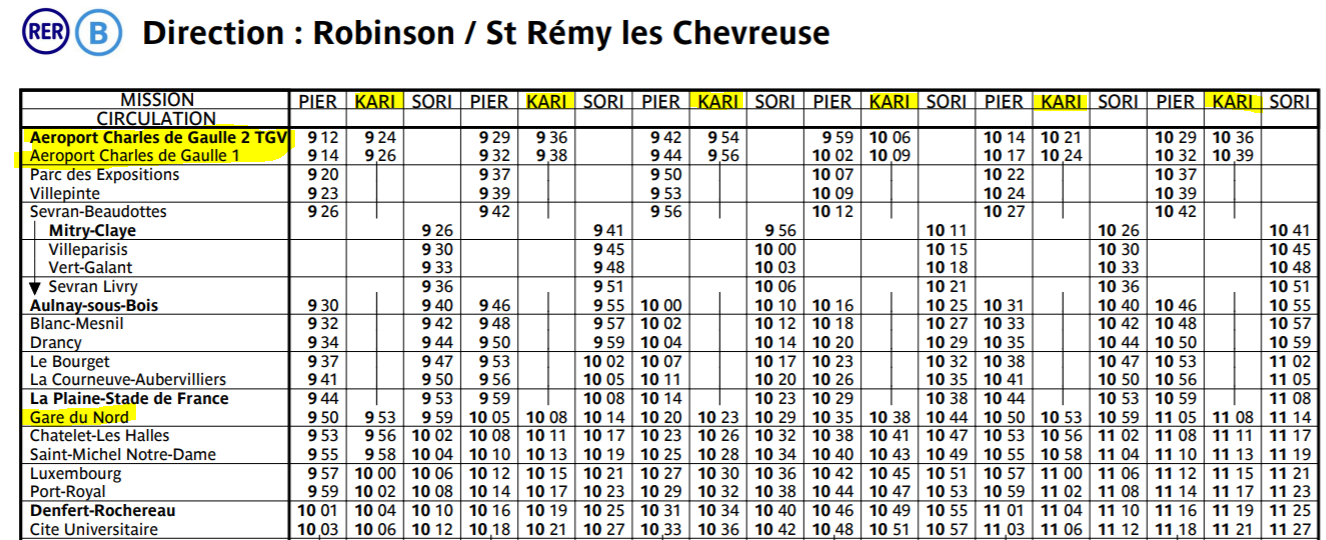 These "express" RER B trains aren't always available (they usually run during peak hours or popular times) and express trains aren't necessarily much faster than other RER B trains. i.e. You won't get into Paris sooner by skipping a departing regular service RER B and waiting for the next "express" RER B, but there will be no stops in between. With no stops in between CDG and Paris, express RER B trains have some noticeable benefits:
less passengers, since there are no passengers boarding between CDG and Paris Gare du Nord, meaning more space for luggage and seating
more safety, as thieves cannot strike while you're stopping at one of the in-between stations, getting on, grabbing a bag, and quickly departing while the train departs the station
easier to exit the train when arriving at Gare du Nord, since most passengers on express RER B trains just arrived into France and will depart at either Gare du Nord or Chatelet Les Halles and transfer elsewhere. Local passenger traffic tends to flow in & out of trains more randomly at in between stations
RER B Schedule Paris to CDG Airport
RER B Train Schedule Paris to CDG (Direction Mitry-Claye, Aéroport Charles de Gaulle) (PDF Updated Oct 19, 2022) – Weekday Schedule for trains leaving central Paris going towards Charles de Gaulle Airport, Terminals 1 & 3 (stop: Aeroport Charles de Gaulle 1) and Terminal 2 (stop: Aeroport Charles de Gaulle 2 – TGV). And here is the Weekend Full Schedule RER B train Paris to CDG.  See also the instructions on traveling from central Paris to CDG Airport by train.
RER B (Airport) Line Map with Stations, Zones, Interchanges to other RER and Metro Lines (PDF)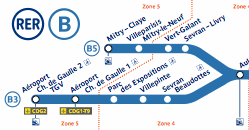 What Next?
Paris RER B First & Last Trains – Schedule & Timetables
was last modified:
October 19th, 2022
by