Paris Navigo Decouverte is a multi-use transit card covering all of the Metro Paris area, good for the Paris Metro (subway/underground), RER trains (including the CDG Airport train, Disneyland Paris, and Versailles), buses (including Orly airport buses), trams & surburban Transilien trains. Continue below for Navigo Paris prices, coverage, where, when and how to buy.
New! There is also a new digital / mobile phone Navigo app for Android phones as of October 2023.
Navigo Pass Overview
This section details Paris Navigo Pass prices, coverage and durations.
Navigo Price: 30€
Navigo Decouverte week pass price is 30€ as of Jan 1, 2023 PLUS:
5€ fee (non-refundable) for the physical Navigo card itself
color headshot photo 3cm tall x 2.5cm wide you provide to attach to paper card
child price for Navigo Decouverte is the same as adult
Discounts exist only for residents of Paris/Ile-de-France, but not for tourist/visitor Navigo cards
covers central Paris and all Zones 1-5 (see zone map)
(minor) discounts exist if you're not traveling in Zone 1 (central Paris) and only need zones 2-3 (27.45€), 3-4 (26.60€) or 4-5 (26.10€)
Coverage / Places Included
Navigo Pass Duration
A Navigo Week Pass is valid from Monday at 00:00 to Sunday 23:59:59.
You can buy Navigo cards / passes for the current week up until Thursday, midnight. Next week's Navigo card is on sale from Friday morning onwards. (In the past, the Navigo weekly train pass for the current week stopped selling at Wednesday midnight, but this has been moved to Thursday midnight.)
Note that you cannot choose the start & end date of your weekly Navigo pass; it is strictly Monday morning to Sunday midnight, regardless of what day of the week you buy the pass.
Navigo passes are also available as a Day pass (Navigo Jour as of January 1, 2018) and a Monthly pass (Navigo Mois).
Where to Buy Navigo
You can buy a Navigo Decouverte pass at nearly any Metro, RER, Billets Paris et Ile-de-France train ticket window that normally sells tickets and passes. I say "nearly" because a ticket window may run out of blank Navigo passes to sell you. But Billets / Tickets Paris et Ile-de-France ticket windows (like those below at CDG Airport or Gare du Nord) are much less likely to run out of Navigo cards than the average Metro/RER ticket window. In any case if you ask for a Navigo card and the ticket window has run out, you'll need to find the next nearest ticket window and try again.
Buying Navigo Cards Online
As of 2023, it is now possible to buy Navigo passes online using one of three official Paris transportation mobile phone apps. (Android only as of Oct 2023 though.)
Unfortunately there's no way to buy Navigo Decouverte cards online as of 2020. So you cannot buy visitor / tourist Navigo cards online before arrival into Paris; It must be bought in-person, in Paris. Navigo Decouverte cards can only be purchased in Paris at ticket windows of Paris Metro, RER, Transilien train stations and Navigo agencies. Online purchases of personalized Navigo cards (with embedded name & photo) is only for French residents with French bank accounts and addresses, which takes up to 18 days for delivery after order.
At CDG Airport
There are two train stations at CDG Airport. Both CDG train stations sell Navigo passes & train tickets. In CDG Terminal 2, the train station is between sub-terminals 2C and 2E. (See the step-by-step guide for CDG Terminal 2 trains to Paris.) If you arrive at CDG Terminal 1 or CDG Terminal 3 the closest CDG train station is in the Roissypole building. The Roissypole building is midway between CDG Terminal 1 and CDG Terminal 2, and is a 5 minute walk from Terminal 3, as seen on this CDG shuttle train map (CDGVAL):
The CDGVAL Terminal Shuttle is free and has frequent service between CDG Terminals, parking lots and train stations.
CDG T2 Train Station Ticket Office
Here's a photo of the CDG Terminal 2 train station ticket office entrance: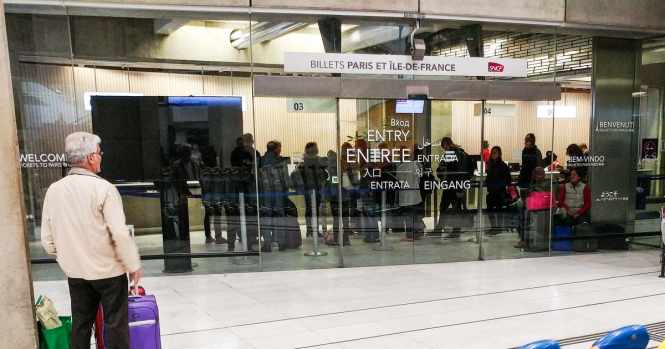 You'll notice the sign above the door reads: Billets Paris et Ile de France. This means "Tickets Paris and [Region]". This ticket office sells Metro & RER tickets, Navigo Decouverte, Navigo Easy, Paris Visite and every other ticket or pass available for Paris Metro, RER, Bus, and Transilien trains servicing the Paris region (Paris Ile-de-France). Another type of ticket office at CDG Terminal 2 train station is for Grandes Lignes trains going to cities outside the Paris area. You can buy Navigo Decouverte pass cards inside the Billets Paris et Ile-de-France ticket office. You cannot buy Navigo inside Grandes Lignes ticket offices.
Please see our full guide of CDG Terminal 2 train to Paris for more details on finding CDG T2 train station, buying train tickets & taking the RER B train to Paris.
CDG T1/T3 Train Station Ticket Window
The train station serving CDG Terminal 1 and CDG Terminal 3 is located in the Roissypole building. Here's a photo of the Roissypole train station ticket window for CDG Terminal 1 / Terminal 3: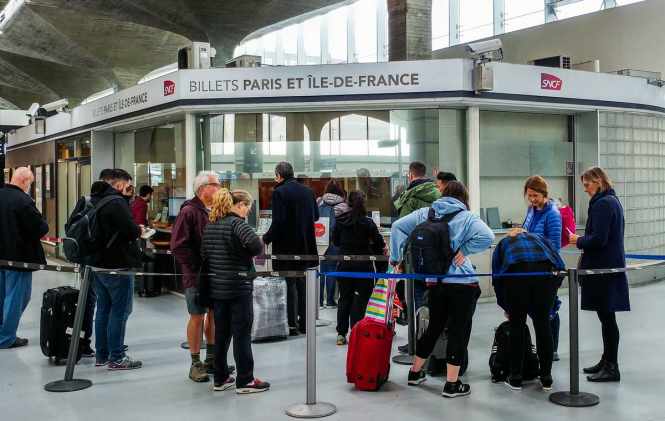 Please see our full guide of CDG Terminal 1 / Terminal 3 train to Paris for more details on finding CDG T1 / T3 train station, buying train tickets & taking the RER B train to Paris.
Both CDG train station ticket offices sell Paris Navigo Decouverte pass. Both CDG train station ticket offices will always have at least one English speaking staff member. The CDG Terminal 2 train station ticket office is larger (as it serves a larger terminal), has more ticket agents and will often have several English speakers, plus other common European languages such as German and Spanish.
At Paris Train Stations
The major train stations in Paris all have Transilien suburban train ticket windows which are good places to buy a Navigo Decouverte pass.
The major Paris train stations include:
The confusing part about buying Navigo passes at major Paris train stations is the separation of ticket offices between Paris regional trains and intercity / international trains (Grandes Lignes) for destinations across France and Europe. Grandes Lignes ticket offices do not sell Paris Navigo passes or any other sort of Paris Metro / RER / Transit tickets. These "main line" ticket offices only sell tickets for large trains bound for destinations outside Paris and internationally (such as TGV, Intercites, Thalys, ICE, etc.). So be sure you're lining up for tickets at a ticket office that sells Paris region tickets (Billets Paris et Ile-de-France) and not for Grandes Lignes / Intercity – International trains.
Below is a photo of a combined Paris Metro, RER, Transilien Regional ticket window. These ticket windows are found at major Paris train stations like Gare du Nord. These ticket windows are where you can buy Navigo passes, Navigo Easy, Paris Visite, single-use RER tickets, bus tickets, Metro tickets and every other type of Paris regional transit ticket:
How much does Navigo Decouverte cost?
Navigo Decouverte price is 30€ plus 5€ for the card fee payable in Euro cash notes or coins, Visa / Mastercard credit card or European debit card.
What you need to Buy Navigo Decouverte
You must personalize your Navigo with a roughly passport size photo to be used on the pass (exact Navigo Decouverte photo size is 3cm tall by 2.5cm wide), plus a pen to write your name. There are automated self-service photo booths nearby ticket windows at all major train stations in Paris, costing 5€ for a set of four pictures, so be sure to get your photo taken before going to the ticket window where they'll likely have scissors handy for trimming your freshly minted photo on the pass. If you're hesitant in how to ask to buy the pass at a ticket window, try printing out this page and showing the ticket seller the image of the Decouverte card on the top right while holding up your small headshot photo. I'm pretty sure the ticket seller will get the idea.
Transit Services Included in Navigo
You can use Navigo Decouverte on any Paris area subway/train/bus/tram type (with one exception) such as Paris Metro (subway, 16 lines), RER (suburban train, 5 lines), Transilien suburban trains (8 lines), trams (10 lines) and city buses (RATP/Noctilien/Optile). The one train not included in Navigo is the Orlyval train connected the RER B train to Orly 1 airport terminal. See Destinations Covered, next section below, for more information.
Destinations Covered
The Navigo Découverte pass card by default includes all 5 transit zones which covers Paris and surrounding suburbs. This includes Roissy-Charles de Gaulle (CDG) airport (zone 5) and Orly (ORY) airport (zone 4), Chateau Versailles (zone 4), Fontainebleau (zone 5), Disneyland Paris (zone 5) and the majority of the Ile-de-France Paris Metropolitan area. The services included are any Metro, RER (suburban express) train, buses (RATP/Noctilien/Optile), Transilien suburban trains, and trams up to the zone limits of your pass.
The Orlyval train is a notable exception and is not included in Navigo coverage. Orlyval is a train that connects the RER B train station "Antony" (closest RER B station) to Orly Airport. Orlyval is owned & operated by a separate private company which does not accept Navigo passes for travel and requires a separate ticket specifically for the short distance Orlyval train (although Paris Visite tickets are accepted).
Valid Period / Navigo Pass Duration
The downside of the pass is its strict timing. Navigo pass validity starts on Monday morning (00:00) and ends the following Sunday at midnight (11:59:59 PM / 23:59:59) regardless of which day you buy the pass. After Thursday midnight, you cannot buy & use the pass for the current week. If you buy Navigo after Thursday midnight / Friday morning onwards, the Navigo week pass cannot be used until Monday morning when its validity period starts
If you plan on arriving Friday through Sunday, consider buying a carnet of single-use Paris transit tickets (book of ten or twenty) that are good for the entire Paris Metro system and any trains/trams/buses in zone 1, or day passes called Ticket Mobilis. Another option is to buy a Paris Visite card, which is really just a more expensive Mobilis ticket that can be used for a set period of days, starting from whenever you first place the ticket into a turnstile machine. The Paris Visite cards are good for 1, 2, 3 or 5 days and for either zones 1 to 3 or all five zones.
Should I Buy a Navigo Week Pass?
If you arrive Monday to Thursday, by either CDG or Orly airport, and will be taking Paris area transit for more than one day, buy the Navigo Week Pass. It's the cheapest and best option. For example a round-trip to Paris from CDG airport costs 32.40€ using single-use tickets. The price of a Navigo Week pass is 30€. And keep in mind the better user-experience of an all-inclusive pass:
easy to use: tap/hold pass on reader to unlock turnstiles/gates
mistakes included: take a wrong train? No stress / No worry – Navigo is unlimited rides until expiry
no need to organize/separate used tickets from unused tickets
no misplaced tickets during travel, trapping you inside system with blocked exit gates
no stress when checked by a ticket controller, finding your Navigo pass card is much easier than the small paper coupon ticket that's hidden itself deep in the recesses of your wallet/purse/pocket
I arrive Friday/Saturday. Should I Buy a Navigo?
If you arrive in Paris from Friday to Sunday, deciding to buy a Navigo week pass is more complicated.
Will you be leaving Sunday, Monday or Tuesday? Navigo Week pass is likely not the best choice. Paris Visite Ticket is an option to consider if you're planning on making trips out to Disneyland Paris (15.20€ return using single tickets) or Versailles (7.30€ return) and especially if you're arriving via Orly (as Paris Visite will cover the Orlyval train, otherwise 12.10€ one-way).
If you're planning to stay mostly in Paris city center (zone 1) then you're likely better off using single-use RER tickets to get into the city from airports and then using single-use Metro tickets (either as physical paper tickets or on a Navigo Easy card preloaded with electronic tickets) or 1-2 zone Ticket Mobilis (unlimited ride day ticket) or 1-2 zone Navigo Day Pass (officially known as Navigo Jour, unlimited ride day pass, put onto a Navigo Easy card or a Navigo Decouverte card) while exploring the heart of the city.
Using Navigo Pass
Navigo at Metro & RER Gates
Using your Navigo pass at Metro stations and RER stations to open fare-gate barriers works by holding the card against the purple reader zone on the tops of the turnstiles or barriers. The Navigo pass card may take a second or two to be recognized by the transponders, so keep the Navigo card against the reader area until a "ding" sound is emitted for an accepted pass. Keep in mind that Navigo passes near the end of its validity period will cause the barrier to emit a buzzing noise instead of a ding, along with a message noting the date of expiry. The gate is open though. Pass through the turnstile or gate as per normal.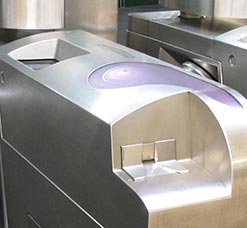 Navigo on Buses & Trams
Using Navigo on Paris Buses & Trams requires holding the pass close to the Navigo reader pictured above until a ding is heard indicating a successful read. An expired Navigo pass will cause the bus/tram Navigo reader to emit a quick double buzz noise. A Navigo pass close to expiration will also emit a double buzzing noise, but is still valid for travel.
Navigo on Transilien Trains
Transilien train stations will commonly have no barriers to accessing the train platforms and require you to voluntarily validate your Navigo pass at readers such as the one pictured above, prior to boarding your train. Failure to validate your Navigo pass before a Transilien train ride can net you a 25€ fine by ticket controllers, so be sure to validate before you board.
Navigo Month Pass
For those few, lucky travelers who are staying 3 or more weeks and arrive near the beginning of the month, a monthly Navigo pass may be less hassle than a week pass. Navigo Month pass is valid from the first day of the month through till last day of the month:
84.10€ for central Paris and all Zones 1-5
includes travel in central Paris and out to…
Monthly Navigo Cards for the next month are on sale from the 20th day of the preceding month. This means you can buy Navigo Month pass only up until the 19th day of the current month. For example, if it's January 20, you can purchase and apply February Navigo Monthly pass validity to your Navigo card and it will be good up through to February 28/29 (depending on leap year).
Who can buy a Passe Navigo Découverte?
Some travelers to Paris in the past have been pressured by RATP staff into buying a Carte Paris Visite by refusing to sell them a Passe Navigo Découverte.  Please don't let this happen to you. (Keep in mind: I haven't heard this happening in quite some time.)  You have the right to purchase a Passe Navigo Découverte as outlined in the official website page entitled Les Forfaits Navigo (Navigo Passes), published by STIF (updated January 2014), the parent organization of RATP (Paris Transit Authority). The section of interest is under the section Le Choix entre la Carte Navigo ou la Carte Navigo découverte, then click on the tab for La carte Navigo Découverte. The line that reads Elle est ouverte à tous (Franciliens et non Franciliens) says that "the card is open to all, residents of Ile-de-France or not".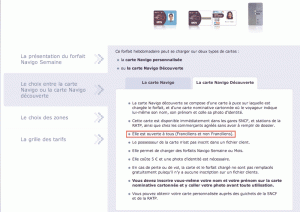 The old documentation below is kept for posterity.
Page 9 of this document explains that the Passe Navigo Découverte is open to all travelers.  Here is the excerpt: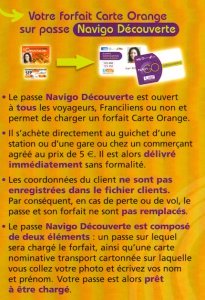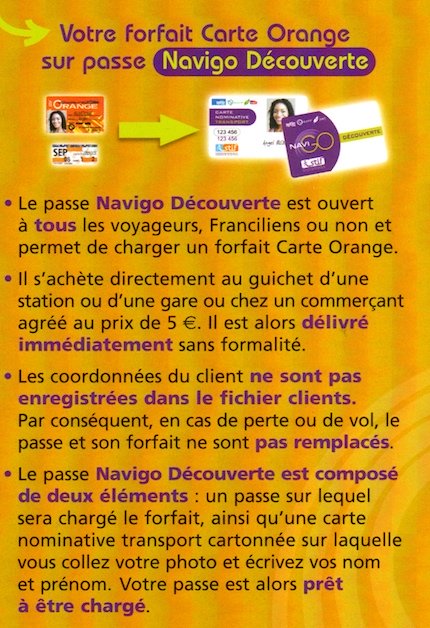 The translation of the first two points is as follows:
The pass Navigo Découverte is open to all travelers, residents of Ile-de-France or not, and are allowed to load onto it a Carte Orange subscription.
It's purchaseable directly from ticket windows from a [Metro/RER] station or a train station or an authorized resellers at a price of 5€.  It is then issued immediately without formality.
If you are concerned about hassles with purchasing a Passe Navigo Découverte when in Paris and don't wish to be forced into buying a more expensive Carte Paris Visite, print out this page of Guide Navigo (with the Navigo Découverte tab visible) and bring it with you to Paris.  If a ticket seller tells you the Passe Navigo is only for residents, show the guide to the ticket seller.  Below is a screen shot of the important text.
What Next?
Paris Navigo Decouverte Pass – What You Need to Know
was last modified:
October 26th, 2023
by