The Orlybus Orly Airport Bus travels between Orly Airport Terminal 4 and Paris Denfert-Rochereau in Paris in 25-30 minutes at a cost of 9.50€.  Read on to find out:
where to catch the Orlybus at Orly Airport
where to catch the Orlybus in Paris
how & where to buy Orlybus tickets
Orly airport bus route & stops
Line => Orlybus
First Bus / Last Bus to Paris => 06:00 / 00:30 (from Orly Terminal 4)
First Bus / Last Bus to Orly => 05:35 / 00:00 (from Denfert-Rochereau)
Frequency => 8 to 15 minutes
Average Travel Time => 25-30 minutes
Cost => 9.50€ paper ticket / 8.50€ on Navigo Easy
Passes Accepted => Paris Visite 5 Zone, Navigo, Ticket Mobilis 4-zone, Navigo Day Pass 4-zone

OrlyBus, a direct bus between Orly Airport Terminal 4 and Paris, ending at Denfert Rochereau station with connections to RER B and Metro line 6 (to Eiffel Tower) is a good way to get from Orly to Paris.
Orlybus from ORY to Paris
Orlybus to Paris departs ORY airport from Terminal 4 only.  You can find Orlybus at ORY Airport Terminal 4 outside door 47d at bus stop #5.
If you land at Orly Airport terminal 1, 2 or 3, you will have to transfer to Orly Terminal 4 to catch Orlybus to Paris.  Transfers from Orly terminals 1, 2, or 3 to Orly 4 can be done by walking or taking the Orlyval train between Orly 1 and Orly 4. The walk from Orly 3 to Orly 4 is about 8 minutes long. Orly 3 is the closest ORY terminal to Orly 4, but requires walking outside underneath a covered walkway during construction of the hallway that will join the two terminals. Walking from Orly 1 to Orly 4 is about 15 minutes. It's faster to take the ORLYVAL shuttle train from Orly 1 to Orly 4. The ORLYVAL is free of charge when transferring between Orly terminals.
Below is a photo of Orly Terminal 4 bus station, with the Orlybus at Bus Stop #5 visible at center top right furthest away, Paris bus 183 to Porte de Choisy in dead center at Bus Stop #4 and the Disney Magical Shuttle to Disneyland Paris in yellow/orange in the bottom right at Bus Stop #3.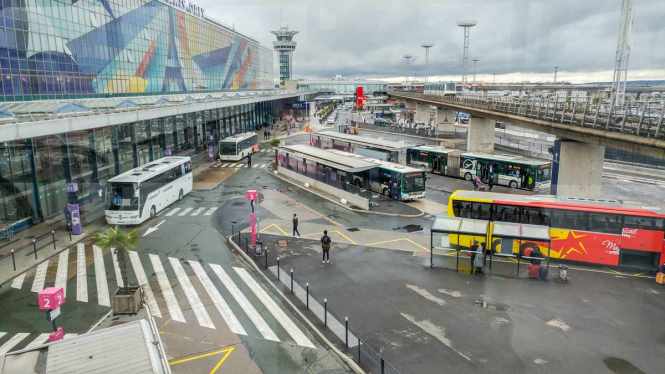 Buying Orlybus tickets at ORY Terminal 4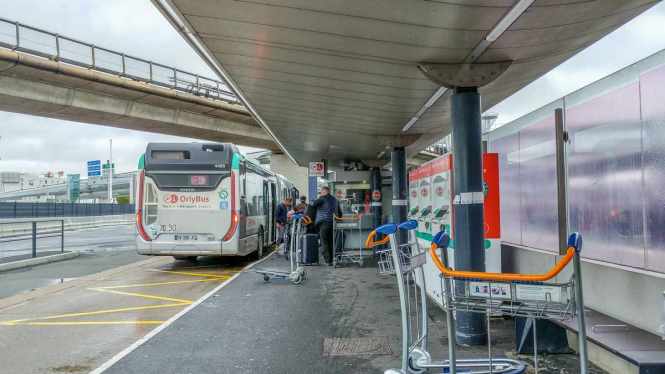 As you can see in the photo above, you can buy OrlyBus tickets at several ticket vending machines at bus stop # 5 or from the staffed ticket window at Bus Stop #5 outside ORY Airport Terminal 4 door 47d.  The Orlybus ticket vending machines accept payment types of credit card, European bank cards, Euro coins.  The Orlybus ticket window accepts payment types of credit card, Euro bank cards, Euro coins and cash notes.  In addition to selling individual Orlybus tickets the ticket window can sell Navigo Decouverte day and week passes, plus Navigo Easy cards.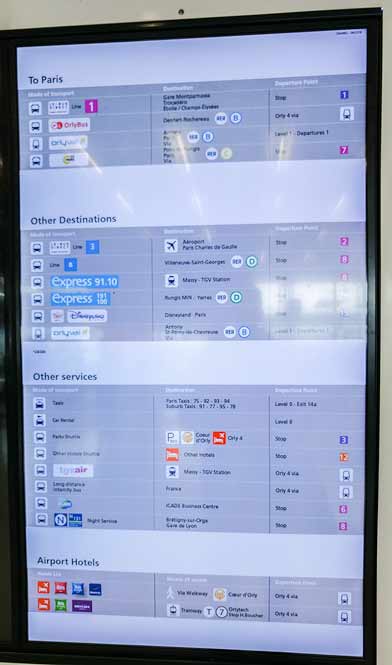 The various transport options between Orly Airport and Paris shown below on Orly Airport Transport Information screen including:
Les Bus Direct (formerly Les Cars Air France) to Montparnasse / Invalides / Champs Elysées for 12€
OrlyBus to Denfert Rochereau for 9.50€ or discounted to 8.50€ when purchased on Navigo Easy
OrlyVal to Antony, then RER B to Châtelet for 12.10€
shuttle bus to Pont de Rungis then RER C to Gare de Austerlitz for 6.35€
Magical shuttle Orly to Disneyland Paris bus for 23€ (10€ kids 3 – 11 years old)
Paris city bus #183 to Porte de Choisy (not shown on directory) for 2€ then another 1.90€ for Metro into central Paris
Tram 7 (not shown on directory) to South East Paris Metro station of Villejuif-Louis Aragon on Paris Metro line 7 for 1.90€ (Tram) + 1.90€ (Metro)


Some details on where to catch Tram 7 from Orly Airport South Terminal (near Parking 3 garage), OrlyVal train (entrance & ticket office near Sortie/Door K) and OrlyBus from island 3 at the bus station ("Gare routière").
An Orly Airport bus ticket vending machine is shown below.  Note the Orly airport bus price has increased to 9.50€ as of Nov. 1, 2019.  Although the particular machine below doesn't have a slot for accepting Euro cash notes, some Orly bus ticket machines will accept cash notes.  Other forms of payment accepted include debit card, Mastercard and Visa.  All cards must use chip + PIN technology to be accepted.
the purple card holder area above the credit card slot / pin pad is for recharging Navigo passes at this train ticket vending machine
coin slot to the right of credit card slot / pin pad accepts Euro coins, minimum denomination is 5 cents
the metal roller between the two circular buttons is how you make selections on the screen, rolling up or down to change the highlighted item on the screen
the left red button cancels or goes back, the green button is an OK button
collect your train tickets, Euro coin change and receipts from the large central slot below the pin pad
A photo of the "Orlybus" Orly Airport Bus stop in Paris at Denfert Rochereau Metro stop.  The Orlybus red logo is visible on the bus stop.
What Next?
Orlybus – Orly Airport Bus
was last modified:
November 7th, 2019
by