Overview
Pass valid for 1, 2, 3 or 5 days on Bus, Metro, RER, and Ile-de-France trains (not TGV).
Pass valid on OrlyVal train to Orly Airport (with 5 zone pass).
Price ranges from to depending on zones covered (1-3 or 1-5) and duration (1 to 5 days). Coverage of Central Paris (not including airports) for 5 days would be adults, for children 9 and under. (Prices current .)
(Price schedule courtesy of RATP)
Carte Paris Visite counts days from day of first use, not 24 hour periods. If you arrive at night and use the pass, that will be counted as one day.
Details
The Paris Visite Carte is a 1, 2, 3 or 5 day pass good for either Zones 1 to 3 or 1 to 5 around Paris. If you're staying just within Paris itself and not venturing out to Chateau Versailles, Chateau Fontainebleau nor Disneyland® Paris, stick with the Zone 1 to 3 card, which will cover all of "central" Paris.  See the Paris Fare Zones Map for more information.
The key difference between the Paris Visite Carte and the Passe Navigo Découverte is the timing. Pass Navigo's are valid strictly from Monday 00:00 to Sunday 23:59:59. If you land at Roissy-Charles de Gaulle Airport on Thursday and buy a week long Pass Navigo Découverte, it will work only up until Sunday midnight. Starting from Friday, you will not even be able to purchase the card.
Paris Visite cards are good from the day of first use (not time of first use) up until midnight of its last day of validity. This means that if you arrive on Thursday evening at 8pm, buy and use a 3 day Paris Visite card, by midnight that night, the card will have "used" an entire day and in two days at midnight the Paris Visite will have expired. So to maximize the value of the Paris Visite Card, start using it during the morning. If you've arrived in the evening at one of the Paris airports, simply buy a single Ile-de-France ticket from a ticket window that will get you into Paris (see prices for CDG to Paris from CDG, vs. 1 day Paris Visite 5 Zone ticket listed above).
In summary, if you're arriving in Paris on Thursday and want to have an unlimited Paris transit pass for 3 or 5 days, this is the least expensive pass (Mobilis pass may be cheaper for 1 or 2 days dependent on number of zone). In addition, there are discounts for various tourist attractions and services for Paris Visite pass holders, such as 25% off boat tours on the Seine, 20-40% off admission to the Arc de Triomphe, the Opera house, the Pantheon, and other sights and services.
Paris Visite Card Discounts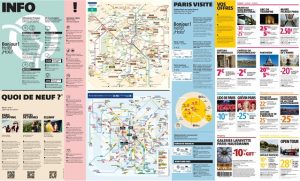 These discounts change often so this list of Paris Visite discount offers is only meant as an example of savings.
Arc de Triomphe: 25% off
Conciergerie: 20% off entrance
Picasso Museum: 2.50€ off entrance
Army Museum/Invalides: 20% off entrance to permanent collection
Bateaux Parisiens: 25% off cruise of Seine river
Open Tours: 25€ instead of 29€
Chateau de Versailles: 7€ (vs. 10€) for guided tours of private apartments
Chateau de Fontainebleau: 2€ off entrance
Disneyland Resort Paris: 20% off – Discount No Longer Available
France Miniature: 30% off entrance
Grevin museum: 30% off entrance
Provins: 7,50€ entry instead of 11,40€ on adult price to visit 4 monuments around the UNESCO world heritage site medieval city
Tour Montparnasse: 30% off entrance
Shopping at Galeries Lafayette: 10% off + 1 free bag with minimum 40€ purchase
Links
What Next?
Paris Visite Pass / Card
was last modified:
October 9th, 2018
by