Overview
Costs 2.10€ per journey (with an individual Ticket t+, price as of Jan. 1, 2023)

Children 4-9, cost is 0.96€.

Discounted individual children tickets no longer available.
Children 3 and under ride for free.
Books of 10 tickets are discounted: 19.10€ (paper tickets) or 16.90€ if put on Navigo Easy adults (1.91€ / 1.69€ each), 9.55€ (0.96€ each) children 4-9 years old
Passes Accepted => Pass Navigo, Navigo Découverte, Paris Visite Card, Ticket Mobilis
First train in morning begins running at 05:30
Last trains in evening at 00:40. Last train on Fridays, Saturdays and nights before holidays 01:40
Paris Metro
The Parisian subway is known as the Metro, short for "chemin de fer Métropolitain" [metropolitan railway].  The network of underground rail lines has 245 stations scattered throughout central Paris' 20 "arrondissements" [districts].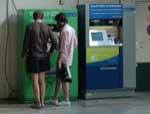 Tickets for the Paris Metro are purchased from blue or green "billetteries" [ticket vending machines] or from "guichets" [manned ticket windows] within stations. The current price ( as of Jan. 1, 2023) for a single ticket known as a "Ticket t+" is 2.10€. Tickets can also be purchased as a book of ten or twenty, known as a "carnet" [booklet], for a slight discount (booklet of ten Ticket t+ is 19.10€ (paper tickets) or 16.90€ if put on Navigo Easy or 1.91€ / 1.69€ each).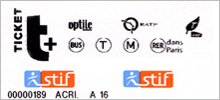 During your journey, keep your ticket with you until you arrive at your destination station and pass through the exit gates or turnstiles.  "Controleurs" [ticket inspectors] may stop you at any point during your journey to ask to see a valid ticket or pass.  Failure to provide a valid fare will result in a fine of €35, payable on the spot through credit card.
Paris Metro stations are mostly located underground with a few above ground due to local geography. Entry into the Metro stations is free up until the turnstiles which mark the area from which you must have a valid transportation ticket or pass. Some station entrances are unmanned, having no ticket window nor ticket vending machines, only turnstiles which accept tickets and smart card passes (Pass Navigo) for entry.
Metro lines are numbered from 1 to 14, each a different color, with two "bis" [b or secondary] lines making 16 in total.

Each Metro line has two (or more) terminus stations. These end-of-line stations are used to note the direction the train is traveling. Each Metro line platform within a station will be marked with the line number and the direction the trains will travel from that platform.

Signs within Paris Metro stations mark the way to train platforms on a given line, in a given direction. Metro lines are signified by the letter M within a circle.There are several Metro stations that serve multiple lines in various directions. This causes some stations to have several vertical levels accessible sometimes only by stairs, but often with escalators and sometimes with elevators for extremely deep stations.
As you make you way toward the line platforms within a station, stairs often descend or ascend onto the either side of the rails.  Each stairwell is often marked with a detailed Metro line sign showing number, direction, and stations that will be visited as the train travels toward the terminus.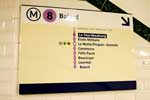 (photo by roboppy)
Exits from Metro stations are marked by blue "sortie" [exit] signs and often note the street or area they give access to.
Stations often have several exits leading out to various streets and pathways.  There is often a map provided within the station, outside of the ticketed turnstile area, but still within the station, showing all exits in relation to above ground streets and establishments.
Links
More Metro photos & information at nycsubway.org
What Next?
Paris Metro (Subway)
was last modified:
January 30th, 2020
by