Navigo Easy (price 2€) is a prepaid Paris travel card that can hold up to thirty Paris Metro tickets, up to two Navigo Day Passes, Roissybus (CDG Airport Bus) and Orlybus (Orly Airport bus) tickets (plus a few other less common tickets). Navigo Easy is not sold online and can only be purchased in-person in Paris at any Paris Metro/RER/Transilien ticket window or RATP partner (such as newspaper stands, tobacconists, corner stores).
The Navigo Easy ticket card will exist alongside weekly Navigo Decouverte.  Navigo Easy will not replace Navigo Découverte (the unlimited ride week pass). Continue below to learn more about this new preloaded Paris Metro ticket card.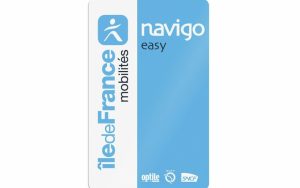 Who Can Buy Navigo Easy?
Anyone can buy the Navigo Easy card; Tourists and residents of Paris & Ile-de-France.
The Easy card doesn't require a photo (unlike Navigo Decouverte) and is an anonymous card.
Each person must have their own Easy card when travelling together. We can't share one Easy card among several people traveling at the same time.  i.e. pass-back of card or tapping repeatedly at the same turnstile/fare gate is not allowed.
Where Can I Buy Navigo Easy?
You can buy Navigo Easy cards at:
Can I Buy Navigo Easy Online?
No. Navigo Easy is not sold online (as of mid-2022). We can only buy Navigo Easy in person in Paris now.

But… Android phones as of 2023 can now purchase & use Paris Metro tickets directly on their phone with official Paris transportation apps. See the Navigo Pass on phone article for more information.

Yes, you can buy Navigo Easy online through the Paris Tourism and Convention Office website. Navigo Easy purchased online will include a book/carnet of 10 Paris Metro/RER (Ticket t+) tickets pre-loaded.
The price/cost of the online Navigo Easy is currently 18.80€ as of June 2021 (includes card fee of 2€ and the 10 tickets) PLUS courier delivery fee of anywhere from 11.90€ to roughly 30€ depending on your location. (DHL courier service)
Online Easy cards can also be delivered to a local Paris area hotel for a flat fee of 12€. The hotel must have a staffed reception desk for hotel delivery. That means AirBnB and other vacation home rentals are not accepted for local hotel delivery.  Delivery of your card will be made 24 hours ahead of your arrival date at the hotel (or the Friday previous if you arrive Sunday), so you must provide your hotel arrival date when ordering Navigo Easy cards online.
Finally, you can also pick up your online bought Easy card from the Paris Tourism and Convention Office outlets free of charge. The Tourism and Convention Office has two outlets for collection in person: Paris Tourist office (red signs) at 29 rue de Rivoli Paris, open from 10am till 6pm, closed on Christmas Day, OR Gare du Nord train station, ground floor, in front of train lanes 7-9, right beside the Information Booth, open daily from 9am till 4:30pm, closed Christmas Day, New Years Day and May 1st.
How Much is Navigo Easy?
Navigo Easy costs 2€ for the card fee, plus however many tickets you buy and add onto the card. Note that as of as of Jan. 1, 2023 booklets of ten Metro tickets will be discounted by 2.20€ from the full price of 19.10€ to 16.90€ if put on a Navigo Easy card. Effectively, the price difference makes the Easy card free when buying a booklet of ten Metro tickets. (Buying a booklet ("carnet") of classic paper Metro tickets will still cost 19.10€). This extra discount is an incentive for travelers to switch to the preloaded ticket card from paper Metro tickets, which Paris is aiming to phase out.
What fares can you put on an Easy card?
Here are fares you can load onto the new Paris transit ticket card:
Single Paris Metro tickets (2.10€ each, up to 30 max. No child fare discount on individual ticket purchases)
"carnet" or booklets of 10 Metro tickets (16.90€ per booklet. ~20% discount off regular Metro ticket price. 8.45€ child booklet, ages 9 & under. ~50% discount off regular Metro ticket price. Maximum of 3 booklets or 30 Metro tickets on the card at any one time. )
Orlybus ticket for Orly airport to Paris Denfert-Rochereau station (10.05€ on Navigo Easy, or 11.20€ paper ticket)
Roissybus ticket for CDG Airport to Paris Opéra station (14.15€ on Navigo Easy, or 16.20€ paper ticket )
Navigo Day Pass (8.45€ for 1-2 zone, 20.10€ 1-5 zone)
Youth Weekend Pass (Ticket Jeunes, age 25 & under, for Sat/Sun/holidays, 4.60€ for 1-3 zone, 10.10€ for 1-5 zone).
Antipollution ticket (3.80€, unlimited rides for all 5 zones on Paris Metro, Bus, Noctilien (night bus), RER, Tram, Transilien trains, but only available during days when air pollution is particularly high. OrlyVal train from Antony-Orly is excluded.)
Music Festival pass (forfait fête de la musique) – (3.50€ unlimited travel pass for Metro, Bus, RER, Tram, Noctilien (night bus), Transilien trains from 5PM Thursday – 7AM Friday morning, available only during the music festival.)
Note that you can load 30 Metro tickets, in addition to the other fares such as Orlybus / Roissybus / Navigo Day Pass, at the same time. While a Navigo Day Pass is active, it will be the first to be used prior to any single-use Metro ticket, as long as the appropriate zone coverage is met.  (See Fare Restrictions below.)
Check Ticket Balance
You have several ways to check Easy card balance to see how many Metro tickets are on the card:
automated ticket vending machine
at a turnstile / fare gate
Navigo card validation machines on buses & trams
at any Metro / RER / Transilien station ticket window
To check ticket balance on an automated Metro ticket vending machine's Navigo reader, place the Easy card on the purple Navigo card reader or inserted into the Navigo slot (depending on the machine). This will prompt the ticket vending machine to show the current ticket balance on an Easy card.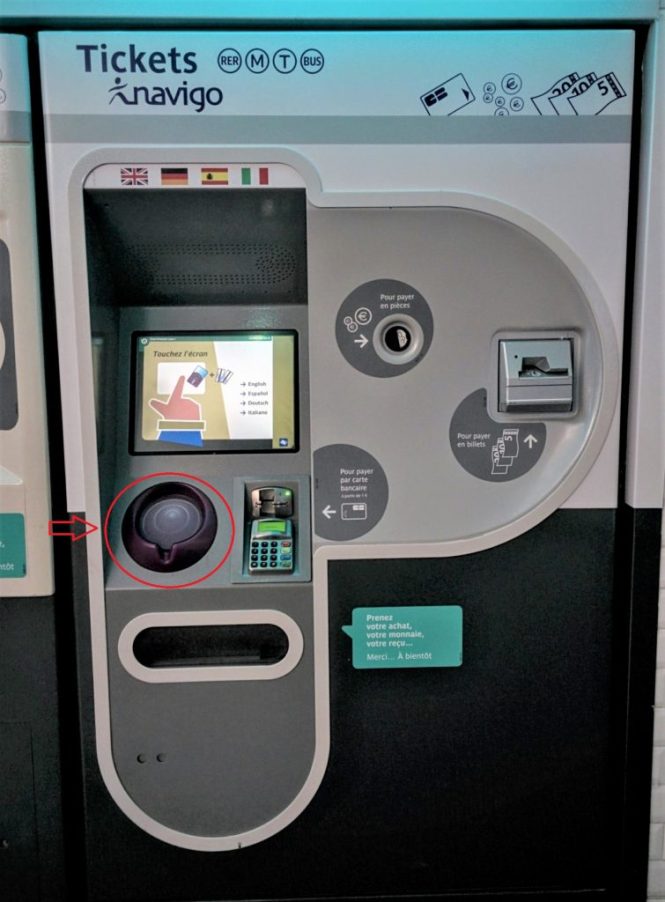 When you validate an Easy card by holding it on the purple Navigo reader on newer turnstiles & fare gates, the number of unused Metro tickets on Navigo Easy is shown on a screen.  Same with Navigo validation machines on Paris buses & trams: when you hold the card to the reader, the remaining ticket balance will show on the display.
And finally you can ask any ticket window staff at Paris Metro / RER stations to check the balance on the Easy card.  In French this would be: "Combien des tickets T reste sur cette carte?"
Fare Restrictions
Certain fare combinations cannot be loaded at the same time:
adult fare AND child fare Paris Metro tickets cannot both be loaded onto a Navigo Easy
Navigo Jour (Day Pass) AND Orlybus / Roissybus, cannot both be loaded due to overlapping coverage
two Navigo Day passes valid for the same day
Day Pass / Navigo Jour
Navigo Easy can hold up to two Navigo Jour / Day Pass at any one time as long as the validity dates are different. Navigo Day Pass allows you to specify up to six days in advance when you would like your day pass active.  So as long as the day pass active dates are different, you can load up to two day passes on a single Navigo Easy card.
Roissybus / Orlybus
You can hold more than one Roissybus and Orlybus tickets on Navigo Easy at the same time.  This allows you to have Roissybus return tickets or Orlybus return tickets on the Easy card, to save you from having to return to a ticket vending machine to buy a ticket for the return portion of your trip.  (I'm unsure of the upper limit of Roissybus/Orlybus tickets that can be loaded at one time.  RATP didn't have this information on hand.)
Sharing Navigo Easy
Navigo Easy can be shared between travelers, but not for the same trip at the same time.  (You can't do a pass-back of the card through a turnstile for another person to use.)  Paris Metro tickets are good for 2 hours of travel & transfers between lines from the time of validation at a turnstile/gate.  While the card has a validated ticket it essentially cannot be shared; using it at another turnstile that is not part of a transfer (i.e. exiting a station and entering again at another) will consume another Metro ticket from the tickets stored.
* Paris Metro paper coupon tickets are still available and usable after June 12, 2019. The paper based single-use Paris Metro coupon-style tickets are being phased out slowly. The end of paper Metro ticket sales is currently targeting the end of 2025. There's no word on when existing Metro tickets will stop being accepted for travel, but likely much later than 2025.
What Next?
Navigo Easy
was last modified:
October 26th, 2023
by