Here are photo instructions for RER B train from Paris CDG Airport Terminal 1 to central Paris (Roissy-Charles de Gaulle Airport to Paris). Click on photos to see larger versions.  For train schedules, train ticket prices, maps and other details see the Overview CDG to Paris by Train article. For Terminal 2 instructions see CDG Terminal 2 to Paris Train.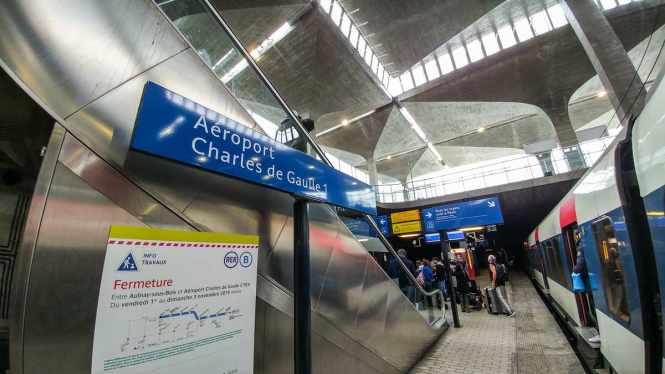 RER B Service Disruption
RER B Trains between CDG Airport Terminal 2 and Paris are ending early (10:45 p.m. / 22:45) due to rail maintenance works between CDG Terminal 2 train station and Aulnay-sous-Bois/Gare du Nord stations on weekdays from June 20, 2023 till Sept 29, 2023 (inclusive).
Consider the Roissybus CDG-Paris Opera Airport bus as an alternative
=============================
* Warning! Thieves work on this train!

CDG Terminal 1 to Paris
If you're arriving at CDG Terminal 1, you'll first need to take the CDGVAL shuttle train to Terminal 3/Roissypole (center of map) to catch the RER B train to Paris.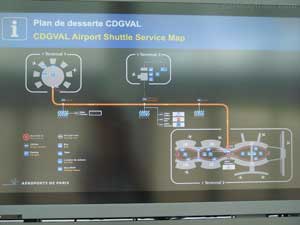 Follow CDGVAL signs posted throughout Terminal 1 that will look like the following: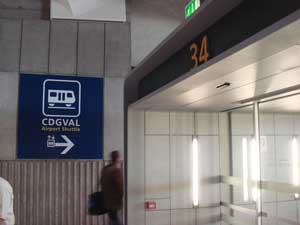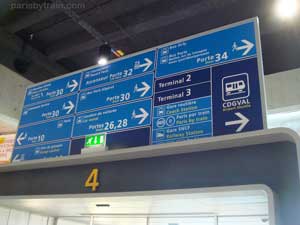 The CDGVAL shuttle train travels from Terminal 1 to Terminal 3/Roissypole then to Terminal 2 as shown on this line map: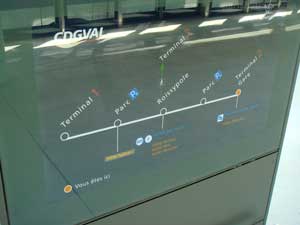 While on the CDGVAL shuttle, keep in mind that:
Terminal 3/Roissypole is the second stop which is before Terminal 2.
The shuttle will stop at parking garage Pr before arriving at Terminal 3/Roissypole.
Upon arrival at Terminal 3/Roissypole, you will enter a large concrete atrium show here: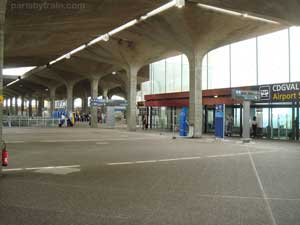 Tickets
When exiting the CDGVAL stop at Terminal 3/Roissypole, turn to your right and walk towards a series of white/fuchsia ticket vending machines and several ticket windows behind an overhead sign for RER B "Paris par train / Paris by train":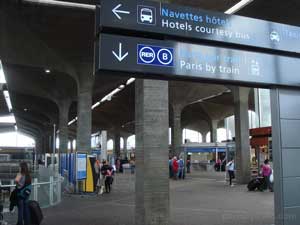 From here you can purchase single train tickets for Paris from the white/fuchsia vending machines (Billetterie Ile-de-France) for 11.45€ one way (price as of January 1, 2023). These tickets are known as "Billets Ile-de-France".
Keep in mind that these vending machines do not sell pass cards Pass Navigo and only take coins or smart-chip enabled credit cards. If your credit card is from the U.S., most likely it will not have a smart-chip and will not work with these machines.
To purchase a Pass Navigo Decouverte (public transportation passes) you must visit the ticket window immediately in front of these machines (visible in photo below).
The CDG T1/T3 train station ticket window is open daily from 6 a.m. till 12 a.m. (midnight) every day.
If you already have a Pass Navigo / Pass Navigo Decouverte, you can recharge your card with Navigo Semaine from the white/fuchsia ticket vending Billetterie machines by inserting your pass into the purple Navigo slot and following the prompts.  Beware of the purchase restriction schedule on the Pass Navigo.
RER B Train Location
After purchasing your tickets or passes, it's time to find the RER B train platform. Just right of the automated train ticket vending machines and directly opposite/across from the ticket window, you'll see a set of fare gates and overhead video screens. (See photo below.)
The video screens show the RER B train schedule arriving and departing CDG. The display screen on the right shows RER B trains towards Paris (bottom left edge of display reads: "Paris – St-Remy le Chevreuse – Robinson"). The screen on the left shows RER B arrival times from Paris to CDG Terminal 2 station (bottom left edge of display reads: "Aéroport Charles-de-Gaulle 2 TGV").
RER B trains leaving CDG going to Paris (right side screen) stop at all central Paris stations (Gare du Nord to Cité Universitaire, full list below) regardless of the name under the Destination column. The Destination names are the terminus stations for the several RER B train line branches and are used to specify the direction each train is traveling. A complete list of departure times from Terminal 1 RER B station towards Paris is available at the bottom of this article.
Using a gate with a green arrow lit on its front (red X's signify exit gates) insert your paper ticket into the yellow ticket reader (should be on your right, i.e. that gate's green arrow should be pointing at you and you should be using your right hand to submit the ticket) then retrieve it from the top arm panel on your right. If using a multi-use train pass (Navigo or Navigo Découverte) place your Navigo pass against the purple pass reader on the top arm panel on your right of the gate. You'll hear a pleasant "ding" if the pass is correctly read and contains the correct weekly fare. (You'll hear an unpleasant "buzz" otherwise.) Descend onto the RER B train platform using the escalators or stairs.
Signs at escalators and stairs descending onto the train platforms will note that "All trains go to Paris" ("Tous les trains vont à Paris").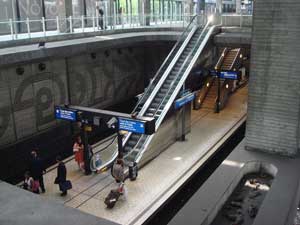 Once the train arrives, the train doors may not open automatically. Press the small metallic or red rubberized button on the door to open the train doors.
Remember to keep your ticket or passes handy as "controllers" ("ticket checkers") frequent these trains.
Travel time to the first major Paris station: Gare du Nord, is roughly 25 minutes.
RER B will stop at Paris RER stations:
Gare du Nord (transfers to Metro 2,4,5 RER D,E)
Chatelet Les Halles (transfers to Metro 1,4,7,11,14 RER A,B,D)
St. Michel-Notre Dame (transfers to Metro 4,7 RER C)
Luxembourg (no connections)
Port Royal (no connections)
Denfert Rochereau (transfers to Metro 4,6)
Cité Universitaire (transfer to Tram 3, requires new ticket)
If you need to transfer to a Paris Metro train or a different RER train to arrive at your final destination, you may use your airport RER ticket for making (unlimited) transfers as long as:
it's under 90 minutes since ticket validation (using fare gates at CDG Airport)
you haven't exited the Metro/RER system (by passing through turnstiles or exit gates).
your final destination is within Metro/RER Paris Zone 1-2.
If you need to transfer to a bus or tram, you will need to purchase a new Paris Metro Ticket (known officially as Ticket t+) as transfers from Metro/RER to buses/trams are not included.
Useful Links
The following train timetables show depature times of RER B trains leaving CDG Terminal 1 towards Paris.  (Ignore the second pages, which show Terminal 1 to Terminal 2 departure times).
RER B Train Schedule (departure times) CDG Terminal 1 to Paris Monday to Friday (except holidays)
RER B Train Schedule (departure times) CDG Terminal 1 to Paris Saturday, Sunday and holidays
First & last trains timetable for Paris Metro and RER A / RER B trains.
Facts & Figures on RER B train line (video).
What Next?
CDG Airport Terminal 1 to Paris
was last modified:
November 30th, 2019
by