This article explains how to travel from Central Paris to CDG Airport by city train (RER B). For instructions in the opposite direction see Airport CDG to Paris by Train. There are also picture guides of the Terminal 1 train station or Terminal 2 train station at Airport Charles de Gaulle.
Overview
Line => RER B (Blue)


Direction => Aéroport Charles de Gaulle / Mitry – Claye
Arrival Station => Aéroport CDG 1, Aéroport CDG 2 TGV
Cost => 11.45€ ( as of January 1, 2023, Zone 1 -> Zone 5)
Passes Accepted => Pass Navigo(5+ Zone), Paris Visite (5 Zone)
Schedule – First Train / Last Train from Paris => 04:56 / 22:44 (M-F, station Gare du Nord. 00:14 Sat/Sun/holidays. See complete first/last train schedule link at bottom for more.)
Facts & Figures => RER B (video)
Details
The cheapest and fastest transportation to Airport Roissy-Charles de Gaulle (CDG) from central Paris, is the suburban train line RER B (blue line on RER maps) at a cost of 11.45€ ( as of January 1, 2023), one way, requiring roughly 40 minutes.
Within Paris the RER B line travels from south to north, stopping at Denfert-Rocherau, up past the Luxembourg Gardens (station name: Luxembourg), St. Michel/Nôtre Dame, Châtelet Les Halles, Gare du Nord, then continues north east, making up to 9 more stops on its way to CDG Terminal 1 and 2.
The first train from Paris Gare du Nord to Airport Charles de Gaulle (CDG) leaves at 4:56am, arriving at Terminal 1 at 5:28am, Terminal 2 at 5:30am. The last train at night from Paris Gare du Nord to CDG leaves at 12:14am (past midnight) arriving at Terminal 1 at 12:47am, Terminal 2 at 12:49am. This train schedule is in effect Monday to Sunday, including holidays (every day).
Note that not all RER B line trains stop at Charles de Gaulle airport. The easiest way to determine whether the next RER B train arriving at a station goes to CDG is to look at the RER overhead station stop panels on the train platform.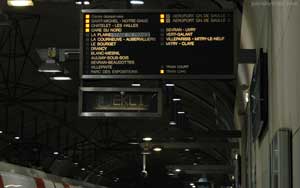 If a light is lit next to "Aéroport Ch. de Gaulle 1" or "Aeroport Ch. de Gaulle 2 – TGV", the next train will stop at CDG airport. You'll also be able to tell how many stops the next train will make between Paris and the Airport by counting the number of stations in between Gare du Nord (the last Parisian station) and the airport stations, Terminals 1 and 2. Obviously, the train making zero stops in between Gare du Nord and the airport will be a bit quicker, usually by about 12 minutes.
Another way to tell if the next train is going to the airport is to look at its four letter "name" and whether it starts with the letter "E", which is marked on overhead television monitors, as well as on the front of the train. All trains with names that start with E will stop at Charles de Gaulle, for example: EKLI. If a bunch of other travelers are getting on with suitcases and look like the traveling type… more than likely you're on the right train.
When arriving at CDG the train will make stops at both Terminal 1 and Terminal 2. For those getting off the train at Terminal 1, you're in fact arriving at Terminal 3 and you'll have to take a shuttle tram called CDGVAL to Terminal 1. Remember to take note of which side of the CDGVAL tram line to get on, as Terminal 3 is actually in between Terminals 1 and 2, so you have to pick the correct direction to go. There should be floor standing signs on the overhead walkway above the tramline to help you make your choice.
If you're looking for the departures level, you'll need to head to the escalators or elevators and make your way up a floor.
Bon voyage.
Links
First & last trains timetable for Paris Metro and RER A / RER B trains.
What Next?
RER Train from Paris to Roissy-Charles de Gaulle (CDG) Airport
was last modified:
October 28th, 2019
by