Official Paris Metro Maps (subway). Download to your tablet/phone or print at home (PDF format).
This Paris Metro Map shows subway/Metro lines 1-14, two Paris Metro "b" ("bis") lines Metro 3bis, 7bis, Paris RER lines A-E, Paris Tram lines 1, 2, 3a, 3b, 4, 5, 6, 7, 8, 9, 10, 11,  and Transilien train lines H through U.
For more info see Paris Metro and Paris RER for tickets, passes, hours & more.
For individual Metro line maps with stations & connections for Paris Metro line 1 through 14 see Paris Metro line maps.
Printable Paris Metro Map in small format, good for printing on a 4×6 sheet of photo paper.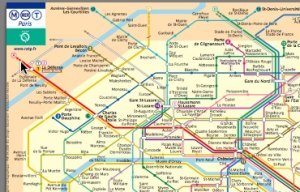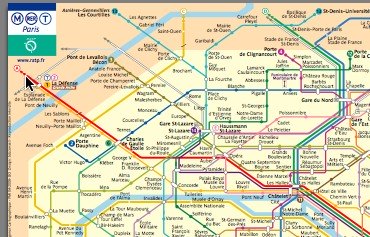 Detailed Paris Metro map with Paris city streets from January 2023.  Includes Paris Metro lines 1-14, 3bis, 7bis, RER A through E, Transilien trains H through U, and Trams T1, T2, T3a, T3b, T6, T7, T9.
All Metro maps are provided by Paris regional public transit authority: RATP.
What Next?
Paris Metro Maps
was last modified:
August 31st, 2023
by