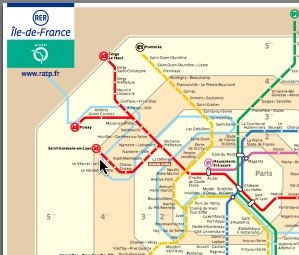 Here is a detailed map of RER A to RER E lines in and around Paris and its surrounding suburbs. Unlike the Paris metro system which covers only 2 Zones, the Paris RER trains cover 5 Zones all around Ile-de-France, the province which contains Paris.
The Paris Regional RER train system connects major tourist destinations and ports of entry to the heart of Paris, near St. Michel – Notre Dame.
Popular RER Routes
Paris-Orly (ORY) Airport to Paris – RER B (Blue) / Orly Val
Paris to Versailles – RER C (Yellow)
Paris to Chateau de Vincennes – RER A (Red)
Paris to La Défense – RER A (Red)
Paris to Gare du Nord (for Eurostar to London) – RER B (Blue) or RER D (Green)
Paris to Galleries Lafayette – RER A (Red)
Download Paris RER Map (PDF) (courtesy of RATP)
What Next?
Paris RER Map
was last modified:
November 17th, 2014
by