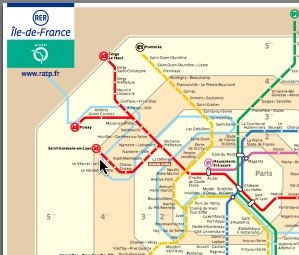 (If you prefer the old style RER map with only RER lines & zones click here).
Here is a detailed RER map of all RER lines A thru E, plus Paris Metro lines and all five Paris fare zones in and around the surrounding suburbs. Unlike the Paris Metro system which is all one zone (yet goes across three Zones), the Paris RER trains have 5 Zones all around the Ile-de-France, the area which surrounds Paris. It's important your RER ticket or Paris transit pass has valid zone coverage.
The Paris Regional RER train system connects major tourist destinations and ports of entry to the heart of Paris, near St. Michel – Notre Dame.
Popular RER Routes
Download latest Paris RER Map 2021 (PDF) (courtesy of RATP)
Download Simplified Paris RER Map (PDF) (courtesy of RATP)
What Next?
Paris RER Map
was last modified:
January 1st, 2023
by