Paris Gare du Nord train station is the Eurostar Paris-London train station. Gare du Nord also connects Paris to CDG Airport and Orly Airport via RER B train line.  In addition Gare du Nord has TGV, Thalys, ICE, Ter, Transilien trains connecting cities in northern France (Lille, Calais, Dunkirk), Brussels, Amsterdam, Cologne, Berlin and many more.
Here's a panoramic photo of the western half of Gare du Nord showing the main train lines connecting Gare du Nord to other cities around Europe.
Layout of Gare du Nord
Gare du Nord's main train lines (to cities outside Paris) are oriented north/south. So when you're looking towards these train platforms, you're facing north.
The horizontal layout of Gare du Nord is:
West Side

Main train lines (Grandes Lignes) – French cities & International destinations
Eurostar entrance & trains to London
Taxis (outside building on left)
Baggage storage
Car rentals

East Side

RER Trains: RER B, D, E
Paris Metro Lines 2, 4, 5
Transilien suburban trains H & K
Paris city Bus station
The vertical layout of Gare du Nord:
Upper Level

Eurostar Paris – London Train check-in/entrance

Surface Level

Paris RER & Transilien train ticket window & Navigo Pass sales
French trains to cities outside of Paris
International trains to Germany, Belgium, Luxembourg, Netherlands

Underground Level -1

Paris Metro Ticket window
Paris RER / Transilien Ticket window & Navigo Pass sales
Paris Metro entrances
Transilien train platforms

Underground Level -2

Paris Metro 4 & 5 train platforms
Paris RER stairs/elevators to platforms
Tunnel walkway to Paris Metro line 2 (not underneath Gare du Nord)
Paris RER E walkway tunnel to Haussmann station platforms

Underground Level -3

Paris RER B train Northbound to CDG, Stade de France & beyond
Paris RER D trains Northbound to Stade de France & beyond
Paris RER B trains Southbound to Antony/Orly
Paris RER D Southbound to Gare de Lyon & beyond
RER B trains in Gare du Nord can travel either north towards CDG or south through Paris towards Orly. To access the RER B train platforms in your desired direction, you need to choose the correct stairwell on sublevel -2 leading to the actual RER B train platform on sublevel -3.
If you find yourself waiting on a RER B train platform in the wrong direction, you'll need to return to sublevel -2 and find the correct stairwell down to the platform for RER B trains traveling in the other direction.
Eurostar Paris – London Train
Above is a photo of the entrance to the Eurostar check-in area at Gare du Nord station in Paris, located up the stairs/escalators on Level 1 (Niveau 1). The Eurostar platform and trains are separated from other trains due to the need to screen passenger passports for the voyage to London. (The UK is not a Schengen zone country).
Here's another photo of the Gare du Nord Eurostar train entrance stairs / escalators leading to the ticketing & check-in area for the Paris-London train:
Eurostar Check-in Procedures
Climbing the stairs seen in the previous photo we arrive at the Eurostar ticketing & check-in level:
One the right side of the above photo is a large Welcome panel showing the steps to get to your Eurostar train (reading from bottom up).
Eurostar Ticket Check (controle des billets)
French Border Police – exiting EU
UK Border Police – entering UK
Customs (Dounes) / Bag screening
Waiting Lounge & Boarding ramps to Eurostar trains
On the left of the check-in lanes (enlarged in photo below) is the Eurostar ticket office, just past the beginning of the blue-cordoned check-in lanes.
If you haven't collected / printed your Eurostar tickets yet, you can do so in the ticket office and get help printing tickets in-person (that may be subject to a fee).  Have a print-out of your ticket confirmation email (with the ticket reference number) plus a passport to retrieve your tickets in-person.  At the end of this walkway is the Eurostar entrance. Non-EU citizens will need to fill out a declaration card for UK Immigration before you enter.
The check-in lanes in the above photo are separated for passport holders depending on their citizenship. EU, UK, EEA & Swiss passport holders use the left check-in lane, other citizens use the middle lanes and group check-in the right lane.
Eurostar Arrivals – Gare du Nord
Traveling London to Paris by Eurostar, the arrivals area of Gare du Nord is what you will see after exiting the Eurostar train area:
This is facing south east towards the front entrance of Gare du Nord on rue de Dunkerque.  Just to the right of this area, in front of train lane #3 are stairs and escalators down to Baggage/Luggage Storage inside Gare du Nord.  Centre middle is an overhead blue sign pointing left towards the Paris Metro 2, 4, 5 and Paris RER B / D / E trains located two levels down from street level.  There will be two sets of stairs leading one level down just left of this scene.  At the bottom of the first set of stairs will be several whiteBilletterie Ile-de-France ticket vending machines where you can buy Metro, RER and Transilien commuter train tickets.
A more detailed photo of the Paris Metro, RER trains sign you'll see upon Eurostar arrival at Gare du Nord:
The signs for Paris Metro and Paris RER in Gare du Nord will point towards the eastern side of the train station. (After disembarking Eurostar and walking to the head of the train, the Metro and RER trains will be off to your left.) You'll need to walk a fair ways (about 5-7 minutes) to transfer from Eurostar to the Paris Metro / Paris RER area. Both Metro and RER trains are located below ground at Gare du Nord.

Navigo Passes at Gare du Nord
Pictured below is a photo of a ticket window selling Navigo passes at Gare du Nord.
There are two "Navigo selling" ticket windows (see map below for the locations of these Navigo ticket windows). One of these Navigo ticket windows is on the ground floor (NIVEAU 0) and another one level below street level/Eurostar arrival level (NIVEAU -1).  Both of these ticket windows are in the south east corner area of Gare du Nord (near the intersection of Rue de Dunkerque & Rue de Faubourg Saint-Denis).
These ticket windows will have signs reading "BILLETS PARIS ET ILE-DE-FRANCE".  This means tickets/fares for Paris & Paris region, which include Navigo week passes, Navigo Day Passes, Navigo Easy cards, Ticket Mobilis, plus single-use tickets for the RER, Paris Metro, buses & trams in Paris & surrounding region.  The photo above shows the Navigo ticket window one level below street level / ground floor ("NIVEAU -1") near the entrance pathway towards RER E / RER B / RER D trains.
If you arrive on Eurostar, follow signs for RER E / RER B / RER D and you'll pass by both of these ticket windows. (See the map below to see where the Eurostar train will arrive and the dotted red line for your walking path towards these Navigo ticket windows.)
Ticket Machines
Paris Metro/RER ticket vending machines are found both at ground level and below ground level throughout Gare du Nord. The machines will look like this:
Traversing Gare du Nord from West to East you'll walk towards Paris Metro and RER entrances. This will require you to descend a level by stairs or escalators. You'll be on sublevel -1 now. You'll first come across a Paris Metro ticket office and Metro ticket vending machines. (Thank you Anna.)
Walking further east you arrive at entrances for Metro 4, then Metro 5. Turning a corner left (heading towards the north east corner of Gare du Nord now) will lead you towards the entrances for Paris RER B and RER D, plus a walkway towards RER E. (See photo below.)
Visible is another overhead sign pointing towards Metro and RER trains with an airport symbol signifying the RER B train service from Paris to CDG Airport as well as Orly Airport to the south.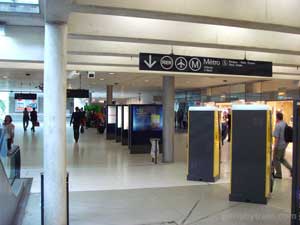 Here's another photo of the same hall, opposite side.  In the distance you can see several green Billetterie Ile-de-France green ticket vending machines.  These sell both RER and Metro tickets trains (Billet Ile-de-France, Paris Metro Ticket t+) including carnets and can recharge Pass Navigo / Découverte with Carte Orange (although they do not sell new cards). Continuing down this hall leads towards Metro lines 4 & 5 and RER B, D, and E.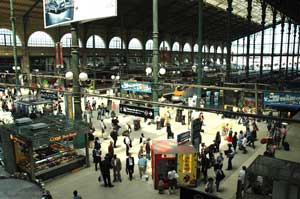 The above is a photo of the western half of Gare du Nord station from the Eurostar level overlooking train lanes/platforms 1-13 (voie in French) for Eurostar and Thalys trains arriving from London (Londres), Brussels (Bruxelles) and German cities. Near the center of the photo is a sign reading Reseau Ile-de-France RER with an arrow pointing to the east side of Gare du Nord station. This is the direction of the RER B, RER D, RER E platforms underneath Gare du Nord, at sublevel 2.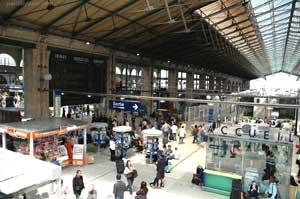 Near the middle of the photo below of Gare du Nord main train lines atrium you can see a blue rectangular sign reading "Metro" with RER and Metro symbols.  Follow those signs to get to the RER B, D and E train lines as well as Metro 4, 5.
Photo of the eastern half of the Gare du Nord station facing north, showing the departures board on the left, train lanes (voies) 14 and up, used for TGV trains and Ter (Ile-de-France) trains. At bottom right is an information booth with an ACCUEIL (Welcome) sign along the top. Beyond the Departures Board, on the other side, are more train lanes for Thalys (high speed trains from Paris to Brussels, Belgium, to the Netherlands and Germany) and Eurostar (high speed trains from Paris to London).
East (looking right) of this position is the large open atrium leading to the RER B, D, E lines and Metro line 4 and 5 on sublevels 2 and 1.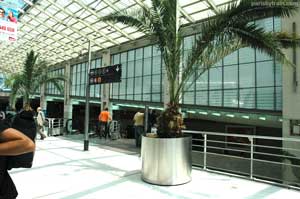 Photo from just above and west of the RER/Metro lines at Gare du Nord along the Eastern edge of the station. Here you can see a sign for RER lines B, D, and E plus Metro lines 4 and 5.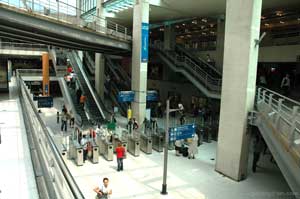 Photo of Gare du Nord's RER/Metro station entrance section, full of turnstiles, leading to train platforms serving RER B, RER D and RER E and Metro Line 4 and Metro Line 5. RER B trains connect Paris to Aeroport Charles de Gaulle (CDG), taking roughly 25 minutes from Gare du Nord. RER B also connects central Paris/Gare du Nord to Paris-Orly Airport to the south requiring a train change at Antony Station with the final connecting train being Orlyval which stops at both Orly West (Ouest) and Orly South (Sud) terminals. RER D runs north-south, connecting Gare du Nord to Gare de Lyon station in direction of Melun or Malesherbes. RER E runs east-west connecting Gare du Nord to Gare St-Lazare on the western side of central Paris.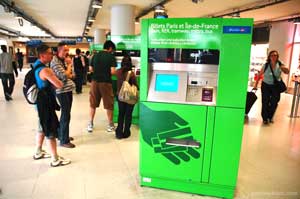 A photo of ticket vending machines at Gare du Nord within the RER/Metro section of the station. These machines are used for buying individual Metro/RER/Bus/tramway tickets (Ticket t+), carnets (books of ten or twenty Ticket t), and also tickets for train destinations within Ile-de-France on Transilien or Ter trains. Remember that most non-smart-chip credit cards will not work with these machines, so use Euro coins if you have them. These machines can also charge up Pass Navigo / Navigo Découverte cards with Carte Orange week or month "subscriptions" (abonnements) using the Navigo slot.
Safety Security at Gare du Nord
Read about staying safe in Gare du Nord train station.
Other Resources
Simple Gare du Nord map showing the main train platforms ("Grandes Lignes").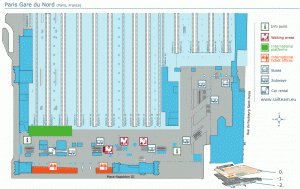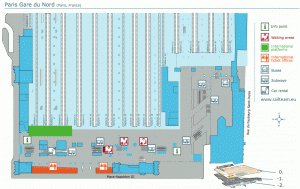 (Map courtesy of Railteam.eu)
Paris Gare du Nord Map with RER, Metro, Bus and streets.
What Next?
Gare du Nord Train Station
was last modified:
May 16th, 2023
by