**The Carte Orange is now known as Passe Navigo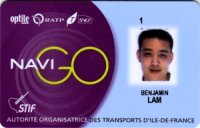 What is Carte Orange?
A weekly or monthly public transportation "pass" for Paris and the Ile-de-France region.
Exists in the form of a contactless smartcard known as a Pass Navigo (for residents) or a Pass Navigo Découverte (for non-residents). Formerly, Carte Orange was an actual papercard, orange in colour, with personal identification, paired with a coupon like ticket for use in turnstiles for access into fare-paid zones.
Price varies on zones (1 to 6) and duration purchased. (See a Paris Fare Zone map).
Valid for RER (regional express trains), Metro (subway), buses, trams, cable cars, and commuter trains. Weekly passes are valid from Monday start of services (approx. 5:30am) till Sunday evening last service (approx. 1:30am).
Monthly passes are valid from first till last day of the month.
No limit to quantity of voyages on public transportation system while the pass is valid.
Restrictions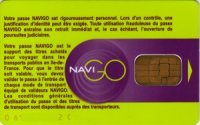 Pass is non-transferable.
Pass requires bearer's facial photo and name.
Carte Orange is not valid on Orlyval shuttle train to Orly Airport.
Buying Carte Orange
Before Carte Orange can be purchased, one must hold a physical pass card: either a Pass Navigo or a Pass Navigo Découverte.
Pass Navigo cards are available to individuals with a mailing address within the Ile-de-France. Applications can be made online via Navigo.fr or through letter mail paper application. Cards are delivered to the applicant's mailing address.
Pass Navigo Découverte cards are available instantly to anyone for a 5€ fee plus a 3cm x 2.5cm facial photograph to be used with the card. Available for purchase at all RATP / SNCF ticket windows at Metro stations and train stations.
With smart card in hand, Carte Orange can be purchased at most RATP (Paris Transit Authority) ticket windows within Metro, RER, bus stations, or at SNCF (French National Railway Company) "Billet Ile-de-France" ticket windows.
Carte Orange can also be purchased through automated vending machines (Billetterie Ile-de-France) within train stations and Metro/RER stations, which take coins and smart-chip based credit card/debit cards.
Weekly Carte Orange (hebdomodaire) is available for purchase from Sunday to Thursday (close of service). Afterward, only next week's Carte Orange is available for purchase from Friday (start of service) onward.
Monthly Carte Orange (mensuel) can be purchased for the current month up until the 19th day of the current month. From the 20th onwards, only next month's Carte Orange is available for purchase.
How to use Carte Orange
On the Paris Metro & RER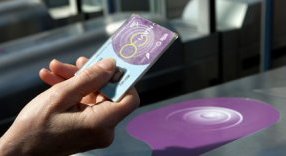 (photo courtesy of navigo.fr)
After entering the confines of a metro station, approach turnstiles (reserved turnstiles may be used)
Hold the pass next to the purple circular card reader.
Wait for a chime sound.
Pass through the unlocked turnstiles.
The Pass Navigo card can only be used once every 5 minutes for the same turnstile or direction (prevents multi-person use).
On Buses and Trams
Enter at either the front or back doors.
Once on board, find the card reader placed on a pole near the entrance.  Validate the pass by holding the card close to the purple swirl design on its face. Wait till a "chime" sounds and a green light appears at top.
On Transilien/Ter commuter trains
Validate the pass using standalone card readers throughout station or platform. (Not strictly necessary, but requested by SNCF).
Show pass to controllers as requested for verification by portable card reading machines.
What Next?
Carte Orange
was last modified:
October 28th, 2019
by