Here is photo tour of Gare de Lyon train station in Paris along with explanations to help you understand how to find your train and your way around Gare de Lyon. You may wish to refer to a map of Gare de Lyon station while following the pictures in this article to help familiarize yourself with the layout.
Arriving at Gare de Lyon by Metro or RER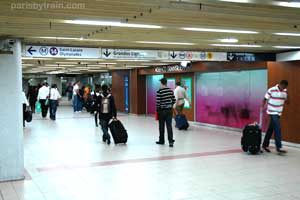 If you're arriving at Gare de Lyon from a Paris Metro or RER train and are making a connection to a TGV or other type of surface train, you'll need to make your way from Niveau (Level) -2 to up to the train platforms at street level (Niveau/ Level 0).  From the Metro or RER trains, take stairs or escalators up one level and follow the overhead signs pointing to the Grandes Lignes.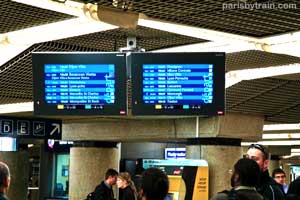 Along the way you may see overhead screens listing surface train departures.  These screens show the type of train, train number, departure time, final destination or terminus station, which zone of Gare de Lyon the train will be parked at (either Blue or Yellow) and finally which platform ("Voie"), designated by letters A through N for the Blue Zone and numbers 5 through 23.  For an example, look at the first train departure on the left screen which shows a TGV train, number 7665, departing at 14h28 (2:28pm), final destination Dijon Ville station, leaving from the Blue Zone at platform D.  Further down you'll notice blue and yellow squares beside destination names, but no number or letter.  This means that the station hasn't decided which platform the train will leave from, only that it will leave from the designated zone: Yellow or Blue. These zones will be explained later in this article.
If you're arriving by car, tax, bus, or on foot, below is the exterior of Gare de Lyon with its distinctive clock tower.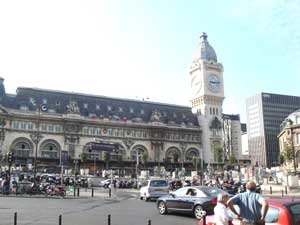 The above photo of Gare de Lyon was taken from boulevard Diderot, just north of the station, looking south.
If you're arriving at Gare de Lyon by TGV or other type of surface level train, you'll end up parked at either one of two platform zones: Yellow or Blue.
Blue Zone Train Platforms

Here is a panoramic photo of Gare de Lyon's Blue zone train platforms and its Grandes Lignes trains.  To help get your bearings, the large clock tower you saw from the exterior photo, not visible here, is at the extreme far right hand side of this position behind us. The Yellow Zone platforms are diagonally left at the far end of the Blue platforms, accessible by a walkway traversing the left wall of the Blue zone.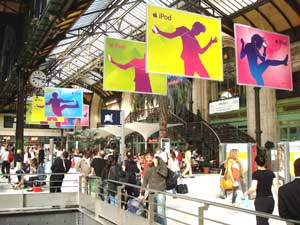 Gare de Lyon "Blue" Platform/Zone, looking in direction west north west, facing the restaurant l'Express Bleu, just above a set of stairs/escalators leading down to level -1 (Galerie Diderot). Healthy amount of Apple ipod billboards on display the day this photo was taken (June 21, 2008).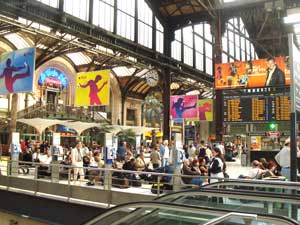 Another photo of Gare de Lyon Blue Platform from the opposite angle/side. From here you can see the restaurant Le Train Blue, with neon sign, up at the top left, accessible by stairs on either side. It's take away and quick meals restaurant L'Express Bleu, is located directly underneath. The escalators you see here lead down to Galerie Diderot's western end, with access to buses, car rentals, taxis and Rue de Bercy.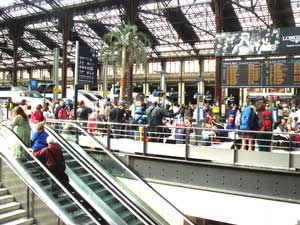 Gare de Lyon Blue platform again, facing west south west. In this photo, from left to right, we see escalators heading down one level to Galerie Diderot giving access to Metro lines 1 and 14, RER A and RER D, buses, taxis on rue de Bercy (for quick travel to Gare d'Austerlitz on the other side of the Seine) and car rentals ("location de voitures"). All of this is printed on the blue sign posted immediately west of the escalators.
In this photo there are several TGV trains parked on the blue platform. At the head of each train you can see a blue sign with a white letter, signifying the lane or "voie". Beside the signs are television screens showing detailed information about the train: the train number, its destination, the station stops the train will be making along its route.
On the right hand side of the photo you can see the large departure board. Every train leaving Gare de Lyon will be listed on this board, regardless of whether the train is leaving from the blue platform or yellow platform. The trains are ordered in time till departure. The next train to leave Gare de Lyon will be listed at the top.
Each train listed on the departures board has the following information:
Type of train: TGV or regular/conventional train
Train number: marked on TGV tickets, but not on regional train (Transilien/RER) tickets
Time of departure (Heure): when the train is leaving, in 24 hour clock, example 14:25 for 2:25pm
Destination: the final destination (terminus station) of the train. There is a very good chance your station or stop will not be listed since your station is before the terminus station, but the train will stop at your station. To verify that the train in this lane/voie will stop at your station, refer to the television screens at the head of the lane, which give detailed information on the voyage.
Details (Particularités): 1st (1eme) and 2nd (2eme) class train cars or simply 2nd class.
Lane (Voie): where your train is parked. Note the color of the square, blue or yellow. If the square is blue, the train is waiting in the blue platform. If yellow, you need to go the other train platform at the other side of the station. If you see only a color but no letter or number on top of this, Gare de Lyon station controllers have not decided which lane the train will be parked in, simply which platform or zone. It would be smart to be at the correct zone before the lane number is posted for the train, so that you have time to get aboard and stow your belongings without having to rush.
Galerie Diderot Beneath Blue Zone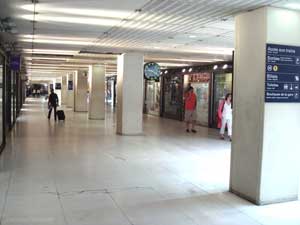 This is Galerie Diderot, one level down for the Blue platform (niveau -1), facing east. Here you can find various clothing, personal care shops and toilets (located at the far eastern end). Note that the washrooms are pay-for-entry within Gare de Lyon. The fee is 0.50€ (fifty centimes), which you give to the madame working the gate and she provides you with a token to use in the turnstile giving you access to the washroom. The washroom is separated into men's and women's sides, but is in the same overall "room".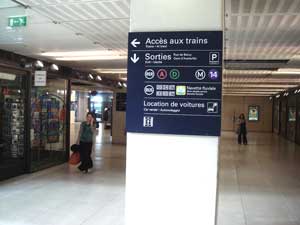 Turning around we see Galerie Diderot at its western end, at street level, facing west towards Rue de Bercy and Gare d'Austerlitz. Just above us is the Blue Platform. Just outside the doors ahead in the distance are the buses 20, 24, 57, 63, 65, 87 which connect Gare de Lyon to Gare d'Austerlitz and various other places around Paris (and Paris central which is west of this location, accessible by Bus 24 among others). This is also the location of the car rental offices (Location de voitures). One more level down from this location are RER A, RER D, Metro line 14, all accessible just ahead and left, down the stairs.
Yellow Zone Train Platforms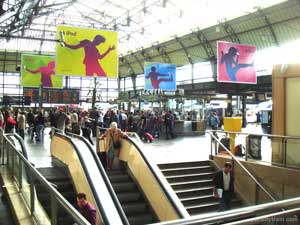 In this photo we see Gare de Lyon's Yellow Platform/Zone facing East towards Rue Chalon and Place Henri Frenay. In the foreground are escalators and stairs leading down to the Salle Mediterranée, giving access to Metro line 14 and RER A, RER D trains another level below (niveau -2). At the far end, left hand side are another set of stairs leading again to the Salle Mediterrannée giving access to the baggage lockers/luggage storage (Consignes). At the far end you can see the Departures Board listing trains leaving from both Blue and Yellow Zones. On the right are the Grandes Lignes train platforms (voies) marked by yellow signs with numbers instead of letters, since this is the Yellow Platform. In the center right of the photo is a glass box with "Accueil" marked overhead. This is the information bureau manned by several employees to answer questions about your train or Gare de Lyon.
Above we see the Yellow Zone platforms in detail.  You can clearly see the platform numbers on their yellow background at the head of each lane. Near the centre of the photo is a set of four ticket machines.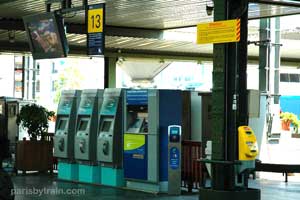 Looking more closely, the three machines on the left are for purchasing, pickup or exchange of TGV train tickets.  The last boxy blue machine on the right is a Billetterie Ile-de-France selling Billets Ile-de-France, which are tickets for station to station travel in the Ile-de-France region that contains Paris and its suburbs. For example, you'd use a Billet Ile-de-France for traveling from Gare de Lyon to Fontainebleau. This machine also sells Metro/RER Ticket t+ and carnets of tickets (books of 10 or 20 at a discount).  Paris Metro Tickets are used for the Paris Metro and RER within zone 1.
Also to note in the above photo are the three types of validation machines visible, one for Carte Orange/Pass Navigo, one for Billets Ile-de-France and one for TGV Tickets.  Immediately beside the boxy blue Billetterie Ile-de-France is the Pass Navigo validation card reader.  Those using Carte Orange on either a Pass Navigo or Pass Navigo Découverte are asked to validate their card using this machine before boarding an Ile-de-France train (Transilien, Ter or RER).  The yellow box attached to the metal pillar is a TGV ticket validation machine (composter).  Finally, on the opposite side of the pillar, mostly hidden, is a Billet Ile-de-France ticket validation machine.  Use of this machine for Billets Ile-de-France is required before boarding.
Turning around in the opposite direction of the Yellow Zone train platforms is a long hallway known as the Galerie des Fresques, where the main ticket sale windows for Gare de Lyon are located.
Ticket Sales / Pickup at Gare de Lyon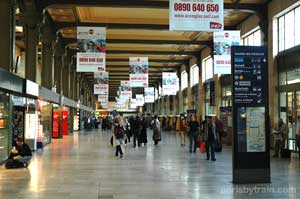 Turning left from the Yellow Zone picture above we see the long hall known as the Galerie des Fresques.  On both the left and right hand sides of the hall are ticket windows and sellers.  Lining the hall are yellow ticket vending machines that can also make ticket changes and handle ticket collection, provided that you're using a smart-chip enabled credit card (normally European only cards, few if any North American credit cards work with these machines).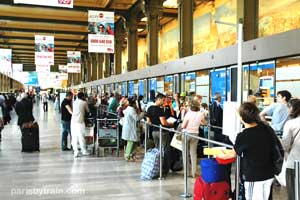 Above is another photo of the Galerie des Fresques from the opposite end, looking towards the Yellow Zone.  Clearly visible here are the manned ticket windows where one can buy or pickup pre-bought tickets for TGV, and other types of Grandes Lignes trains.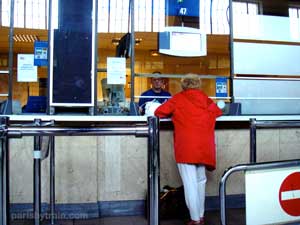 In this close-up photo of a ticket window you can see a video display screen noting which languages the employee speaks.  At the top of the screen are multiple of flags denoting spoken languages.  This gentlemen in particular speaks English, German and Italian in addition to French.  This ticket window is also equiped with a device to aid those with hearing impairment.  Keep in mind that you can't actually queue for a particular ticket window as the lineups serve multiple windows.  You could simply note which seller speaks a language you're comfortable using and let others pass in front of you till that employee in particular is free.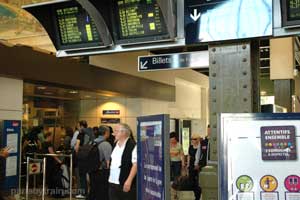 Immediately to the right of the previous Galerie des Fresques photo is the ticket window for Billets Ile-de-France and Carte Orange. If you don't have a smart-chip/European credit card (or lots of Euro coins) you'll have to use this ticket window to purchase your billet Ile-de-France with cash. Beyond this area is the Blue Zone platform.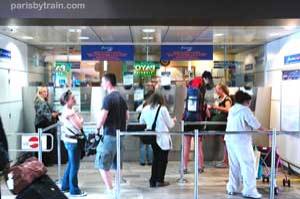 A head-on photo of the Billets Ile-de-France / Transilien ticket window.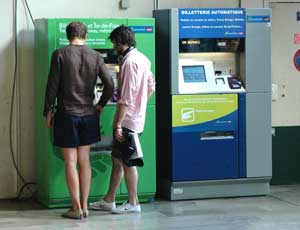 Just left of the Billets Ile-de-France / Transilien ticket window are two more ticket vending machines. Although one machine is green, the other blue, they are otherwise identical in their tickets and carnets sold.  They can be found against the back wall at the end of Galerie des Fresques near the blue zone, just beside the exit door to the right, taking Euro coins, Carte Blue French debit cards and smart-chip credit cards.
Getting from the Yellow to Blue Zones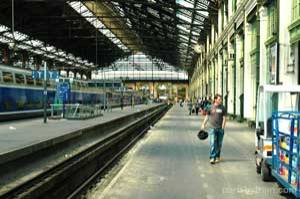 Connecting the Yellow zone to the Blue zone is the walkway show above on the east side of the Blue train platforms.  This photo was taken from the Yellow Zone looking towards the Blue Zone. Take note of the stairs leading underground on the train platform to the left.  These stairs give immediate access to Level -1 the Salle Méditerranée, which another level down gives access to the Metro and RER trains.
Baggage Storage at Gare de Lyon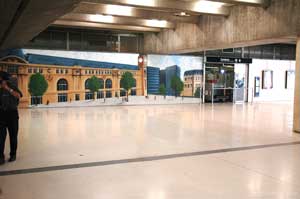 One level down from Gare de Lyon Yellow Zone is the Salle Mediterrannée giving access to Place Henri Frenay (to the right of this photo). Here you see the baggage storage room (Consignes). Upon entrance to the luggage locker area you'll have to pass through a metal detector and have your luggage x-rayed before finding a locker. There will be change machines inside that take Euro bills and change them into 2€ and 1€ coins. The prices of the lockers vary depending on size, from 5€ to 9,50€. The large lockers will fit up to 4 medium sized wheeled suitcases.  The maximum length of a storage period is 48 hours.  I have no idea what happens after the 48 hour period is up.  The baggage storage room is open from 6:15am till 10pm at night everyday.
Map of Gare de Lyon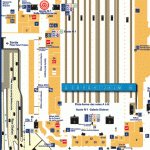 Here is a Adobe Acrobat format Map of Gare de Lyon station (PDF) and its three levels: Level 0 – Grandes Lignes Blue and Yellow Zones, Level -1 Galerie Diderot and Salle Méditerranée, and Level -2 Metro and RER trains.
Resources
Paris Transport Security & Safety Tips
What Next?
'Gare de Lyon' Train Station
was last modified:
October 28th, 2019
by