Validating or punching your train ticket or "billet" [bee-yay] is required when traveling on the Transilien, Ter, and various other Paris regional trains (not Metro) going to other cities in the Ile-de-France region that contains Paris.
The machines to validate or "composter" [com-post-ay] the little purple or white Billet Ile-de-France tickets look like this: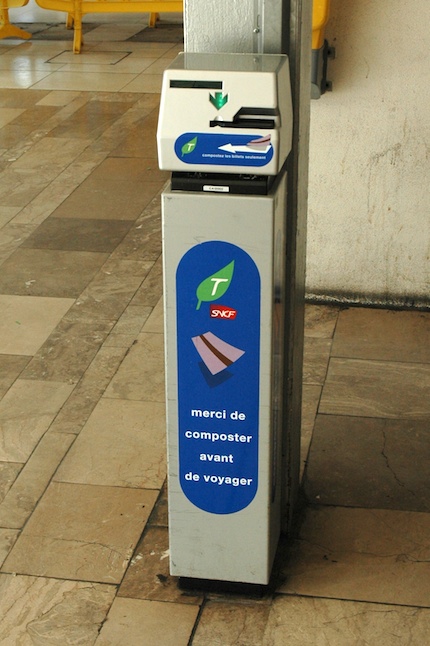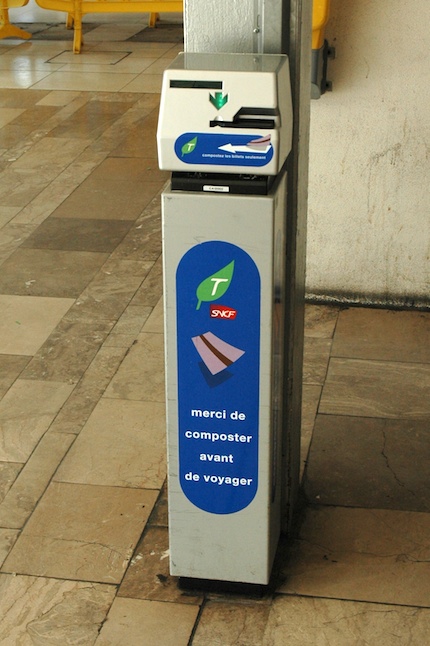 (Photo by Ben Lam)
To use the machine, lay your ticket with the front side face down, magnetic stripe facing up, on the black plastic area and slide the ticket to the left. Wait for the machine to make a loud stamping noise after which your ticket should be punched and validated. Orientation of the ticket, besides magnetic strip facing up, doesn't matter.
Don't confuse these machines with the TGV Ticket Validation Machines, which are yellow and take the larger format tickets.
If you've used your Ile-de-France Ticket/Billet for travel on a Metro line before boarding a Transilien/Ter train, you don't have to validate the ticket as it's done automatically by the Metro/RER turnstiles.
Ticket validation or composting is required to prevent riders from using a single ticket multiple times.
What Next?
Paris Train/Metro Ticket Validation/Punching
was last modified:
October 28th, 2019
by