Overview
Departure station => Paris-Gare de Lyon
Train Line => Transilien or Ter
Direction => Montereau / Montargis
Arrival Station => Fontainebleau-Avon (Zone 5)
Ticket => Billet Ile-de-France – Fontainebleau–Avon
Price => 5€ one way ( as of January 1, 2023)
Passes Accepted => Carte Orange/Pass Navigo, Ticket Mobilis, Paris Visite Card
Attractions => INSEAD, Forest of Fontainebleau, Chateau Fontainebleau
First Train / Last Train => 06:19 / 00:49 (see notes)
Paris Fontainebleau-Avon Train Schedule
Paris Gare de Lyon Fontainebleau Schedule Weekdays 2016
Paris Gare de Lyon Fontainebleau Schedule Weekends 2016
Details
To get to Fontainebleau from Paris take a Transilien train from Paris-Gare de Lyon to station Fontainebleau-Avon, which takes about 40 minutes. (See the Gare de Lyon photo tour for information about this station).
Start by checking the train schedule for Paris-Fontainebleau or search for trains at Transilien.com. If you're using Transilien.com, search for trains leaving from station "Gare de Lyon" in Paris, going to destination city Fontainebleau-Avon. The frequency of trains from Paris to Fontainebleau is generally 30 minutes throughout the entire day, morning to evening, except during rush-hour with increased frequency in certain directions (e.g. leaving Paris towards Fontainebleau during evening commute).
Unless you have a ticket Mobilis (day pass) / Passe Navigo Découverte / Paris Visite card good for all 5 zones, you'll have to buy a special billet Ile-de-France [bee-yah Eel-duh-franz] for this train. This can be done only at the SNCF/Transilien Ile-de-France ticket window just west of the Blue platform (see the photo of the Transilien ticket window at Gare de Lyon), or at the blue, boxy ticket vending machines (Billetterie Ile-de-France), at the end of the Galeries des Fresques just west of the ticket window or on the Yellow Zone platform just outside the building. Most of the ticket windows and vending machines in Gare de Lyon only sell tickets for the Grandes Lignes trains, which depart for cities outside of the main Parisian/Ile-de-France area, so don't make the mistake of lining up in one of these queues as they won't be able to sell you the ticket you need.
At the ticket window, simply ask for "Fontainebleau Aller-Rétour" [fawn-tan-blow alleh-ray-tour]. You'll get two tickets, one for each direction, for about 5€ each. You'll have to pay by cash unless you happen to have a smart-card / Euro credit card. North American credit cards will most likely not work at any SNCF ticket window nor ticket vending machine, so keep some cash handy.
With tickets in hand it's time to find out which platform your train will depart from. At Gare de Lyon there are two platforms, Blue and Yellow. The Blue platform is marked with lanes or "voie" that are letters A to N, ascending from left to right, on signs with a blue background. The Yellow platform has lanes that are numbered from 5 to 23, in ascending order from right to left, with signs in yellow.
Trains leaving for Fontainebleau can be on either platform, on any lane so find the Gare de Lyon Departures board at either one of the platforms (taking care not to mistake it for the Arrivals board, also available at each platform). What you're looking for on the board is the terminus station, i.e. the last station that the train will stop at, not Fontainebleau-Avon, which will never be marked on the board. Your train will be one of the following:
The board will note the train number (useless information), the terminus station (either of the two above), time of departure, and which platform and lane. At the right hand side you'll see a blue or yellow square. This corresponds to which platform your train will leave from, Blue or Yellow. The number or letter for the lane will often not be marked on the board until 15 minutes before the train leaves, but make your way to the correct platform before that. At the right platform you'll notice a crowd of people staring at the big black Departures board. What they're waiting for is the lane number or letter to appear on top of the yellow or blue square, denoting exactly which lane the train will depart from. During busy hours, once that lane letter or number is posted, there is a hurried rush towards the train parked in that lane. If you wish to have a seat for the 40 minute ride, be one of those people.
To double check that you're on the right train, take note of the television or LCD displays at the beginning of the train "voie" (lane). The display will show each stop the train will make on its journey. One of them should be Fontainebleau-Avon. If that stop isn't listed, check the Departures board and find the correct lane for your train.
The train, once underway will often make one or two stops (and possibly none) before arriving at Fontainebleau-Avon, so be sure to check which station you're at before jumping off. The stops are generally Melun, after 25 minutes, and Bois-le-Roi about ten minutes after that and then finally Fontainebleau-Avon.
When arriving, if you happen to be the first at the door, look for the door button as the doors do not automatically open. Don't be surprised if the doors are a bit sticky and require some encouragement (pushing) to get fully open.
[Update & new photos kindly provided by TomL]
At Fontainebleau-Avon station you'll be descending at the back of the station where you'll find several buses numbered 1 through 6 that head off in various directions. Bus 1 heads towards Chateau Fontainebleau, if that happens to be your destination. Look for a bus with a red circled 1 heading in direction "Les Lilas". Travel time from Fontainebleau-Avon train station (gare) to Chateau Fontainebleau is about 14-15 minutes. The ticket or Navigo pass you used for the (Transilien) train from Paris to Fontainebleau is useable for this bus connection. Here's a bus schedule for line 1 between Fontainebleau-Avon train station and Chateau Fontainebleau. The bus is branded "Aerial".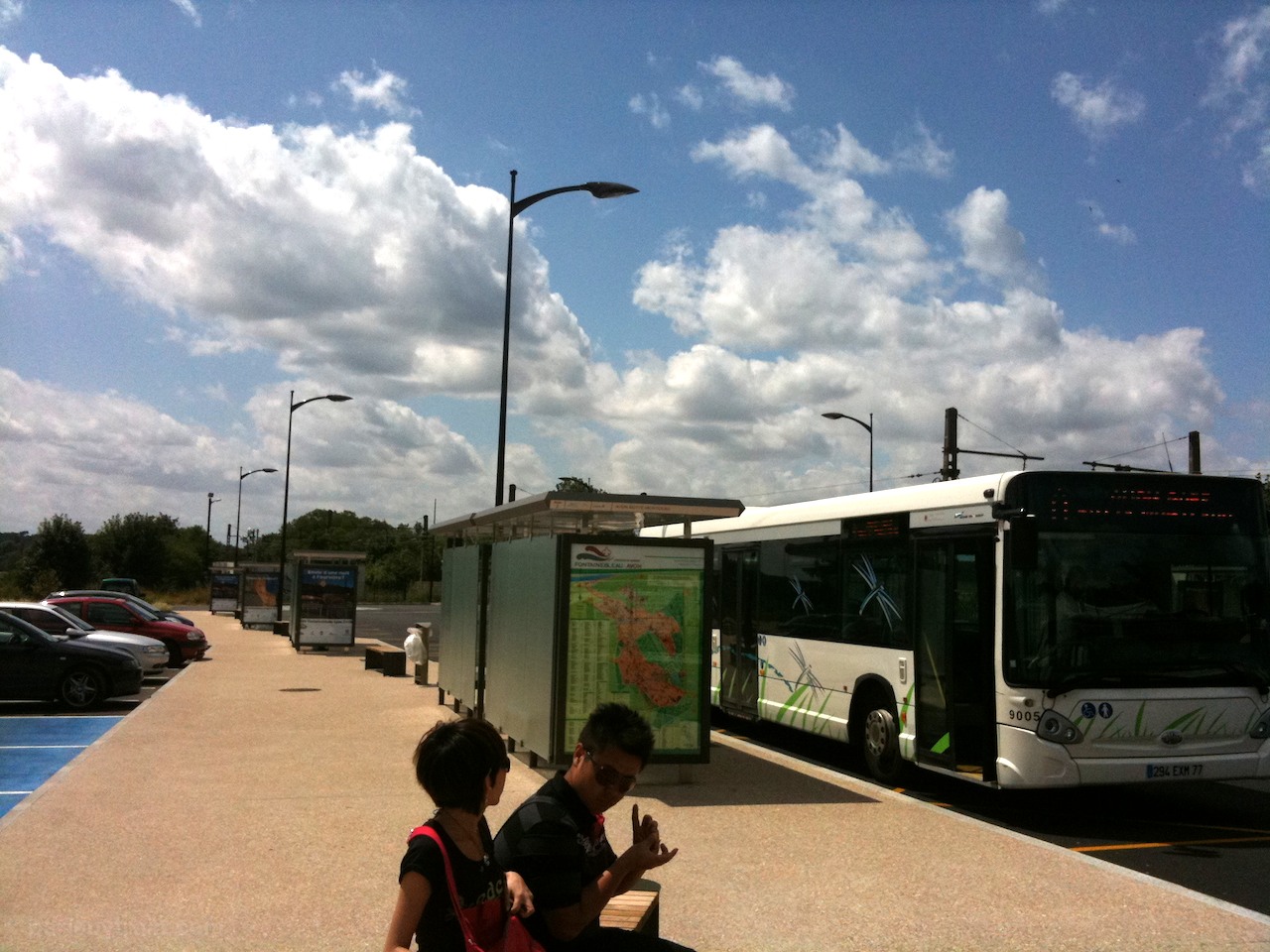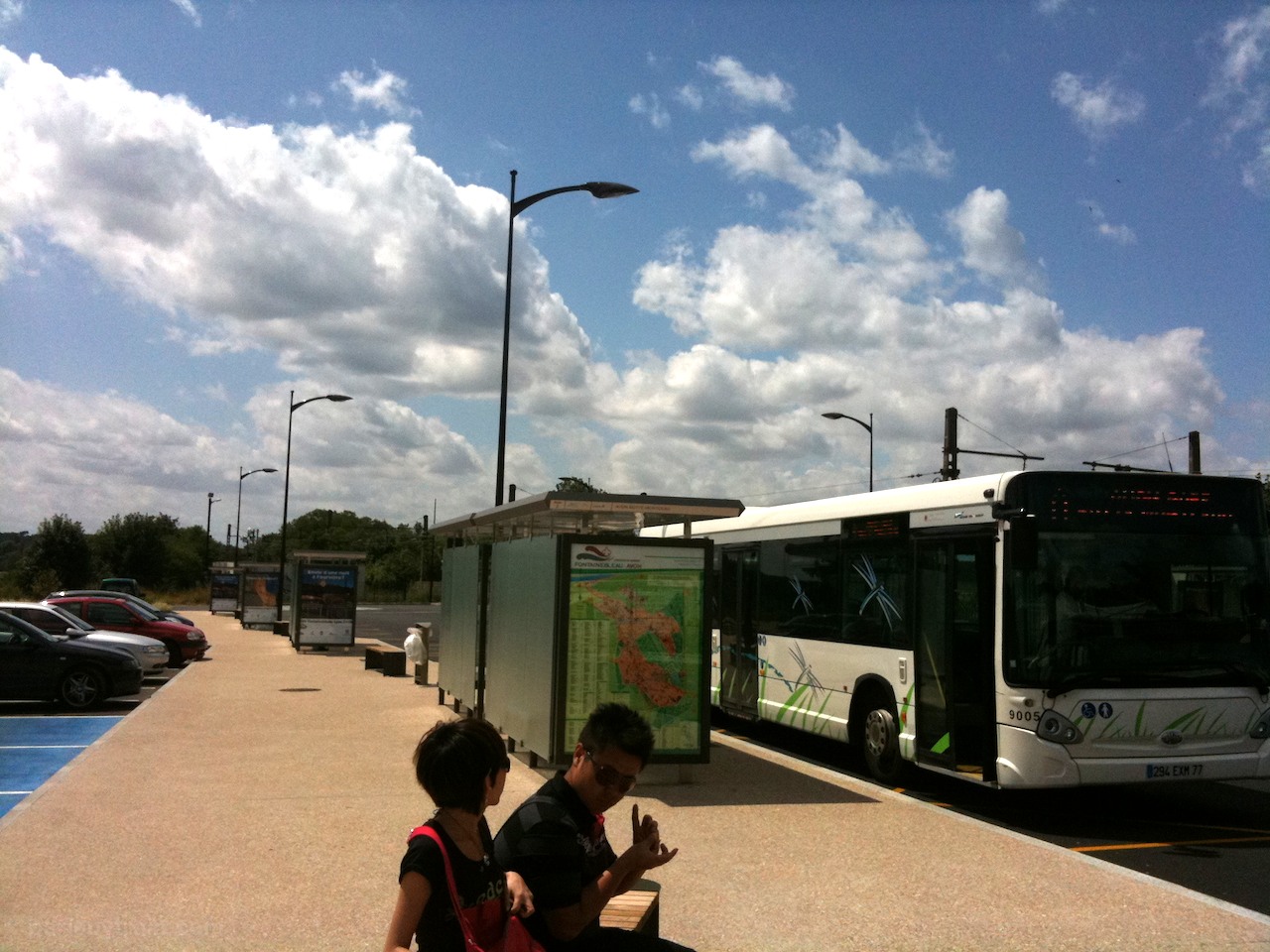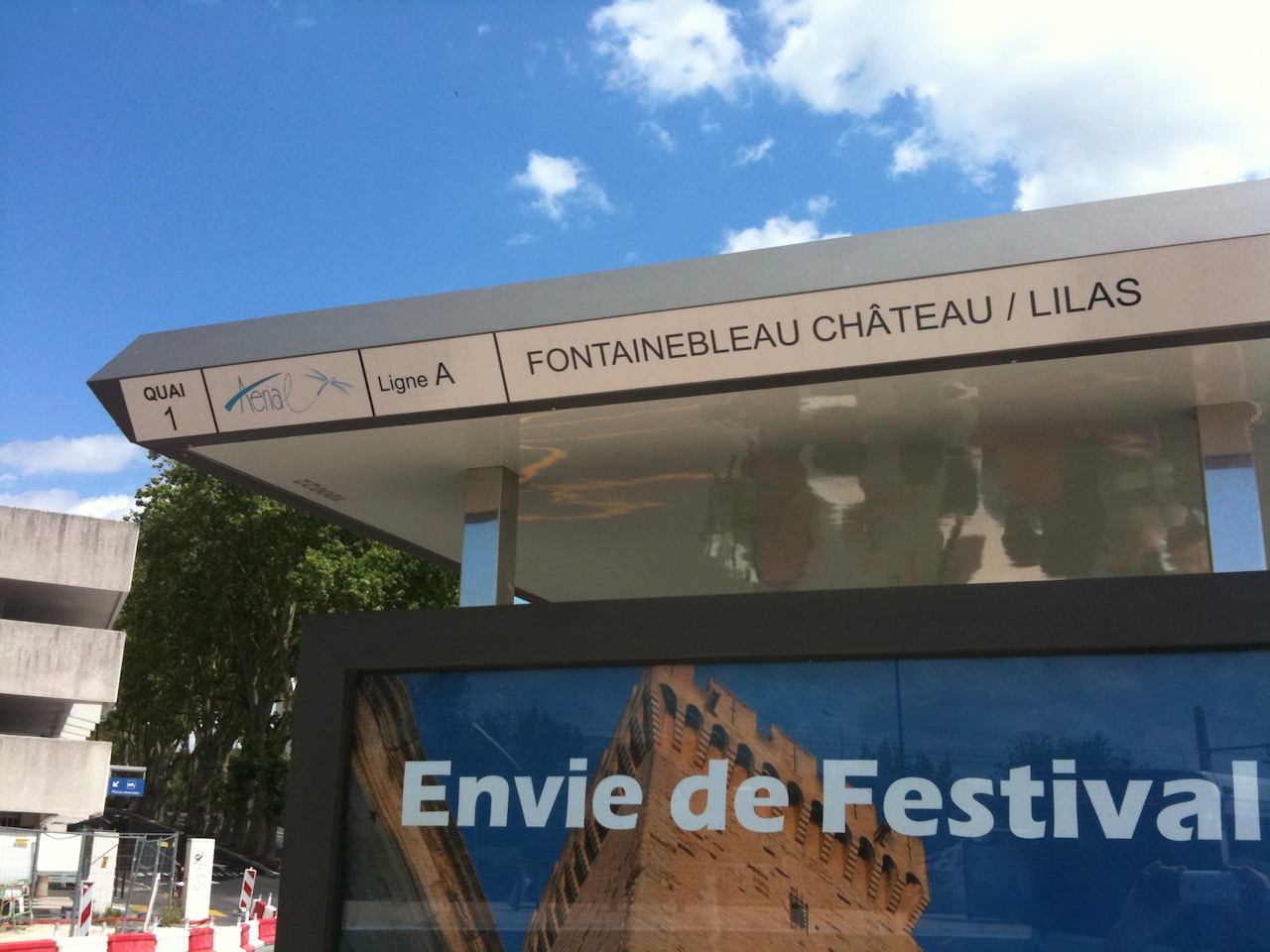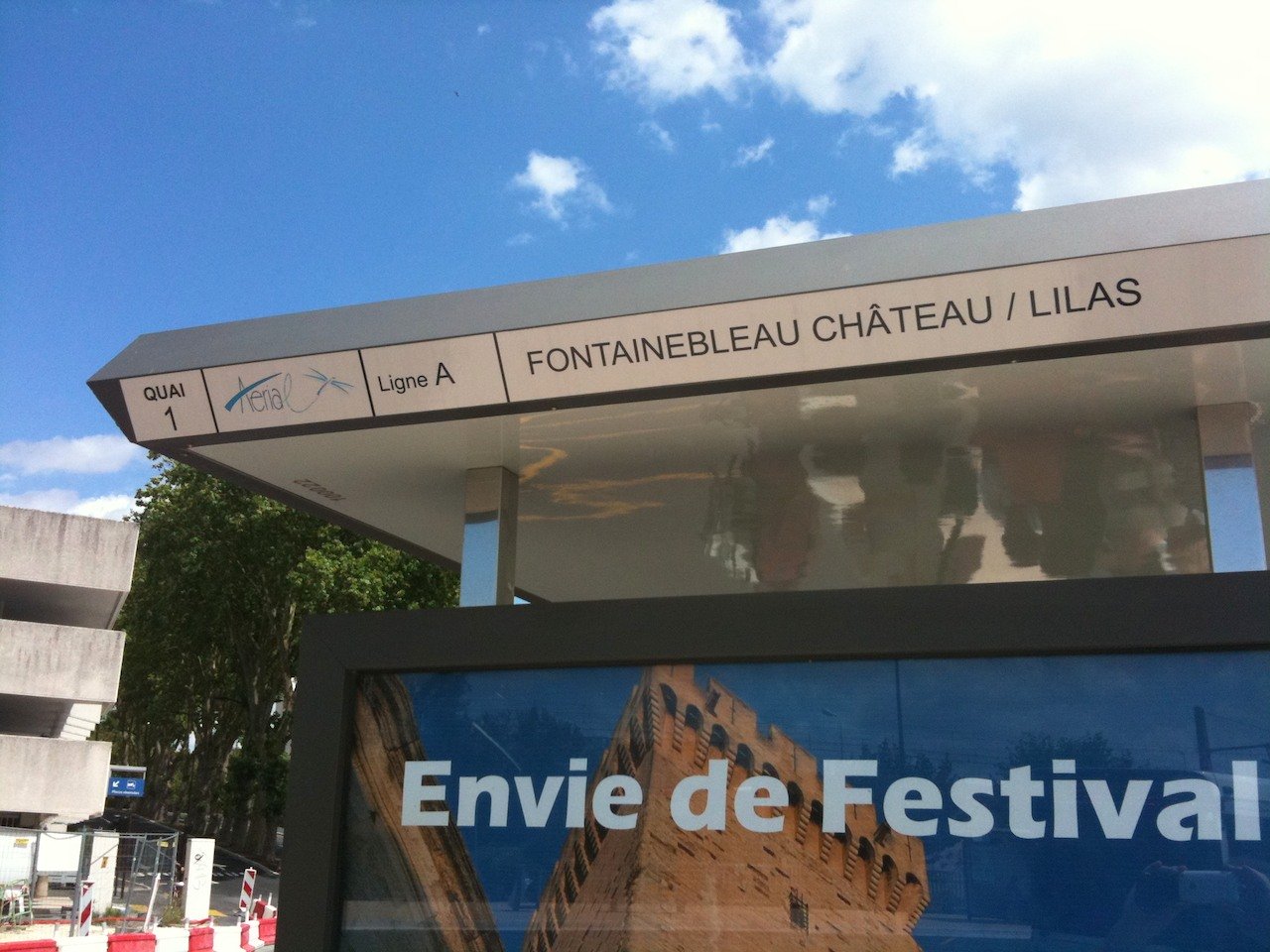 If you're using a single ticket (billet Ile-de-France) for your trip, you'll need to purchase a ticket from the bus driver.  For Pass holders (Carte Paris Visite, Pass Navigo/Carte Orange, Ticket Mobilis 5 Zone), buses in Fontainebleau are included.
Enjoy your trip.
Notes
The schedule for trains traveling from Paris to Fontainebleau may change depending on day of the week, holidays, special periods of the year and special days of the year. In general the first train of the day is 6:05am, the last train is 11:35pm. The Paris to Fontainebleau train schedule is now the same across all days of the week and on holidays: two trains per hour, leaving Gare de Lyon at :05 and :35 after the hour, each hour.  You can always verify train times at Transilien.com.
Links
Paris to Fontainebleau Train Times / Timetable
What Next?
Paris to Fontainebleau by Train
was last modified:
October 28th, 2019
by