Tips on buying tickets for TGV trains for Paris, London, France and Europe.
Buy online (web sites listed below)
Buy early (at most 60 – 180 days before departure)
Think about seat placement
Vary departure times/days for the best ticket price
Choose home delivery for your TGV tickets (if possible)
Or pick up your tickets upon arrival in Europe (before day of train travel)
Find and Buy a TGV Ticket Online
Start by finding a TGV ticket online:
When searching for tickets, be sure to try departure times earlier and later than your ideal departure time. You may see large differences in prices of tickets that are merely an hour apart due to popularity of certain train times or schedules.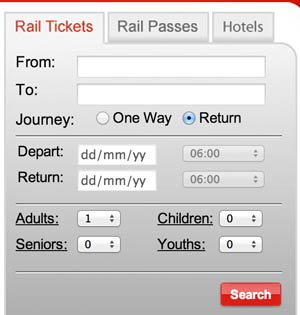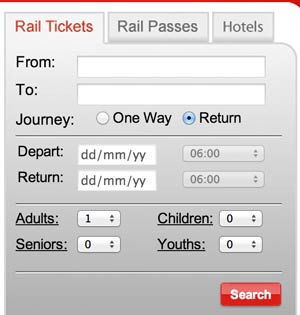 Most TGV tickets are available up to 60 days before day of travel.  1st class tickets are purchaseable up to 90 days ahead of time.  And finally, iDTGV self printable tickets, are on sale up to 6 months from date of travel, although with extremely limited routes and schedules.
Buy as early as possible as the prices of TGV tickets increase as the number of remaining seats drops. Purchasing same day tickets for a TGV train at the station will likely cost double that of a ticket purchased a month ahead. For example a one way Eurostar ticket from London to Paris purchased at last minute on a Wednesday: €133.00. A Eurostar ticket for a Wednesday one month in advance: 88€.
If you're given the ability to choose where you sit and you have difficulties with mobility or would like easy access to the toilets, choose seats that are near the ends of a given train car (if possible), i.e. low seat numbers (less than 20) or high seat numbers (above 70).
If you can choose your seating arrangement, I recommend avoiding the four-square seating position (unless you're a family of 3 or 4).  This is where four seats face each other with a folding table in the middle.  Basically, you'll have even less legroom than normal as you're jockeying with the passenger directly in front of you for leg space. Side-by-side seating is similar to what you find on airplanes, facing forward, with fold a down tray from the seatback in front of you.
If you are traveling with backpacks or small luggage that you'd like to keep an eye on, aim for seats between 40 and 60, which are situated mid-car and gives access to luggage racks located near the center of the train car. Keep in mind that not all train cars have these middle carriage luggage racks.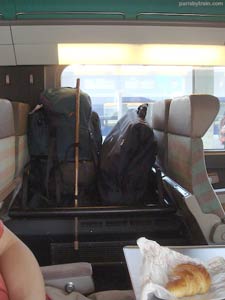 Travelers with large suitcases should avoid these middle-car luggage racks as they are not easy to access due to the narrow aisles within TGV train cars. The luggage racks are marked with small white suitcase signs placed underneath the first row of overhead storage shelfs. The seats directly in front of or behind these luggage racks are unaffected in ability to recline, since the seats recline by shifting forward the seat bottom rather than reclining the seat-back.
Choose home delivery of your TGV train tickets as obtaining the tickets from machines at the station can be difficult (or impossible) for those without smart-chip enabled credit cards (i.e. most North American credit cards).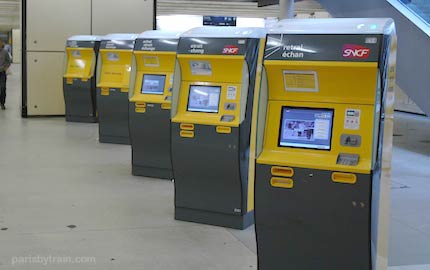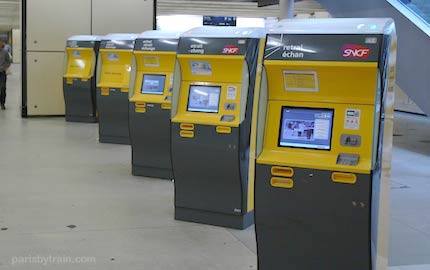 If you do have a smart-chip credit card and wish to pick up your TGV tickets at automated machines at a train station you'll need:
the 6 letter booking reference (from your online ticket purchase confirmation),
your original credit card/debit card used to make the purchase
If you're not able to use the automated machines to collect your tickets you'll have to speak with an employee at a SNCF ticket window.
There are often long lineups at the manned SNCF ticket windows so go early to pick up your tickets.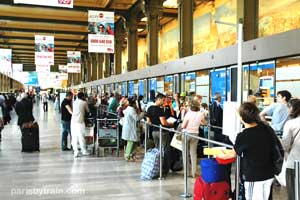 Better yet, do not wait till the last minute to pick up your tickets. You can collect your TGV tickets at any time after your ticket purchase. Thus, pick up your tickets early, from either the automated ticket machines, or from SNCF ticket windows, upon your arrival in France if possible, even if your train travel is not scheduled till days or weeks later.
What Next?
Buying TGV Tickets
was last modified:
October 28th, 2019
by