RER A Timetable / Schedule (Paris – Disneyland Train)
In this article you'll find an example RER timetable for First / Last RER Train Disneyland Paris plus a full RER A timetable for Paris to Disneyland trains and full RER A line schedule for Disneyland to Paris trains.
First / Last RER Train Disneyland Paris
The table below provides an example of typical last RER Train from Disneyland to Paris on the RER A train line and first trains from Paris to Disneyland in the morning.
How to Read First / Last RER A Train Timetable
To find the last RER train from Disneyland Paris (0:25) back to city, start at the bottom right of the below table. The right most column is the Last Train column, listing last departure times at RER A stations along the train line. Marne la Vallée-Chessy is the Disneyland station, on the very bottom row and shows the last train time as 0:25 (12:25 am). The times listed moving up the Last Train column on the right side show times the 0:25 RER Disney train will depart from each following station as it travels towards Paris. The RER A train timetable below shows the 0:25 (12:25 am) last train departing Disneyland would reach Chatelet les Halles in Paris at 1:03 am.
The vertical line from Boissy-Saint-Leger to Fontenay-sous-Bois shows the 0:25 train will not stop at these stations (where are on a different branch of RER A train line.)
To find the first RER A train from Paris to Disneyland, locate your starting station in middle of the table (Paris RER A stops are: Charles de Gaulle-Etoile, Auber, Chatelet les Halles, Gare de Lyon, Nation). The leftmost column will show first train times departing each Paris station. For example Chatelet les Halles first RER A train to Disneyland will depart at 5:18. The other three times for Chatelet les Halles 5:26, 5:33, 5:41 are first trains from other terminus stations further west in Paris.
Last RER A Train Paris to Disneyland
The second leftmost column above shows typical last train Paris to Disneyland times, useful if you are staying at Disneyland hotels and are visiting Paris. The sample listed for last trains times from Paris to Disneyland are 0:36, 0:44, 0:49 from Chatelet les Halles station in Paris. Keep in mind the times listed above are only examples and may be different on your day of travel. Give yourself at least 5 minutes of safety margin ahead of the times listed if you want to be sure to catch the last trains to/from Paris & Disneyland.
For the lastest & most accurate Paris RER schedule & timetables check RATP itinerary planner, or Transilien itinerary planner tools. The above RER train schedule timetable provides typical departure times & travel times between stations, but itinerary planners give the most precise/accurate RER train times.
RER A timetable for Paris to Disneyland trains

 Paris RER A Train schedule from Paris city center to Disneyland Paris / Marne La Vallée (East bound) – This is your schedule and Marne la Vallée is the Paris Disneyland station. See also help on reading RER schedules. It's also possible to travel directly from CDG Airport to Disneyland by TGV highspeed train.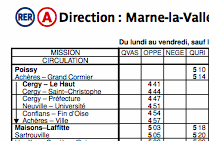 RER A Schedule direction (Paris Disneyland) Marne-la-Vallée Chessy, Boissy-St-Léger (PDF – updated March 16, 2019)
RER A Train Schedule To Paris from Disneyland
RER A train schedule going from Disneyland Paris towards Paris city center & onto La Défense business district or central Paris from Disneyland Paris (west bound).  Below is your train schedule for east to west Paris RER A trains. See also help on reading RER schedules.
CLOSURES July 13 – Sept 1, 2019 ==========
Please see the Paris to Disneyland train article for information on station closures affecting your travel.
=====================================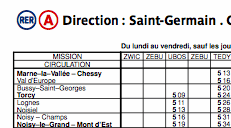 RER A Schedule direction (Paris) Saint-Germain, Cergy, Poissy (PDF – Updated March 16, 2019)
RER A Line Map with Stations, Zones, Interchanges to other RER and Metro Lines (PDF)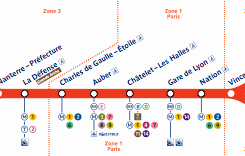 Other Destinations on RER A
Popular destinations along Paris RER A line:
Chateau de Vincennes – 13th century medieval keep
Gare de Lyon – TGV/Transilien trains to Fontainebleau, Lyon, Provence
Chatelet-les-Halles Metro/RER Interchange Station
Auber – Galleries Lafayette Shopping Center
Charles de Gaulle Etoile – Arc de Triomphe
La Défense – Financial District – Grande Arche de La Défense
What Next?
Paris RER A Train Schedule Stations Interchanges
was last modified:
August 8th, 2019
by