A TGV train from CDG to Disneyland Paris offers a direct, high-speed train (200mph) connection between CDG Airport Terminal 2 and the Disneyland Paris park gates in less than 12 minutes with ticket prices as little as 35€.

Book by March 31:
Up to 35% Off Hotel + Tickets - Disneyland Paris
Already in Paris and need to get to Disneyand Paris? See the Paris Disneyland train (RER) article.
This article explains how to:
Purchase tickets for the CDG – Disneyland Paris train upon arrival at CDG Airport, or online in advance
Find the TGV train station at CDG Airport Terminal 2
The TGV train schedule from Charles de Gaulle Airport (CDG) to Disneyland Paris has the first train departing at 06:54 in the morning with the last train in the evening departing CDG at 21:55. The frequency of trains varies from 30 minutes to 1h20 between each departure from CDG.

Charles de Gaulle Airport has two separate train stations, one located near Terminal 3 and another located within Terminal 2. The Terminal 2 train station, known as "Aeroport Charles de Gaulle 2 – TGV", is split into two distinct sides, one for RER suburban trains (going to Paris city center), the other TGV high speed intercity trains, one of which travels to Disneyland Paris.
If you're arriving at CDG Terminal 1 or Terminal 3, you'll need to first catch a CDGVAL shuttle train over to Terminal 2. The photo tour of Terminal 1 to Paris contains instructions on finding and taking the CDGVAL shuttle, but don't get off the shuttle at Terminal 3/Roissypole, stay on the shuttle until it arrives at Terminal 2. This may seem odd, but Terminal 2 is located after Terminal 3 on the CDGVAL shuttle line.
At Terminal 2 the train station is located in between sub-terminals 2D and 2F. If you've taken the CDGVAL shuttle, you'll arrive very close to the train station. See the Terminal 2 to Paris photo tour for instructions on getting to the Aeroport CDG 2 – TGV train station.
Within the photo guide for the Terminal 2 train station is a photo of the TGV (Grandes Lignes) ticket purchase office on the bottom floor (shown below). This office is split into two sides, one side sells tickets for Paris city trains (RER B) and the other side sells intercity Grandes Lignes trains tickets, which includes TGV trains to Disneyland Paris. If you're facing the ticket office, the entrance on the right half is the one you'll want to use to purchase or pickup your Internet bought tickets, as seen in the photo below: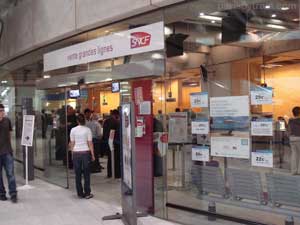 TGV tickets for the CDG to Disneyland Paris train can be purchased in advance online at Oui.sncf.
When buying tickets from Oui.sncf, search for "CDG" as your departure (choose the first suggested result) and "disney" as your arrival location (choose the first suggested result, should be something Paris Marne-la-Vallée Chessy).
If you're coming from Europe and have a smart chip enabled credit card, you'll be able to use the automated ticket machines to pick-up your TGV tickets purchased over the Internet. Only the credit card used to make the online ticket purchase can be used to collect the tickets from these machines, so keep this in mind when using these machines. The machines will appear like these below: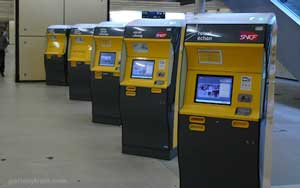 When you have tickets in hand, you'll need to descend onto the TGV train platforms which are one level below the train station ticket office. Take care not to descend onto the RER B train platforms, which serve only trains going into Paris city center. The TGV trains are Grandes Lignes or Main Line trains which have their own platforms on a separate side of station visible here: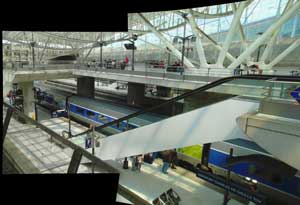 After your TGV train departs, the first stop will be Marne La Vallée–Chessy station which is the train station serving Disneyland Paris. The travel time should be roughly 10 minutes from CDG to Disneyland Paris.
Below is a photo of the Marne La Vallée–Chessy train station (on the left) within the Disney grounds.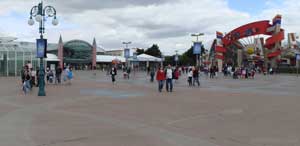 Book by March 31:
Up to 35% Off Hotel + Tickets - Disneyland Paris
What Next?
TGV Train CDG to Disneyland Paris
was last modified:
May 12th, 2022
by