Update Feb 22, 2013
Gares-en-mouvement.com has removed the itinerary builder from their site and are now asking visitors to use the individual train company sites for searching/building train itineraries.
Here's the list of itinerary builders for French train companies, in English where available:
The information below is now out-of-date, but will be kept for posterity.
---
To buy train tickets, use the official ticket reseller for your country of residence:
How to Search for Train Schedules/Timetables
Start by choosing a station or Gare as your departure city or point.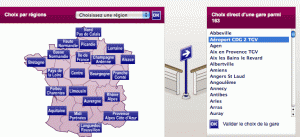 Then click on the link "Recherche d'horaires" ("Search Schedules") on the left column of links.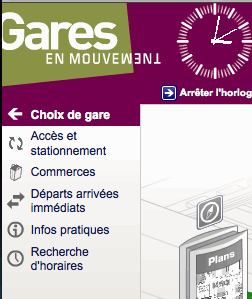 You'll be presented with a search page with departure point pre-filled and the date of travel set to today.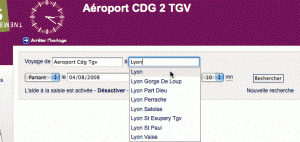 Enter a city after the "à".  You should see a list of stations appear below the text box after typing in the city name.  Select your destination station from this list.  Then set your travel date and time of departure.  Finally, click Recherche ("Search"). (If you're unsure of which destination station you should choose, enter just the city destination and the search tool will automatically select the largest station for the city).
A maximum of 3 train itineraries will be returned with the option of seeing details about each itinerary.
The results are ordered chronologically with the number of connections required ("changements"), and total travel time ("durée").
Clicking the blue magnifying glass button beside an itinerary will show details of that trip basically each train or connection required.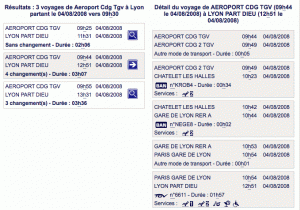 Each connection will be shown with the type of train or other form of transport (as not all connections are by train, some are by foot or bus):
BAN – Banlieue ("Suburban") train either RER or Transilien train,
Ter – Ter/Transilien commuter train,
TGV – "Train à Grande Vitesse" / High-speed trains,
"Autre mode de transport" – Walking (to make transfers between trains)
CAR – Autocar ("bus")
You can search different starting stations by simply changing the text within the text box beside "Voyage de" ("Trip from"). As you type the name of a city, the site will offer you suggestions of stations which show up automatically below the text box.  This helps prevent spelling mistakes and gives you choices of which stations you can select. For example, typing in "Paris" in the first text box will return a multitude of results whereupon you can use your keyboard's down arrow to move down the list and press Enter to select the station you wish to depart from.
Buying Train Tickets
Remember that Gares-en-Mouvement is for finding train schedules, not buying train tickets.  For buying train tickets in France, here are the official resellers for your country:
When purchasing tickets, these sites will ask you where you want your tickets delivered.  If your country is different than the region the website is covering, you'll be redirected to the official reseller for your country of residence and you'll have to start the ticket search process again.
What Next?
France Train Schedules Itinerary Builder
was last modified:
October 28th, 2019
by