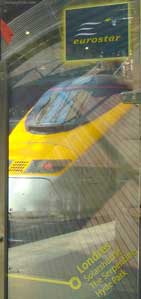 This is a detailed guide of how to buy Eurostar tickets and how to take the Eurostar high speed train from Paris to London. Tickets for the Eurostar start at £69 return and travel time between central Paris (Gare du Nord) to central London (St Pancras/King's Cross) is 2 hours 15 minutes.
Overview
Line => Eurostar
Direction => London – St. Pancras
Departure Station => Paris – Gare du Nord
Arrival Station => London – St. Pancras International
Timetable/Schedule => (updated Jan 2014)
Paris to London – departure times from Gare du Nord
First Train – 07:13 (06:43 on Mondays)
Last Train – 21:13
London to Paris – departure times from St. Pancras
First Train – 05:40
Last Train – 20:31
Click to download full Eurostar Timetables Schedules (PDF)
Ticket Prices => From £69 return from Eurostar.com /
Rail Europe
Tickets and Schedules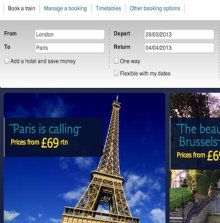 The best way to search and buy Eurostar tickets is directly from www.eurostar.com. The advantage of buying tickets directly from Eurostar.com is that they offer free home delivery of tickets, whereas resellers such as Rail Europe may charge a fee depending on your whereabouts. For example, Rail Europe charges $18usd for ticket delivery to a US based address.
You can choose to pick-up or collect your tickets from automated ticket vending machines at your departure train station, but you must use a smart-chip credit card to do so (most European credit/debit cards are enabled with smart chips and pin code protection).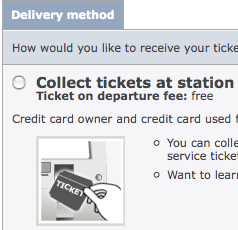 If you're coming from North America, most likely your credit card will not have a smart chip and will not work with these machines.  In this case, your best bet is to select Home Delivery.

The Eurostar train leaves Paris from Gare du Nord, one of the six major train stations in central Paris (see the Gare du Nord photo tour for more information).  Check-in for the Eurostar train to London is done through a special upper level at Gare du Nord (Level 1 or Niveau 1 in French), separated from the rest of the station, where all Eurostar travelers must pass through both French and British passport control before boarding the train.  (This is due to England's partial implementation of the Schengen Agreement amongst European Union member countries).
Check-in procedures from the Eurostar starts with scanning your ticket through a turnstile machine.  Keep the ticket printed side up (magnetic stripe facing down) when inserting your ticket. The ticket can be inserted at either end.  The machine will eject your ticket out the top, whereupon you should take your ticket back and keep it for the rest of your journey. The turnstile gates will slowly open and you can then pass through onto passport control.
For passengers not holding a European Union passport, you'll have to complete a declaration card for British Immigration control.  This is just like landing cards you would fill out for overseas flights, asking the normal questions: name, date of birth, country of birth, where you're staying in England.
After passing through French and British immigration control you'll need to pass a security screening where your bags are scanned and you walk through a metal detector.
Finally you'll arrive in the Eurostar waiting lounge.  The first waiting lounge is for regular Eurostar ticket holders, with tickets for train cars ("voiture") 6 to 18.  A second smaller waiting lounge can be found further down the hall and is reserved for Eurostar Business and Premier clients, usually seated in train cars 1 to 5.
Boarding for the Eurostar train starts 20 minutes before departure.  An employee will check your Eurostar ticket once more before allowing you to descend onto the dedicated Eurostar platforms at the western end of Gare du Nord.  Immediately after this last ticket check, you can descend onto the train platform using either the moving sidewalk to your left, or via the stairs to your right.  Often the stairs will be completely empty while the slow moving sidewalk will be full with a group of people waiting to descend.  You might want to simply take the stairs if you're not carrying much luggage.
To find where you're seated on the train look at the center of your Eurostar ticket where there will be a car number ("Voit", short for "Voiture" in French, meaning "Car") and seat number printed, such as in in the following photo (showing Voit 17 seat 23).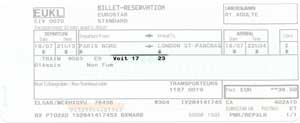 To find your designated car along the train, look at the digital display screens located at the end of each train car, next to its entrance door.  This screen will show a large car number from 1 to 18 along with the destination of the train.  In the photo below we see train car number 17 and the destination of the Eurostar (this photo was taken for a trip going to Paris rather than going to London, stopping at Ashford International on its way).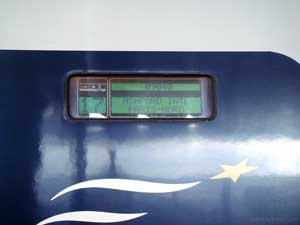 When taking a Eurostar train from Paris to London, it's common for the Eurostar to stop at Ebbsfleet (and sometimes Ashford) station 15 minutes before arrival at London St. Pancras / King's Cross. Don't mistakenly get off the train too early at these dark, uncovered stations outside of London.  St. Pancras International train station on the other hand is well lit, enormous, with plenty of signage and the Eurostar will park itself underneath the covered area.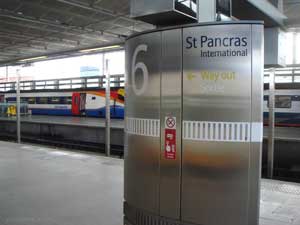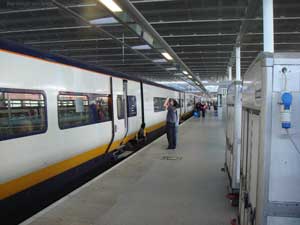 After arrival, you'll make your way towards the atrium area with its gigantic clock on the center of the wall.  You'll descend down a moving walkway towards the customs area where you will pass British customs officers randomly screening passengers.  After that, your options for ground transportation include London Underground Tube (subway) via King's Cross station, connected underneath St. Pancras, or light rail via St. Pancras station.  See the London public transportation site, tfl.gov.uk, for more information on subways, buses and trains within London.
Useful Links
What Next?
Paris to London Train – Eurostar
was last modified:
August 10th, 2016
by