RER B maps, schedules and ticket/pass information can be found below.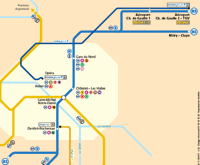 The RER B Paris train connects Paris city centre to CDG Airport, Orly Airport, Gare du Nord (Eurostar station) and other important destinations in the metro Paris area.
Watch a quick video of RER B train Facts & Figures.
Paris RER B Train – Overview
The RER B map shown here to the right is a simplified version, showing only major destinations and connections along the blue colored line.
Schedules
RER B Schedules/Timetables & Line Map (showing stations & connections)
Map
Tickets & Passes
RER B uses RER tickets known locally as Billet Ile-de-France. Multi-use tickets and passes for the RER B include Paris Visite, Ticket Mobilis and Navigo Decouverte pass, Navigo Day pass.  Caution: tickets & passes are subject to fare zone limits. Make sure your passes cover the zones needed, such as zone 5 for CDG Airport and zone 4 for Orly airport.
Major stations
RER B – CDG
The above instructions provide information on taking the RER B from Charles de Gaulle Airport to Paris centre and vice versa. If you know which CDG Terminal you're landing at see the detailed photo instructions for CDG Terminal 2 to Paris or CDG Terminal 1 to Paris. If you're landing at Terminal 3, use the CDG Terminal 1 to Paris instructions.
RER B – ORY
The RER B remains the fastest way to get from central Paris to Orly Airport (ORY) at a total single ticket cost of 11.45€. Keep in mind that the RER B does not directly connect to Orly Airport, but requires a connection onto Orlyval, a dedicated airport train leaving from Antony station, south of Paris, along the RER B train line.
RER B – Gare du Nord
The RER B train makes its first stop in central Paris at Gare du Nord, famous for being the station for the Eurostar high speed Paris to London train.
See the photo tour of Gare du Nord to get a better idea of its layout.
RER B – Chatelet Les Halles
The largest underground station in the world, Chatelet Les Halles, connects to a multitude of Metro and RER train lines including: Metro 1, 4, 7, 14 and RER A, RER B & RER D.
If you're going to Gare de Lyon and are changing trains from RER B to the RER A at Chatelet Les Halles, note that the two trains are on the same platform, just at opposite sides. Simple alight the RER B, walk to the other side of the platform and board the next train. The next stop will be Gare de Lyon.
RER B – Saint Michel Notre Dame
Conveniently, the RER B makes a stop just next to the famous cathedral of Notre Dame, immediately beside the river Seine in Paris' 6th district. This station also serves as a connection to the RER C line traveling to Versailles.
RER B – Luxembourg
This station is located immediately east of the Jardin du Luxembourg or Luxembourg Gardens.
RER B – Denfert Rochereau
Second to last station within central Paris for the RER B, Denfert-Rochereau connects to Metro Line 6 which connects to Gare Montparnasse, another of Paris' popular main large train stations serving TGV trains out to Bordeaux and other southern cities in France.
What Next?
RER B
was last modified:
October 28th, 2019
by