Current Paris RER Train Service Disruptions 2019

Current & upcoming Paris train RER service disruptions affecting train times, frequency and running which may impact your travels to and from CDG Airport, Disneyland, Versailles, and other destinations in the Paris area.
---
Updated Nov 2, 2019
RER B CDG Airport Closure Nov 1 - 3, 2019
The RER B train will not be running between CDG Airport and Paris on Friday, Saturday, Sunday of November 1 - 3, 2019 due to maintenance works on the rail line. In place of RER B trains, replacement buses will operating between CDG Airport and two RER B stations in both directions.

For passengers arriving at CDG Terminal 2, a replacement service bus (the L1 bus) will pick up passengers from CDG Terminal 2D Parking Pro parking lot and stop at Mitry-Claye RER B station. From Mitry-Claye RER B train station, passengers can take the RER B train into Paris Gare du Nord station, where the train will terminate.

For passengers arriving at CDG Airport Terminal 1 or Terminal 3, RER B train replacement service buses will take passengers from the Roissypole bus station (just outside of the CDG T1/T3 train station) to either Aulnay-sous-Bois (on the L2 bus) or Mitry-Claye (on the L1bis bus). RER B trains from both stations will terminate at Gare du Nord at surface level (normally reserved for TGV & intercity trains). For travel further south through Paris, passengers will need to walk from Gare du Nord surface level Grandes Lignes trains area to RER platforms below ground where RER B trains will operate southbound as usual. Follow the signs for RER B trains throughout Gare du Nord. Your RER B ticket will be valid for this transfer.

This replacement bus service will add 30+ minutes onto the normal RER B travel time of 40 minutes, so please plan accordingly. Alternately (and suggested) you can take the Roissybus between CDG Airport and Paris Opéra. Navigo Decouverte passes are accepted on Roissybus.
---
RER B CDG Airport Trains Early Closure Nov 4 - 22, 2019
The Last RER B train from CDG to Paris will depart CDG Terminal 2 train station at 22:59 (10:59 p.m.) Monday to Friday from Nov. 4-22, 2019 (dates inclusive). Saturday, Sunday evening RER B last train times are unchanged with last trains departing CDG T2 train station at 23:50 / 11:50 p.m. During the early closure period, replacement buses will operate between CDG Airport T1/T3 train station (in Roissypole building) and Parc des Expositions RER B station. From Parc des Expositions station the last RER B train to Paris departs 23:58 / 11:58 p.m.

The last RER B train from Paris to CDG Airport will depart Gare du Nord at 22:45 during the early closure period Nov. 4 - 22, 2019. Trains departing Gare du Nord to CDG after this time will terminate at Parc des Expositions. Replacement buses will ferry passengers from Parc des Expositions to CDG Roissypole bus station where travelers can take CDGVAL shuttle to Terminal 1 or walk to Terminal 3.
---
RER B Early Closures until Dec 14, 2019
RER B airport trains departing CDG Airport for Paris are ending service early Monday through Friday (weekends are not affected), with last RER B trains departing CDG Terminal 2 train station at 11:00 p.m. (23:00) from Aug 26, 2019 through Oct 11, 2019 and from Dec 2 through Dec 13, 2019. Normal service hours return on Dec. 14, 2019.
Alternate Routes
Take CDGVal shuttle train to CDG Terminal 1 and board L2 Replacement Service buses to Aulnay-sous-Bois, then board a RER B train from Aulnay-sous-Bois to Gare du Nord and other Paris RER B stations
========================================
No Paris-Versailles Trains Nov 1 - Nov 3, 2019
From Nov. 1, 2019 through Nov. 3, 2019 no RER C Paris - Versailles trains will be running between Invalides station in Paris and Versailles Rive-Gauche / Chateau de Versailles, in both directions. An alternate route suggested by the city train authority is taking Transilien N trains from Gare Montparnasse to Versailles Chantiers station and walking from Versailles Chantiers to Chateau Versailles. Google Maps estimates a 21 minute walk between Chantiers and Chateau de Versailles.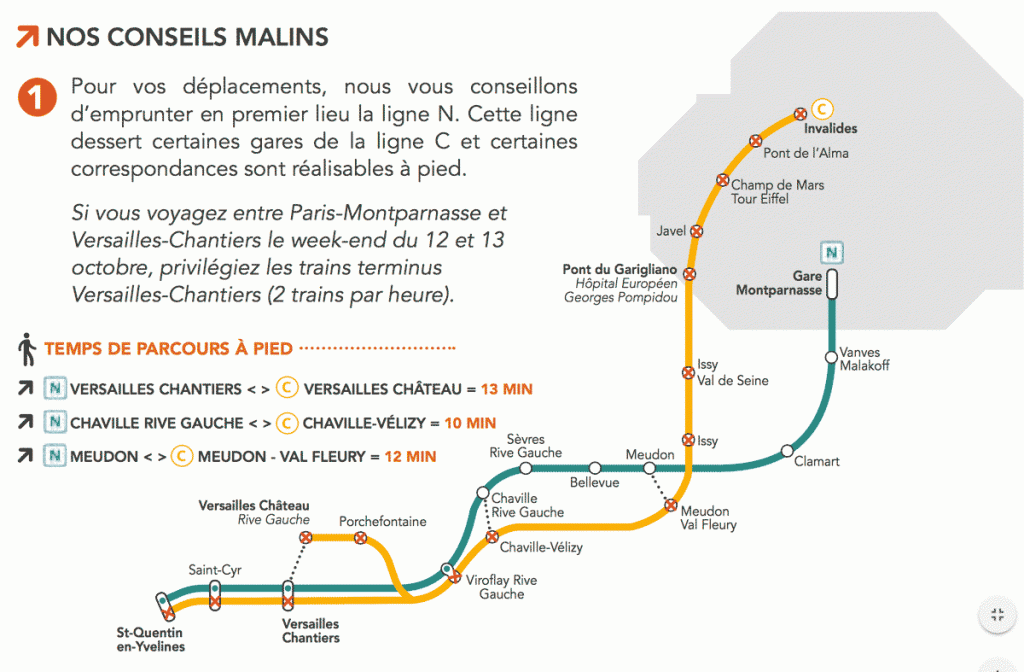 RER C Service Disruptions until Dec 29, 2019
Please be aware that track maintenance along the RER C train line (Paris-Versailles) is disrupting service between Saint Michel Notre Dame station & Versailles Rive Gauche on weekends & holidays until Dec. 29, 2019. If you're going to Versailles on a Sat/Sun/French holiday, start your journey at Invalides RER C station to avoid stations closed for maintenance. Maintenance is occurring on train tracks between Invalides & Musee d'Orsay, which is between Saint Michel-Notre Dame station & Versailles Rive Gauche. You need to start your journey at a station west of Invalides to avoid the closed stations. Champ de Mars or Javel stations are recommended due to last minute maintenance closures of Pont de l'Alma station which are frequent.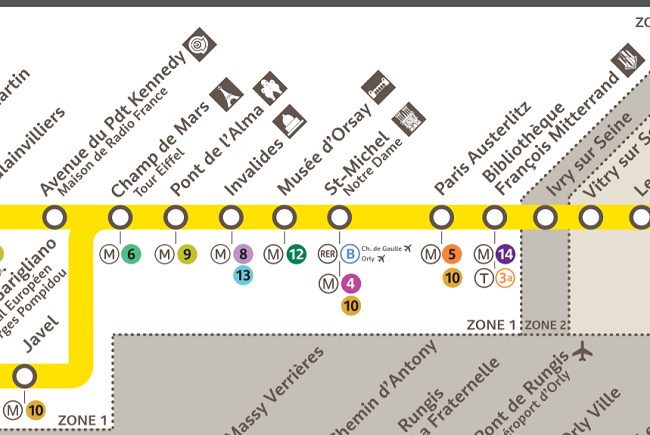 ========================================
What Next?
Paris RER Service Disruptions 2019
was last modified:
November 3rd, 2019
by