Current Paris RER Train Service Disruptions 2019
Updated September 25, 2019
RER B Maintenance Works until Dec 14, 2019
RER B airport trains departing CDG Airport for Paris are ending service early, Monday through Friday (weekends are not affected), with last RER B trains departing CDG Terminal 2 train station at 11:00 p.m. (23:00) from Aug 26, 2019 through Oct 11, 2019 and from Dec 2 through Dec 13, 2019. Normal service hours return on Dec. 14, 2019.
Alternate Routes
Take CDGVal shuttle train to CDG Terminal 1 and board L2 Replacement Service buses to Aulnay-sous-Bois, then board a RER B train from Aulnay-sous-Bois to Gare du Nord and other Paris RER B stations
========================================
RER C Service Disruptions until Dec 29, 2019
Please be aware that track maintenance along the RER C train line (Paris-Versailles) is disrupting service between Saint Michel Notre Dame station & Versailles Rive Gauche on weekends & holidays until Dec. 29, 2019. If you're going to Versailles on a Sat/Sun/French holiday, start your journey at Invalides RER C station to avoid stations closed for maintenance. Maintenance is occurring on train tracks between Invalides & Musee d'Orsay, which is between Saint Michel-Notre Dame station & Versailles Rive Gauche. You need to start your journey at a station west of Invalides to avoid the closed stations. Champ de Mars or Javel stations are recommended due to last minute maintenance closures of Pont de l'Alma station which are frequent.
Aug 26 - Oct 18, 2019
From 8:30 AM - 4:30 PM Monday through Friday, trains returning from Versailles will terminate at Invalides station in Paris and not service Musée d'Orsay, St-Michel Notre Dame, etc. until past Juvisy station further east. For trains going to Versailles from Paris, train frequency will be half that of normal. Instead of every 15-20 minutes, expect 30-40 minutes between trains Paris to Versailles, between the hours of 8:30AM & 4:30PM, Monday-Friday, until October 19, 2019 when normal service resumes. See the RER C train schedule for frequency of Paris-Versailles trains (trains with "VICK" mission/name).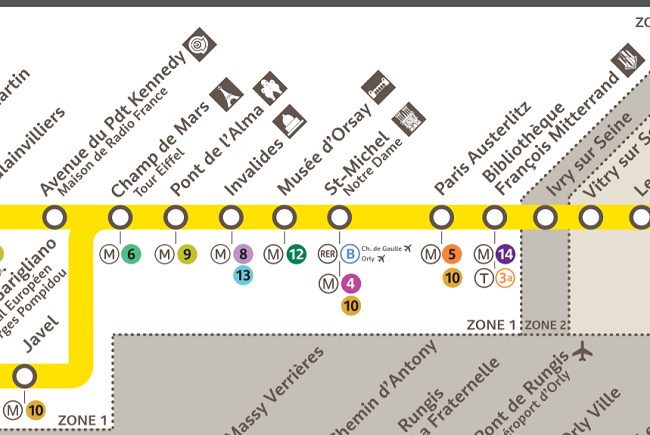 ========================================
What Next?
Paris RER Service Disruptions 2019
was last modified:
September 25th, 2019
by