The arrival and departures timetable for Eurostar Paris to London train has the earliest departure/first train leaving Paris at 6:43 arriving at 07:58.  The journey time is 2 hours 15 minutes with a 1 hour time zone difference between Paris and London, London being earlier at Greenwich Mean Time (GMT) and Paris at GMT+1.  Trains leave from Gare du Nord in Paris.  More information on taking Eurostar from Paris to London.
On Saturdays and Sundays the first Paris to London Eurostar train departs at 07:13 arriving in London at 08:28.
Last train train leaving Paris departs at 21:13 (9:13pm) arriving at London St Pancras at 22:34 with a stop at Ebbsfleet 20 minutes before that (don't get off the train too early).
Tips on finding discount Eurostar tickets.
Here is a full timetable of train trains departing Paris Nord station arriving at London St Pancras: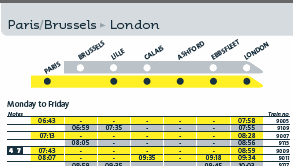 What Next?
Timetable Eurostar Paris to London
was last modified:
October 28th, 2019
by