To purchase £69 round trip Eurostar train tickets from London to Paris (or Paris to London):
1. Go to Eurostar.com and click on the "Eurostar Deals" tab, top right highlighted below. (image updated March 28, 2013). If you end up on the French site, you can switch languages at the top right: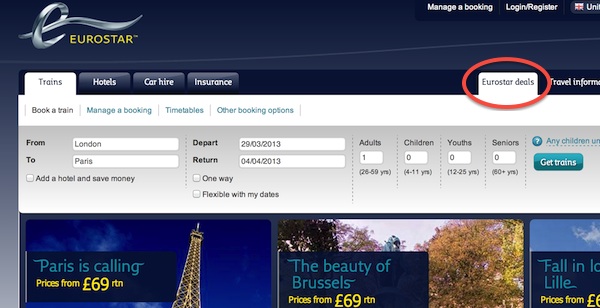 Next, on the Arc de Triomphe photo and text, click on the "Paris is Calling" text, which will bring the photo to centre and show a Book Now button.  Click "Book Now".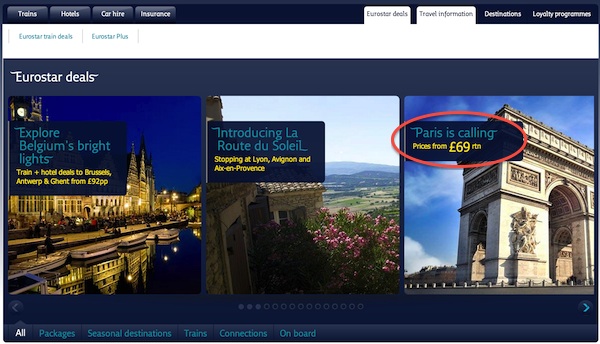 Clicking on the text "Paris is Calling" will reveal a "Book Now" button.  Click that.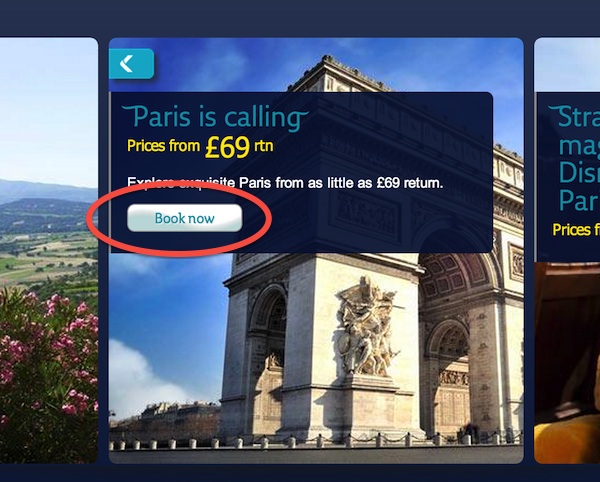 2. Next you'll see a colour-coded calendar.  Any dates shaded in blue are low cost fares. The darker the blue, the more tickets that are available.  I've highlighted April 17 below as an example.  Most dates are white and will not have the £69 return fare available.  Select both departure/return dates with blue colours. (Note that currently the site has an error and has listed both outbound and inbound calendars as "London St. Pancras Intl. to Paris Gare du Nord", but the bottom calendar is for the return leg.  Keep in mind the calendar shows next week by default.   There are up & down arrows on the left top & bottom of the calendar to go back and forth 4 weeks time.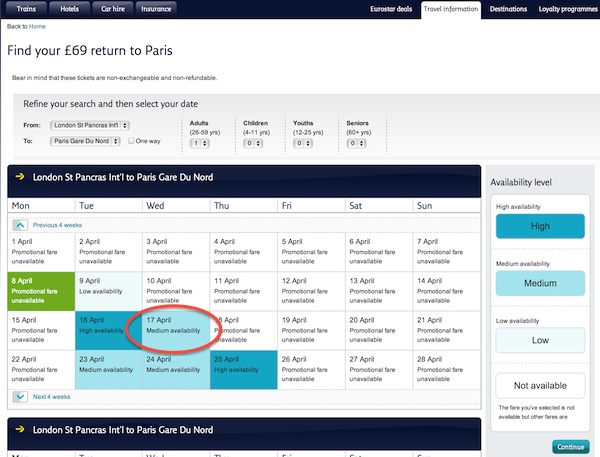 When you're travel dates are selected click on "Continue".
Remember any Low, Medium or High Availability days will feature the £69 return ticket price.
In general the first High Availability day will be at least 14 days from now.  Thus, if you can book your Eurostar at least 2 weeks in advance and you'll get the cheapest Eurostar fare available.
What Next?
Cheap Eurostar Tickets – £69 Return
was last modified:
October 28th, 2019
by