Official Beauvais – Paris train schedule showing depature times of trains departing Beauvais city center (closest train station to BVA Airport) arriving in Paris at Gare du Nord station: (click to enlarge schedule)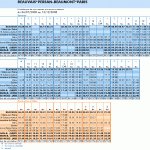 For a schedule in the opposite direction, see the Paris Beauvais Train Schedule in the downloadable full PDF schedule below.
For complete step-by-step instructions on completing this journey, see Beauvais Airport Train article.
Translations
Some translations that are useful when regarding the notes to the schedule:
du lundi au samedi – from Monday to Saturday
vendredi – Friday
samedi – Saturday
ter is the brand name of the train
Circule jusqu'au – Operates until [some date]
Circule à partir – Operates from [some date]
Circule du lun au jeu et les sam. – Operates Mon-Thur and Sat
Circule uniquement les ven. – Operates only on Fridays
Circule du lun au jeu – Operates from Mon – Thur
All days are "inclusive". Example: Mon – Thur means trains operate from start of service Monday till end of service Thursday
Full Schedule
Download the Paris – Beauvais train schedule in PDF file format for more detail.
You may also check schedules online through sites mentioned in my train route planner article although I have noticed some errors with their suggested itineraries so beware.
If you'd like to purchase tickets ahead of time, for either home delivery or pickup at the train station, see the article on buying TGV tickets (works for non-TGV trains like the Ter train).  Keep in mind that this type of train serving the Paris to Beauvais route (Ter or Transport Express Régional) is a non-reserved seating train, thus tickets do not have to be purchased ahead of time.  Seats are on a first come first served basis.
What Next?
Beauvais Paris Train Schedule
was last modified:
October 28th, 2019
by