This is a photo guide for Gare Saint Lazare train station in Paris, popular amongst locals for its Paris Versailles train (Transilien L) and other western suburbs of Paris such as La Défense, Nanterre, Rueil-Malmaison, Les Chenay, Saint Cloud and of course Versailles.
Many intercity & international high speed trains can also be found inside Gare Saint Lazare. as it is a connection point for both suburban and grande ligne trains.
Gare Saint-Lazare also has a Metro station attached which is accessible by the dome shaped covering about 10 metres (~ 30 feet) from the front steps of the train station, (see bottom left of photo below).  Saint-Lazare Metro station services Metro lines 3, 12, 13, and 14. While underground you'll find a path connecting the Metro station to Haussmann-Saint-Lazare station, which is a station for the RER E line.
Gare Saint-Lazare is one of six major train stations in Paris. It is the terminus station for suburban and grand line trains including Transilien (2 lines- Lines J & L), intercités (3 lines- all lignes Normandes, and TER Haute Normandie (serving upper Normandy).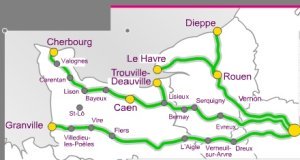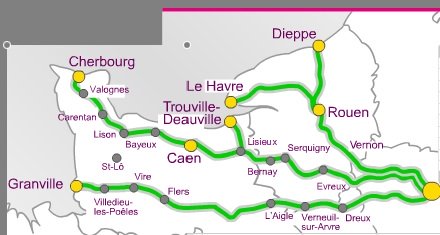 Gare Saint Lazare is centrally located close to the metro, RER E, and various bus stops. There is one bus stop on Rue de Rome and a bus station located close to the intersection of Place Gabriel Péri and Rue de Rome.
Outside to the train station you'll find a column shaped sculpture of clocks.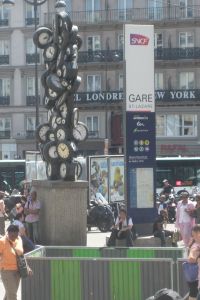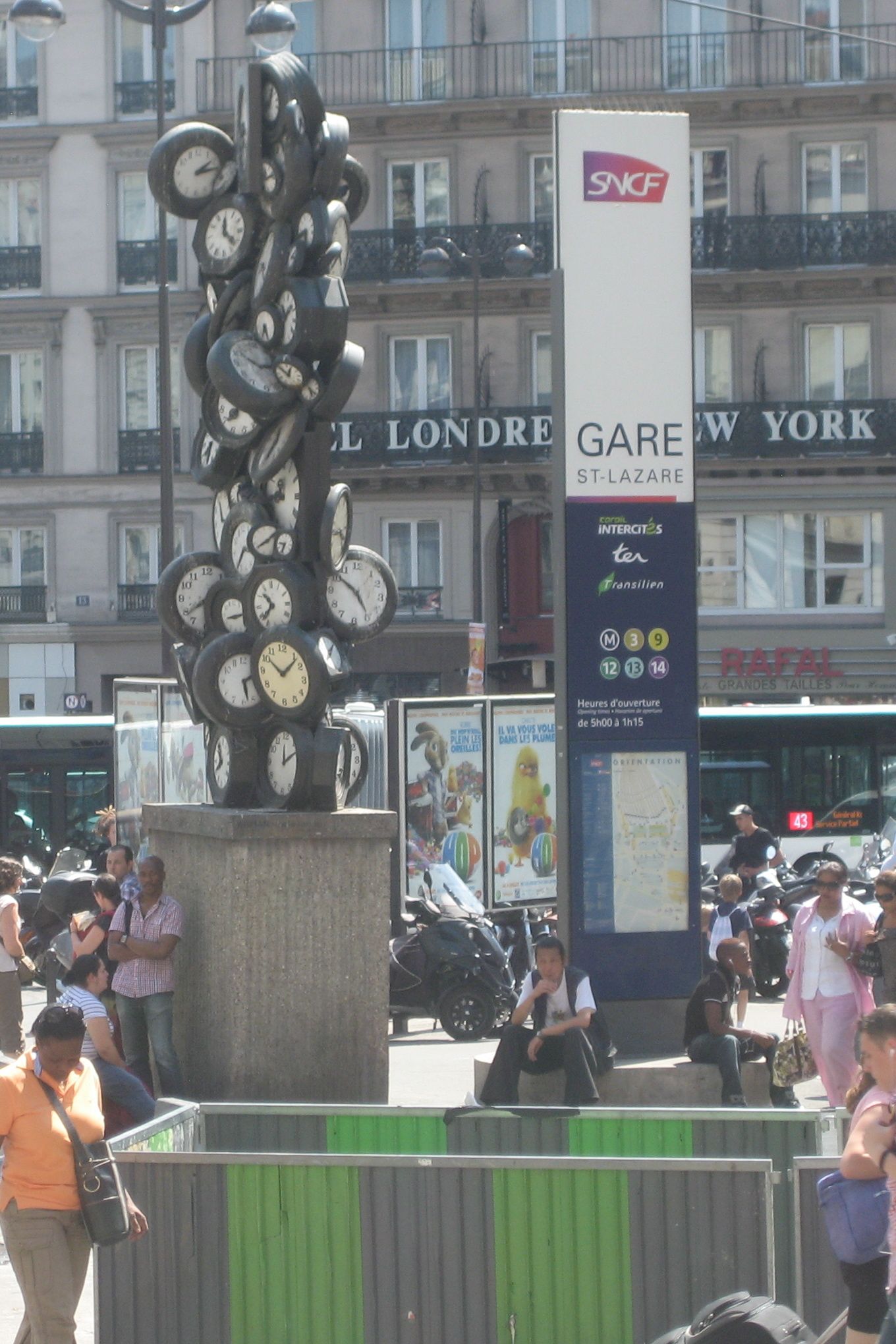 There is a Vélib city-bicycle station located on the corner of Rue de Rome and Rue de Amsterdam, because of the volume of traffic that goes through this station it might be hard to get a bike at this location.
Inside Paris Saint Lazare train station the grand hall is lined with commercial / retail shops, services and food with plenty of signs for various numbered train platforms as well as signs for access to RER trains and Metro/subway lines.
Saint Lazare has a total of 27 lanes or platforms (voies). Generally lanes 1-18 service the suburban and intercity trains such as trains to Versailles, while lanes 19-27 service the Grand Line trains which go between cities and may be high speed TGV trains. You'll see overhead signs & display screens at the entrance to each of the train platforms to indicate which trains are departing for which destinations.
Saint Lazare train station has a SNCF ticket office and also automated ticket vending machines (for SNCF, TER, Ile-de-France train tickets). There is an information desk open generally from 07:00 to 22:00 Monday to Fridays, 07:00-14:00 Saturdays, and 14:00-22:00 Sundays.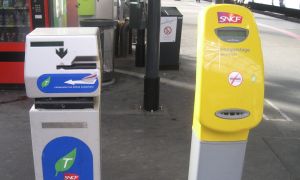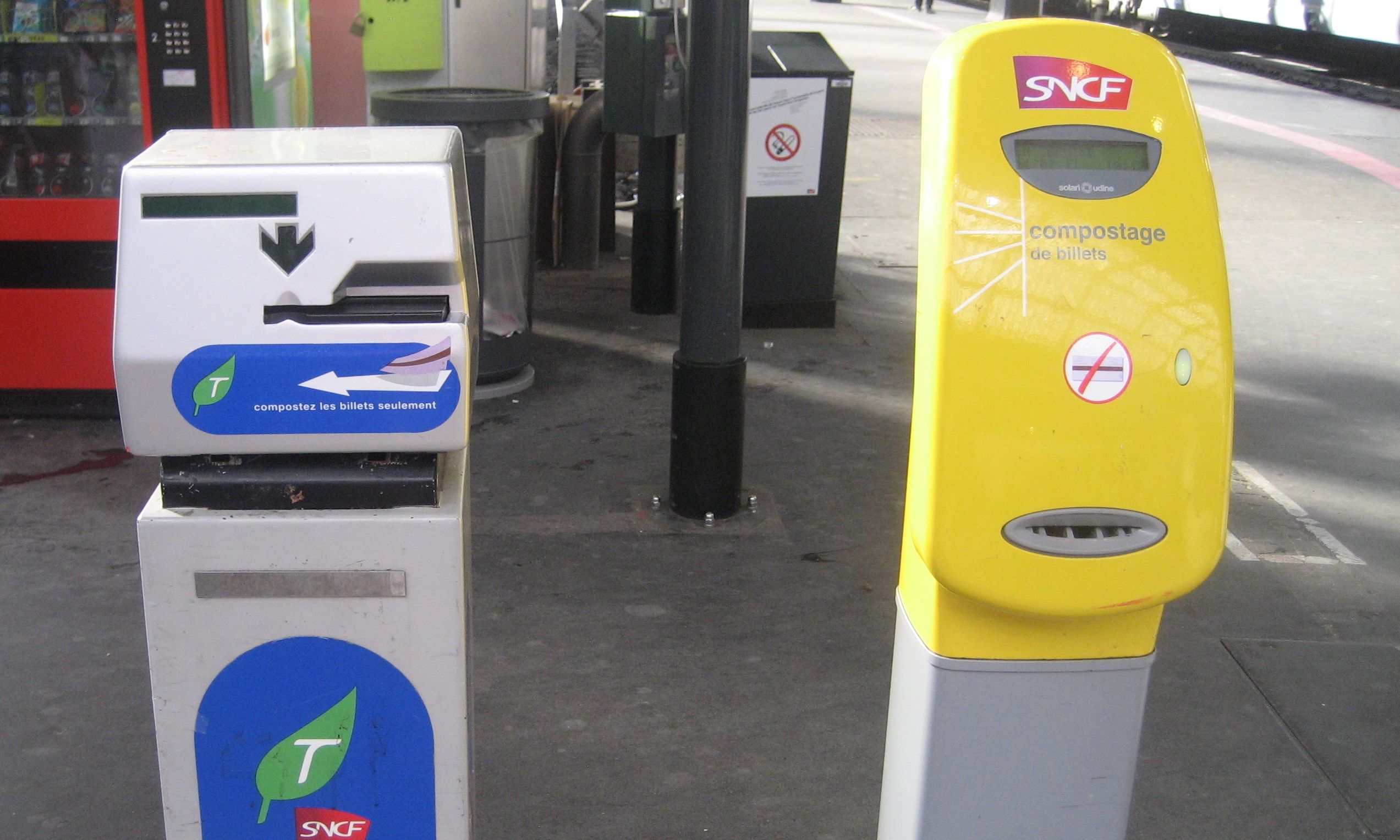 If you are using a Transilien origin-destination Paris suburban train ticket (shows your departing and arrival stations) or a intercity/high speed train ticket, you will have to validate it before getting on the train (Note: Some print at home tickets will not need to be validated and will be scanned once boarded). There are two different machines, one for billet origine-destination and one for grande ligne tickets.
This station has only one floor for the large suburban & intercity trains themselves and does not have luggage storage. It does however have a lost and found office located close to lane 27. The washrooms cost 0,50€ and are located in front of lane 23 & 24 and there are food kiosks within the station.
Hope you have a happy and safe train ride!
Resources
Paris Transport Security & Safety Tips
What Next?
'Gare Saint Lazare' Train Station Photo Guide
was last modified:
July 15th, 2022
by