RER A train maps, schedules and ticket/pass information can be found below.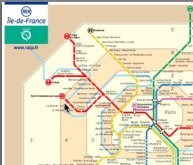 The RER A train connects Disneyland® Paris to Paris city centre to La Défense business district at the western edge of the city.
Paris RER A Train – Overview
The RER A line shown on this RER map is the red line, which travels east to west through metro Paris, from Marne La Vallée (formerly known as Euro Disney, now called Disneyland Paris) to St Germain-en-Laye out west.
Schedules
RER A Schedules/Timetables & Line Map (showing stations & connections)
Map
Tickets & Passes
Fares for the RER A includes single use tickets known as Billet Ile-de-France, multi-use tickets and passes  Paris Visite, Ticket Mobilis and Pass Navigo Decouverte. Be careful with tickets & passes used on RER trains which are subject to fare zone limits and restrictions. Traveling with a ticket beyond its zone limit will prevent you from passing through exit turnstiles at your destination and worse, may earn you a 35€ fine from controllers that randomly check tickets.
Major stations
Disneyland Paris (at Marne La Vallée station)
Gare de Lyon (major TGV station)
Chatelet Les Halles (connection to RER B airport trains)
Auber (shopping at Galeries Lafayette & Printemps)
Arc de Triomphe (at Charles de Gaulle–Etoile station)
La Défense (Grande Arche, skyscrapers, banking business district)
RER A – Paris Disneyland
Paris Disneyland is not actually in Paris city centre itself, but in the commune of Marne La Vallée-Chessy. In 40 minutes the RER A train travels from city centre Paris to Eurodisney at Marne La Vallée station.  RER A trains leaving Chatelet Les Halles for Disney start at 5:20 in the morning and run every 10 to 30 minutes until the last train departs at 00:36 in the evening, every day of the week. One way ticket price is 5€ (full fare, as of January 1, 2023) and 2.50€ for children. Other methods of travel: TGV train from CDG Airport to Paris Disneyland and Eurostar London to Paris Disneyland.
RER B – Gare de Lyon
Gare de Lyon is a major TGV (high speed) train station in south east city centre of Paris. Most trains leaving from Gare de Lyon serve the surrounding Ile-de-France area and other far away cities within France such as Dijon, Lyon, Avignon, Marseille, Montpellier and many others. Chateau Fontainebleau and INSEAD business school are accessible from this station via Transilien brand trains departing from Gare de Lyon.
RER B – Chatelet Les Halles
The RER A connects with the RER B Airport train at this staton. Other connections at Chatelet Les Halles include Metro lines 1, 4, 7 and 14. The RER D also joins Chatelet Les Halles to Gare du Nord, home of the Eurostar London Paris trains.
RER B – Auber
If Paris fashion and shopping are on your schedule, Auber is a stop for you.  Located above this station are two of the largest department stores in Paris: Printemps and Galeries Lafayette, known for its outrageous advertisements and window displays.
RER B – Charles de Gaulle–Etoile
The Arc de Triomphe at the end of the Avenue de Champs-Elysées is accessible via Charles de Gaulle–Etoile station on the RER A. This station is another fair size interchange hub connection Metro lines 1, 2, 6 to the RER A train.
RER B – La Défense
Home to Paris' business and banking district, La Défense is a little slice of Manhattan or Chicago with its numerous skyscrapers (but without the traffic: it's mostly a pedestrian area).  A second "Arc de Triomphe" exists here as the high-tech Grande Arche, many times larger than the Arc de Triomphe, housing office space and a museum dedicated to computers at its top floor.  Views over Paris from this arch are impressive.
What Next?
RER A
was last modified:
December 21st, 2022
by