Map of wheelchair accessible Paris Metro, RER, Bus, Tram lines, stops and stations for those with reduced mobility, specifically for those in a wheelchair.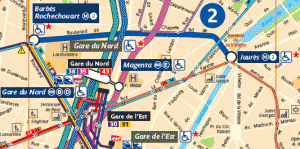 Paris RER Train Wheelchair Accessibility Guide – This wheelchair accessibility guide (in French) is for Paris RER trains (such as RER A / RER B). This Paris RER train wheelchair guide explains in photos how a wheelchair user can make trips on Paris RER trains from start to finish, including finding elevator-equipped stations, buying tickets, passing through fare gates, arriving at train platforms and boarding and leaving trains with assistance from the train conductor.
There are roughly 50 Metro/RER stations within central Paris that have elevators and accessibility for wheelchairs. (See a list of wheelchair accessible Paris RER / Metro stations [by elevator].)  The stations listed on this map are the reduced mobility accessible stations. Although the stations themselves will be accessible, very few Metro / RER lines have roll-on accessibility for the train itself.  Metro Line 14 and RER E have complete roll-on / roll-off access for wheelchairs right onto the trains and all station stops are accessible by elevator. For other RER trains the conductor and/or station staff will help wheelchairs roll onto the first passenger train car using a portable ramp they will place between the platform gap and the train car.  The other Metro lines that have accessibility up until the train itself include Metro Lines 1, 2, and 13.  The RER B train, popular for its CDG Airport to Paris route, has complete accessibility only at Gare du Nord.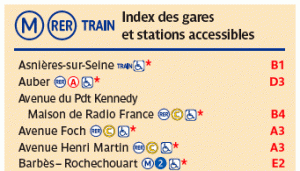 On the left hand side of the map, half-way down, is an index of Metro, RER and Train stations ("Index des gares et stations accessibles"). Listed here are station names (ex. Auber), the type of train served: Metro (subway), RER (suburban train / express subway), or Train (intercity train), which lines are served (RER A, Metro Line 14, etc.) and whether wheelchairs can roll-on/roll-off unassisted onto the train cars. A red asterisk beside the train type and line means wheelchairs cannot roll onto trains and will need assistance at that point. Only Metro Line 14 and RER E are fully accessible by wheelchairs at all stations and onto the trains themselves.  All other trains will require help from staff or other passengers to lift chairs onto train cars.  In general Parisien travelers are very willing to help those with reduced mobility ascend and descend trains so don't hesitate to ask or make gestures to such effect.
The map also shows wheelchair accessible Paris Bus lines along with bus stops that have specifically designed ramps for ease of access.  Buses along these lines will have the ability to kneel and deploy a ramp for wheelchair roll-on/roll-off access.  Bus stops that specifically do not have accessible ramps will be marked with a caution sign (yellow triangle with exclamation point).
The trams within Paris, Tram 2 skirting the western edge of Paris and Tram 3 running east-west along the southern edge, are fully wheelchair accessible with ramps on all stops and very small gaps in between train and ramp at stops.
Intercity trains such as TGV, Ter, and Transilien at the major Paris train stations ("gares" such as Gare de Lyon, Gare du Nord) most often have a step or two at car doors in order to board the trains, thus wheelchair travelers will require assistance for boarding.
Reduced Mobility
For travelers with reduced mobility, but not confined to a wheelchair, certain stations feature long connections requiring a good deal of walking or stair climbing which may be best to avoid.  Unfortunately it's not possible to simply classify stations as mobility friendly or not since different connections to different lines within the same station will require different amounts of walking and stairs.  Some connections may require only seconds of walking while others will require ten or more minutes.
Nearly all stations feature escalators, but there are often small sets of stairs which are present throughout the Metro for traversing over or under connecting lines.
One way to get an idea of walking distance when making connections is by using the a Metro Route Planner and observing the walking time provided in the results (when transferring from one line to another within a station).  From the time required to walk from one train platform to a connecting one you can estimate the distance and the level of mobility require to make the connection.
More information links:
https://www.ratp.fr/accessibilite/accessibilite-des-reseaux
What Next?
Map Paris Wheelchair Reduced Mobility Accessibility – Metro RER Bus Tram
was last modified:
October 28th, 2019
by