The closest Paris Metro stations to the Notre Dame Cathedral are:
(Photo by Ginger Nut)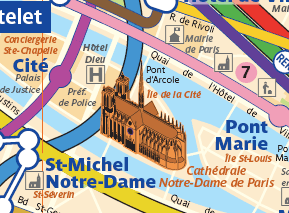 (Map courtesy of RATP)
More Information
Photos of Notre Dame at Flickr.com
Notre Dame de Paris on Wikipedia.org

What Next?
Search this site:


Ask a question

on the Paris by Train forums and we'll get back to you personally with an answer. (Or visit the forum archive).
Save this page using a bookmarking site from the button below. Then you'll have this information accessible later from any computer, anywhere in the world (like Paris!).
Related Articles:
Tags: cathedral notre dame, notre dame, RER C