Disneyland Paris to CDG Airport by TGV train is the fastest way to get from Disneyland (Marne la Vallée) to Charles de Gaulle Airport, taking 10 minutes or less.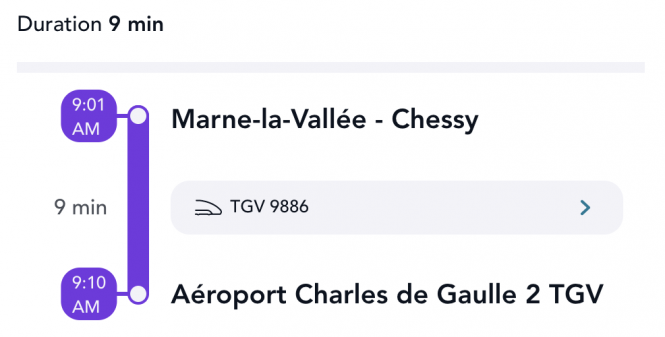 Marne la Vallée TGV (high speed) train station is located 200m from the Disneyland park gates, in the same building as the RER A suburban city train between central Paris and Disneyland.
To book high speed train tickets from Disneyland Paris to CDG Airport, use https://www.sncf-connect.com/en-en/tgv, which is the official TGV train ticket bookings website run by the French national railway company SNCF.
Type "CDG" in the search field and wait for suggested destinations to show up below. Then select "Paris Roissy Charles de Gaulle Airport (TGV Station CDG 2) from the list shown.

Next you'll be asked to fill in a Departure station.  Type: "marne la vallee".  Select the first result shown in the list below which will be "Paris Marne la Vallée Chessy (200m from Disneyland Paris TGV and Ouigo station".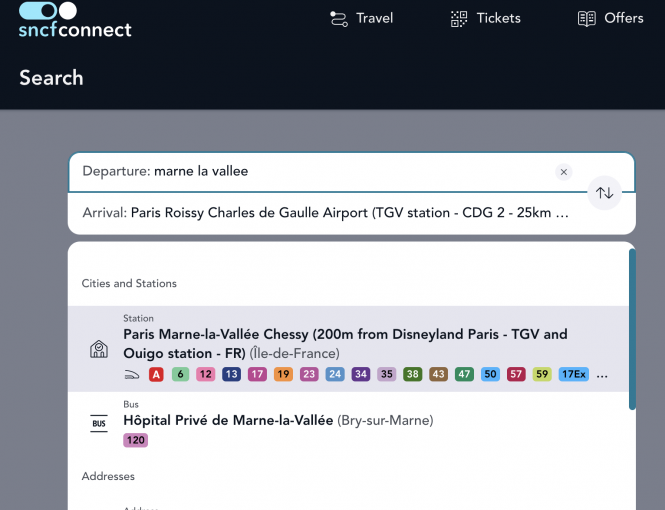 IMPORTANT
Here's a critical step: you must Filter by: (click on) Mode of Transport (and tick) "Train" then click Apply to get high speed train results. Then and only then will TGV train results be shown for you to select. Otherwise, only RER A and RER B suburban commuter train results will be shown, which take around 1h30m to complete the same trip.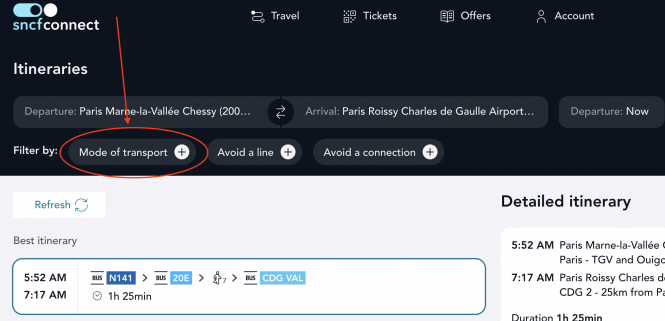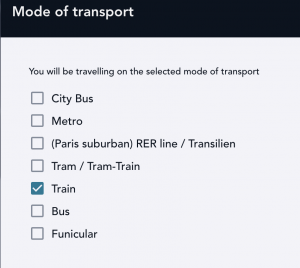 When the search is filtered by "Train", the results will show TGV high speed trains from Marne la Vallée (Disneyland) to CDG with travel time as 9 or 10 minutes: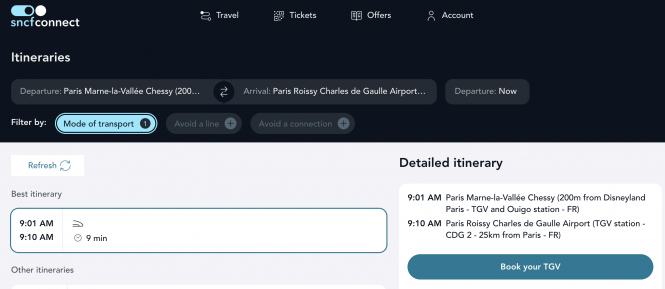 From here you can change the Departure time/date on the right hand side of the search boxes. Then select your preferred train time from the results shown below the search fields.
On the top right you'll then click on the button to "Book your TGV" or "Book your INOUI". I'll explain the difference next.
There are two "brands" of TGV high speed trains, one labeled as "TGV" and another as "INOUI". Both are high speed TGV trains, but "INOUI" is marketed as the "more comfortable, with more services and better Internet WiFi connectivity" of the two trains. The prices between TGV and INOUI are the same though (for the Disneyland – CDG route), so if you have a choice, choose INOUI. But, for 10 minutes of train ride… this likely isn't very impactful.
After clicking the "Book your TGV/INOUI" button, you'll be asked for the quantity of tickets and the age range of each traveler. Then you'll click "See Prices" button to show you a page of train times and prices. "Regular" 1st class seats (cost nearly the same as 2nd class) are fractionally roomier, but until your pay for "Premiere" 1st class seats, there's hardly any difference. Again, for a 10 minute ride, cheapest is probably your best bet.
After selecting your class you'll select aisle or window preference and ability to sit next to a companion. Then validate your basket, provide traveler information such as name and date of birth, email address, mobile phone number. Then finally your credit card payment details and complete your TGV train ticket booking for Disneyland to CDG.
Done!
Congratulations, you're done! You'll soon be going from Disneyland to CDG Airport at 200mph / 320km/h.
Resources
Disneyland Paris train station map (Marne la Vallée Chessy).
What Next?
Disneyland Paris to CDG Airport by TGV train
was last modified:
March 23rd, 2023
by