To get to Château de Versailles from Paris by bus, the first step is reaching the bus terminal at Pont de Sèvres Metro station, which is the terminus (last) station of Metro Line 9.
Bus Schedule from Pont de Sèvres – Chateau de Versailles (Bus 171)
i) Getting to Pont de Sèvres (Metro line 9, direction Pont de Sèvres). Metro line 9 has many transfer points and makes Pont de Sèvres bus terminal easy to reach.
You can transfer to Metro line 9 from any of the following Metro lines and corresponding stations:
Metro line 1 at Franklin D. Roosevelt
Metro line 4 at Strasbourg St-Denis
Metro line 5 at Oberkampf
Metro line 6 at Trocadéro
Metro line 8 at Richelieu Drouot
Metro line 10 at Michel-Ange
Metro line 11 at Havre Caumartin
Metro line 13 at Miromesnil
You'll take Metro line 9, direction Pont de Sèvres, to the final end station, i.e Pont de Sèvres. Upon arrival (follow the crowd and) walk to the adjoining bus terminal at ground level, which will be clearly marked within the Metro (usually by a blue circle with "BUS" inside). You can also follow red coloured Bus 171 signs within the Metro which will lead you up to ground level.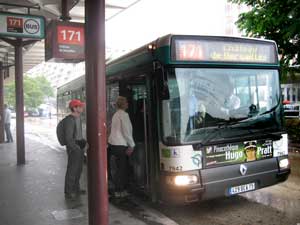 ii) At the Bus Station there are more than a dozen buses, but the bus you need to take is Bus 171.  Above is a photo of its departure at Pont de Sevres bus terminal and Chateau de Versailles is its last stop. The journey is roughly 30 minutes.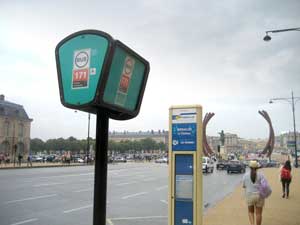 The price for the trip from Paris to Versailles depends on whether you began the journey on Metro or directly at Pont de Sèvres bus station.
If using regular Metro/Bus tickets (which are same type of tickets: Paris Metro Ticket T+) you'll need two tickets with total cost of 5€, one way (price valid as of Jan. 1, 2023).  One ticket will be used for the Metro to Pont de Sèvres and another ticket for Bus 171 from Pont de Sèvres to Versailles, which is in Zone 4 and the Metro only covers Zones 1-2. Keep in mind that tickets purchased directly from the bus driver will cost 2.50€ instead of 2.10€ so you may wish to purchase tickets from Metro ticket vending machines or from ticket windows prior to boarding the bus.
Side note: Regular Metro tickets, once used for the Metro, are never valid for transfers onto buses. Transfers from Metro to RER trains are permitted, as are transfers from bus to bus, but you cannot transfer from Metro/RER trains to buses or vice versa using the same Paris Metro ticket.  To complicate things a bit further, bus tickets purchased on board buses… are not valid for transfer, even from bus to bus and cost more, 2.50€ vs. 2.10€.
If you are within walking distance to the bus station, you'll only need one Metro/Bus Ticket T+ for the bus ride 2.10€.  As noted above, try to purchase a ticket before you arrive at the bus, since the driver will charge you 2.50€ if buying on board.  (Note: a carnet or booklet of single-use Paris bus/Metro tickets can be purchased at a slight discount, and it makes sense if you'll be traveling to other places as the tickets are used for all forms of transportation within the city of Paris. See Paris Metro Tickets for more details).
Zone 1-4 day passes good for Metro, train, bus (Ticket Mobilis) and Zone 1-4 Navigo week passes are valid for travel to Versailles.  For Ticket Mobilis, which is actually a paper ticket, insert the ticket into the ticket reader/validator next to the driver, about the size of a tissue box, attached lengthwise vertically from a pole. The machine should light-up a green rectangle confirming the ticket is valid.  For Navigo cards, simply hold the pass against the purple part of the ticket reader/validator to validate your pass has the correct zones purchased.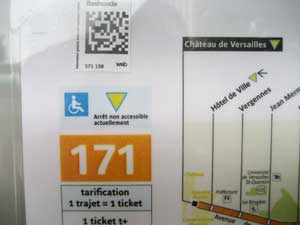 To return from Versailles to Paris by bus you'll need to take Bus 171 from the stop on the opposite side of the street from your arrival on Bus 171. It should be the first bus stop you encounter when walking directly back from Chateau de Versailles along Avenue de Paris. Here's a Google Map view with the bus actually at the stop.
Prefer to travel via train? See: Paris to Château de Versailles via Train
What Next?
How to get to Château de Versailles via Bus
was last modified:
December 21st, 2022
by