Paris Metro RER Train Fines
Here's a list of common Paris Metro RER train fines you can be hit with by Paris transit ticket inspectors.
Also applies to Paris RER trains which are patrolled by RATP ticket inspectors (contrôleurs).
How to Recognize Official Paris Ticket Inspectors
What do Paris Metro RER ticket inspectors look like?  Paris ticket inspectors or "contrôleur" can be visually recognized by various uniforms and sometimes only a brightly colored arm-band reading: "RATP Contrôle". 
Paris ticket inspectors will always be carrying a Navigo pass card reader to check validity of zones & dates of coverage such as the one pictured here: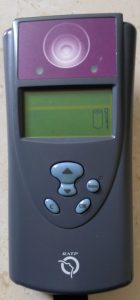 By holding your Navigo pass to the purple reader zone, a Paris ticket inspector can read the type of Navigo it holds (week pass, day pass, month pass, annual), the zone coverage and the three most recent validations against the card. This is useful for determining whether the card holder validated for the current ride on which they are being controlled.
Violation
All
All
Navigo pass
All
All
Examples of violations
(non-exhaustive list)
When paid directly
to the ticket
inspector
When paid within
7 days or within
20 days online
When paid by Navigo user
within 20 days
When paid
within 60 days
When paid after 60 days,
the amount is paid to the
French Treasury
Did not validate pass on tram or bus (i.e. forgetting to validate a valid pass)
5€*
35€
10€
55€
180€
Did not validate ticket or pass on the RER or Metro.
Child ticket used by person older than 9 years of age.
35€
65€
45€***
85€
No ticket or pass.
Use of a travel pass belonging to someone else.
50€
80€
60€***
100€
Smoking in station or on train
68€
98€
118€
Jumping turnstiles/gates or entering through exits
60€
90€
110€
Littering, abandoning objects
Putting feet on seats
Disturbing the peace
60€
90€
110€
375€
Using a passage in opposite direction to avoid ticket validation
25€
55€
75€
375€
* Fine only applies when a Navigo card is not validated on the bus or tram
*** Fine amount due if the Navigo is valid at the time of the ticket inspection, and under certain conditions. This fine can be paid only in person or by phone at +33 (0)1 58 77 18 77.
What Next?
Paris Metro RER Train Fines
was last modified:
January 30th, 2020
by