Hello I will be arriving in Paris on a Friday and will live in Asnières Sur Seine (commuting daily to/ from Paris city centre).  Reading up your page I think Navigo weekly pass is the best option but it will not be available as I arrive on a Friday.  What are my options then?  Would it be:
one ticket from CDG airport to Asnières Sur Seine - can one ticket cover the SNCF train from Gare Saint-Lazare part to Asnières Sur Seine)?
separate tickets to/ from Asnières Sur Seine and Paris city centre?
I understand that a mix of day passes may also work but will be much more expensive.  Thanks in advance!
1

answer
At CDG Airport, you can purchase a single train ticket that will be valid from CDG to Asnières-sur-Seine.  Make sure you purchase a ticket for that exact terminus station: Asnières-sur-Seine, not just "Paris".  Price should be 12,35€ as of July 2022.  The regular "CDG to Paris" RER ticket (priced at 10,30€) is not valid to Asnières-sur-Seine which is Zone 3 if I remember correctly.

So you'll be going from CDG to Chatelet les Halles on RER B train, then transfer (using same ticket) to Metro 12 direction Saint Lazare, exit the Metro at Saint Lazare and walk to Grandes Lignes area (surface trains), find the Translien train area (lines J and L) and enter the fare gates using same ticket.  You'll want the L-train which services Asnières.

Here's an example of a similar Paris region origin-destination train ticket good for CDG airport to Paris Suburb of La Défense (in Zone 3) a couple stops away from Asnières.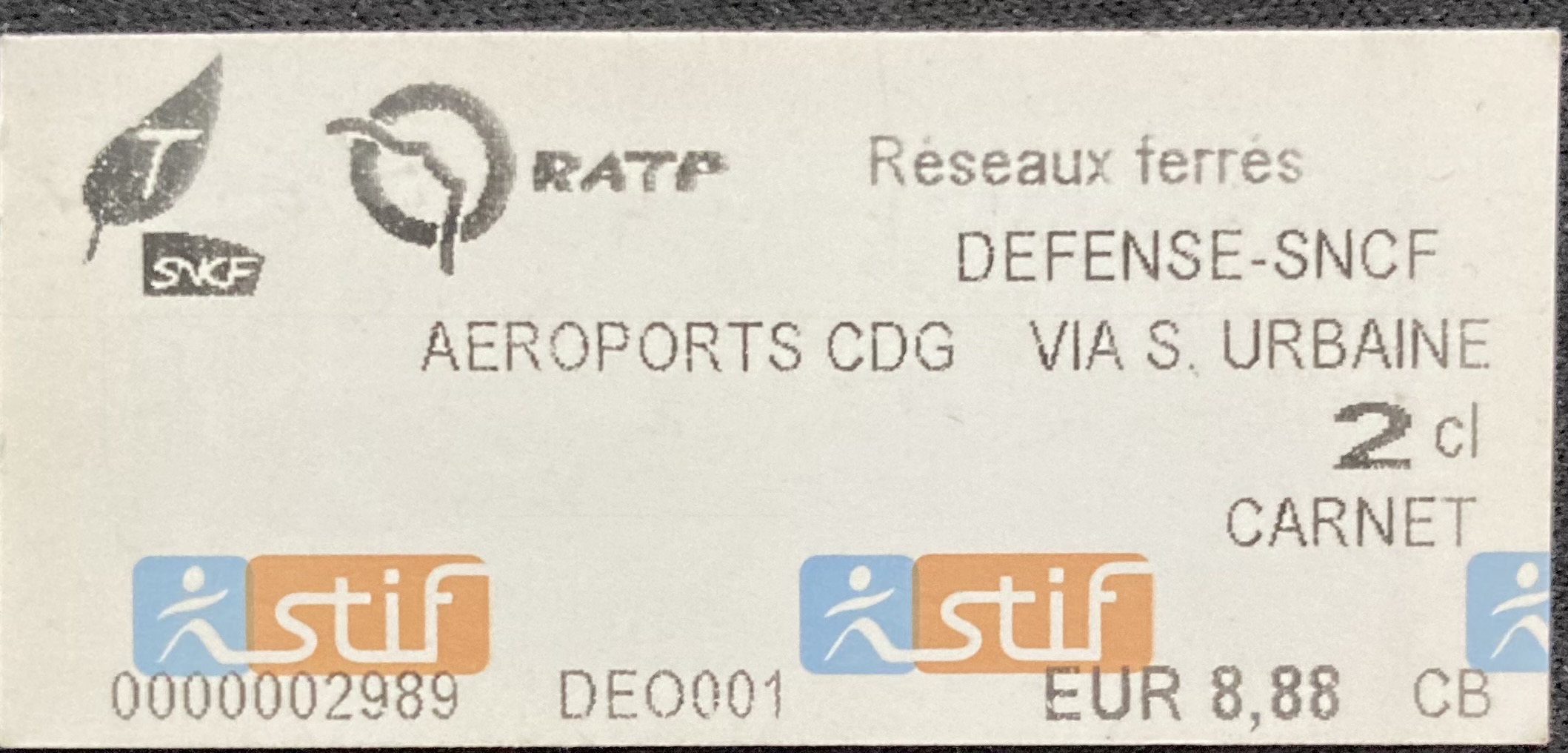 These tickets will show the two train stations the ticket is valid for, in either direction.  The T-leaf symbol is the Transilien brand train logo.  (I'm not sure the newer tickets still print that out or not.)

The "VIA S. URBAINE" means "via section urbaine" meaning this ticket is good for La Défense to CDG Airports including transfers inside Paris on Metro/RER (the "urban section").

(Not sure if you're traveling on Fri/Sat/Sun into Paris as well, but if so...)
If you're needing Fri/Sat/Sunday roundtrip travel between Saint Lazare and Asnières-sur-Seine then I think 6 single-use origin-destination RER tickets for those exact stations will be your simplest option.  (Buy them all in a single transaction upon arrival on Friday & use as needed.)

On your way into Paris using that ticket, you can make transfers to anywhere inside the Paris Metro system or RER in zone 1.  You don't need to end your trip at Saint Lazare, since RER tickets inbound to Paris are good for transfers on Metro (or RER in zone 1).  You just can't exit the fare-required-zone and come back in at a different station using that same ticket.  A transfer must be done at a station within the system.
#1
Please login or Register to Submit Answer