Here I'll show you how to buy TGV tickets online, without fees, with tickets you can print from home, even from USA and Canada.
From the UK or Europe? Voyages SNCF offers TGV tickets without fees with free home delivery of tickets.
If you're from the US, TGV-Europe.com offers online TGV ticket buying without fees or delivery charges, but a few tips (below) are necessary.
Let's start by visiting TGV-Europe.com
Tips
On first visit, you'll be asked your country of residence.
If you're a resident of the US, do not select America here, as you'll be redirected to RailEurope-World.com (and will pay an admin fee and a delivery fee (if you choose mail delivery) for tickets). To avoid this and to continue using TGV-Europe, select Ireland from the map shown upon first visit to tgv-europe.com.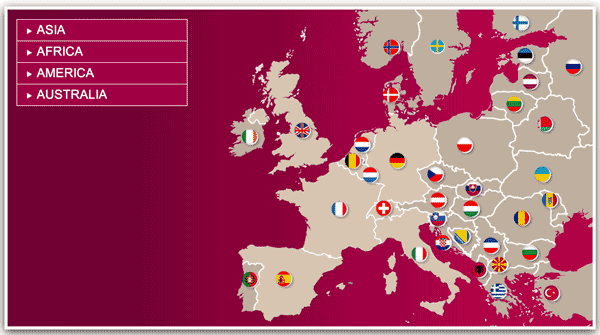 After selecting Ireland, you'll see the tgv-europe.com home page and ticket search form in grey on the right side entitled "BOOK YOUR TRAIN TICKET".  Before searching, at the bottom of the form, change the Ticket Collection Country selection from Ireland to France.  By doing so, once you arrive in Paris you can collect your tickets from any TGV ticket vending machine or TGV / Grandes Lignes ticket window using your purchasing card and print-out of your purchase confirmation.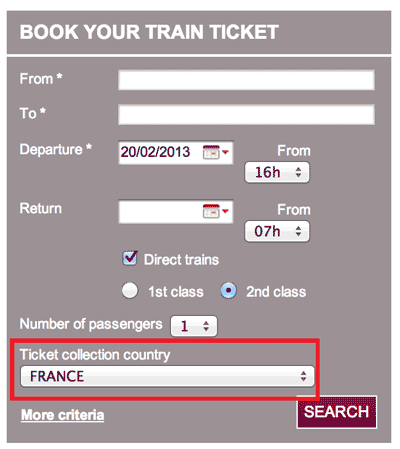 If you're a Canadian resident, Canada is lumped into "America" and RailEurope.ca charges both a (higher hidden) admin fee (roughly $10) and if you choose mail for delivery method, a delivery fee of $18 will be added. Choose Ireland as your country instead.
If your country is not found on this list, choose Ireland to continue in English. You won't be able to receive your tickets in the mail, but you can still collect your tickets upon arrival in France, free of charge, regardless of where you actually live.
After clicking on the Search button, the next screen (shown below) will contain a large amount of information to digest. Here we select which train we want for the outbound leg of the journey.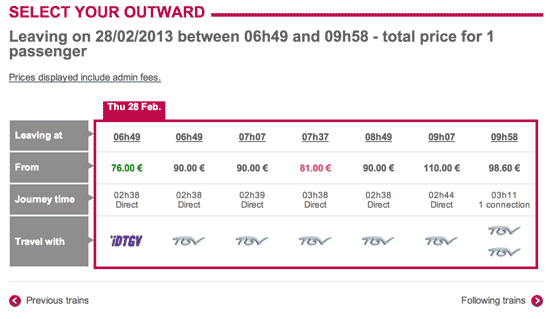 Prices in colours (green, fuchsia, yellow, orange) besides grey are discounted from normal full fares.
At the top, just below "Select your outward" may be a warning: "Attention, you cannot make reservations for certain journeys in this list". This only applies to itineraries that connect with another type of (non-TGV) train or bus to complete the journey. It simply means that one or more parts of the journey are made on trains or buses where the seats are first come first served. For example, some trains will be Ter commuter trains, where the seats are not numbered.
The rest of the page contains details on several trains you can take, each with a different departure time. Here we'll look at one train in particular, which has 3 different ticketing options. Starting at the top of the details for this train you'll see departure time & station (15h13 Paris Gare de Lyon), arrival time & station (17h56 Avignon TGV), type of train and number (TGV 06117), 1st or 2nd class (we see only 2nd class tickets here since that was our search criteria), and journey time (02h43).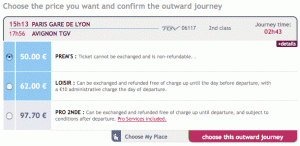 Below that are 3 different ticket choices for this train leaving Paris at 15h13 (3:13pm) and arriving in Avignon at 17h56 (5:56pm). The first and cheapest choice is a PREMs ticket at 50€ which are discounted early bird tickets. PREMs tickets are usually the least expensive, but do not allow changes nor cancellations.
Select a ticket type by clicking on the radio button circles left of the prices. Just after doing this, a new link will appear "Choose My Place", which allows you to select a seat type: Window, Aisle, Upper deck, Lower deck (on double-decker trains), etc. When you're happy with your choices click "choose this outward journey" to continue.
Skip forward to the delivery options or continue reading for detailed explanations on the other ticket options.
Other Ticket Options
Second choice is a LOISIR ("Leisure") ticket, which are changeable and refundable, without fees, up until the day of travel. Changes or cancellations made on day of travel will be subject to a 10€ fee for each traveler on the ticket (it's possible to have multiple people on a single TGV/regular train ticket). You can make ticket changes and cancellations online through a web page specifically for your ticket. The web page address is sent to you with your email confirmation of your ticket purchase, so keep that email handy.
If you've received a paper ticket and wish to cancel it, you can do this online, but you will only be refunded after you've returned your ticket to a ticket office. In France you can do this at any SNCF ticket window, found at any of the major train stations within central Paris (Gare du Nord, Gare de Lyon, etc.). Outside of France, you would return your ticket to the reseller from whom you purchased (for example: RailEurope.com). This is to prevent travelers from retaining the paper ticket and using it after receiving a refund for the purchase.
The last ticket option we see in the above image is a PRO 2NDE ticket which allows you to (without charges or fees):
take the next train if you miss your reserved one, without having to rebook your ticket (with no guarantee of getting a seat)
take the train before your schedule train, in case you're early or ahead of schedule, without having to rebook your ticket (again, without guarantee you'll have a seat on the train)
rebook your ticket for the next scheduled train (to the same destination) up to an hour after your original train leaves, using either automated ticket exchange/vending machines or at a ticket window
If you decide to exchange or cancel your PRO 2NDE ticket more than an hour past the departure time of your reserved train, you'll be charged 50% of the original ticket price for a change or cancellation.
From time to time there may be green colored second class seat tickets upgraded to first class train cars. These seat tickets that are non-refundable and non-exchangeable. These tickets can even be cheaper than the least expensive 2nd class tickets. 1st class seats are larger, have more legroom, and come with more seating configuration choices as shown in the photo below.
Note that some ticket choices have a leg of the journey completed on a bus ("coach") as shown in the picture below. In this example we see that a TGV train from Paris Gare de Lyon makes the first leg to Avignon TGV station, which is then followed by a coach line bus between Avignon's TGV train station and its central train station, Avignon Centre (Avignon has multiple large train stations, just like Paris). Since this itinerary choice uses two different types of transportation (train and bus), each ticket will have two different sets of restrictions. For example, the first choice has PREMS and REGULAR FARE. The PREMS restrictions refers to the TGV train on the first leg and the REGULAR FARE stipulations refer to the bus portion of the journey.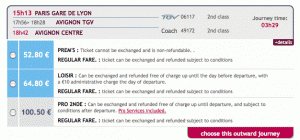 Some train routes are served by SNCF's iDTGV brand of TGV high speed trains which usually offers the cheapest fares with tickets that you print yourself at home. iDTGV tickets can be purchased up to 6 months in advance, as opposed to the maximum of 60 days in advance for second class tickets and 90 days for first class tickets. Seat choices are either in the iDzen zone (quiet part of the train good for sleeping or reading) or the iDzap zone (dvd players/movies available for rent, nightclub like bar area, etc.).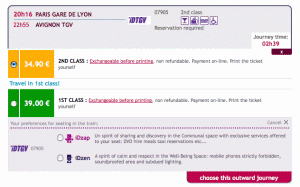 Ticket Choice Confirmation
After choosing a ticket type we're presented with a confirmation page. You'll see the train departure/arrival details along with your seat placement (Coach 7 – Seat 88, Upper deck – Window – Dual side by side).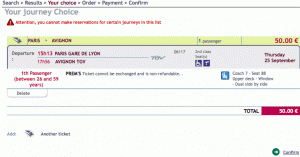 If you wish to change your selection, click "Back" on your browser, select your desired ticket and you'll be returned to this confirmation page, which will now show your new ticket choice and your previously chosen ticket. Remember to delete your previous ticket choice by clicking the "Delete" button (left hand side, just below Passenger information).
When you're happy with your ticket choice, click "Confirm" to continue.
Ticket Collection Delivery Choices
Next we decide how to receive our tickets. The choices depend on the type of ticket you've chosen and the country of residence you chose on the search page. PREMs and iDTGV tickets can be printed yourself, regardless of your country of residence.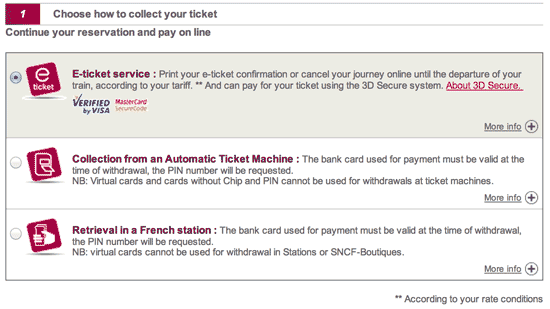 The easiest way to collect your ticket is to print it out yourself at home or office.  That selection is the E-ticket service.
If your country of residence was listed on the search page (and you chose it), you can choose "receive your tickets free by post". If you chose a country other than your actual country of residence (due to it not being on the list, or you're from the US or Canada, wish to avoid delivery fees and you chose Great Britain), you cannot choose to receive your tickets by post (mail), as the delivery country cannot be changed from what you chose on the search page.  If your credit card has a chip and you enter your PIN # when using it, you can choose Collection from an Automatic Ticket Machine.  If your credit card is the swipe and sign type, choose "Retrieval from a French station" (the choice depicts a ticket window attendant). The reason for this: most North American credit cards do not work with the automated ticket retrieval machines.
If you choose Receive your ticket free by post, a new window will appear further down on the page, asking for your mailing address, with the country selected during search automatically specified (and unchangeable).
Ticket Personal Information
Next we specify the name and email address of the ticket purchaser. It's important that you use a name that is shown on your travel documents such as your passport, since the tickets you'll receive will have this name on them. From time to time you may be asked to show identification that matches the name on the ticket. The email address is also important, as a purchase confirmation will be sent to this address. This confirmation will allow you to make changes to the ticket, specify passengers names (for iDTGV tickets), and allow you to print the ticket itself (for PREMs tickets).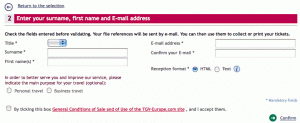 Remember to check the acceptance box for the General Conditions of Sale before clicking "Confirm".
Online Payment
Finally you'll come to the page where you can specify your payment option. Visa, Mastercard and American Express will be the most common choices. Note that if you use American Express, the automated ticket retrieval machines will not work for collecting your tickets. You'll need to visit a ticket window with your confirmation and card.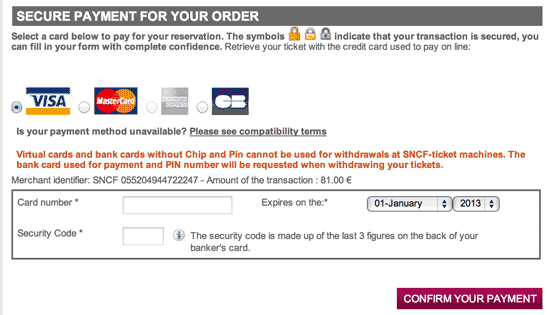 You won't be asked for billing address information here, simply the card number, expiry, and security code. Afterwards, your card will be billed and an email confirmation delivered to your email mailbox.
Ticket Collection
If you've purchased a PREMs or iDTGV ticket, you'll be able to print your own ticket from the TGV-Europe.com website (see more information on printing your own PREMs ticket). The address of your ticket web page will be sent to you via email and is also presented to you at the end of the ticket purchase process. Remember that iDTGV tickets can be changed as long as you have not already printed the tickets, so keep the confirmation email for your tickets handy, but not actually print the tickets, if you're unsure of your travel times. (See details on changing iDTGV tickets here).
If you've chosen to have your tickets sent by post, you'll should receive your tickets within 10 working days from International locations outside of western Europe. Within France ticket delivery takes 2 or 3 days.
If you've chosen to Retrieve your tickets in a French station with the bank card that was used to pay for it, you can do this at any time while you're in France, you do not have to wait till the day of travel. In fact, I recommend you do it as early as possible to avoid any lineup problems you may run into on the day of travel. Keep a print out of your email confirmation which contains the purchase reference code (usually 6 letters) handy when you visit a SNCF ticket window to pickup tickets. This will help the attendant understand what you're after in case there is a language barrier.
If you've chosen to Collect your ticket from an automatic ticket machine with the bank card used for the payment, you'll need to use yellow ticket machines at a train station in France such as those seen in the below photo: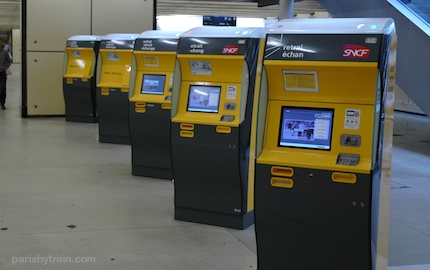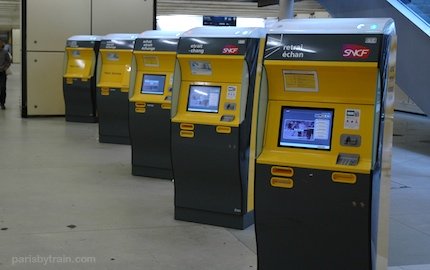 If you have troubles using these machines with your bank card or credit card, simply visit a ticket window with a print out of your confirmation and your card and they should be able to print out your tickets for you.
Conclusion
By purchasing your TGV ticket through TGV-Europe.com, you should be able to avoid delivery fees charged by certain resellers, namely RailEurope.com, RailEurope.ca. The prices of tickets offered by TGV-Europe are no different than those available on Voyages SNCF UK or RailEurope.com.
What Next?
TGV Tickets Without Fees
was last modified:
October 28th, 2019
by