I am traveling as part of a group of 20+ adults. I would like to purchase tickets/passes ahead of time, or figure out the most efficient approach when I arrive in Paris.
We arrive at Gare du Nord (Eurostar) on Sunday, travel within zone 1 the rest of the time, and depart from CDG on Friday.
The Navigo Découverte seems the best approach. The week pass will work for Monday through departure Friday. If Navigo Découverte must be purchased at ticket window instead of machine, can I buy 22 passes at once, or are separate transactions needed? Will we cause a blockade for other travelers as we affix the photo, etc.?
What is the best option for Sunday? In another answer you mentioned a Navigo day pass, but I don't see that online. When I buy the weekly pass, do I buy a daily for the current day at the same time? How much is a daily, zone 1?
And finally, all of these must be purchased when we arrive in Paris, instead of ahead of time? Or is there another way?
Thank you!!!
1

answer
For a group purchase of Navigo passes in Gare du Nord, visit "Le Club" RATP on sublevel 2, near the entrance to Metro lines 4 & 5.  (Follow signs for Metro 4/5 and look for the glass windowed Le Club shop pictured here: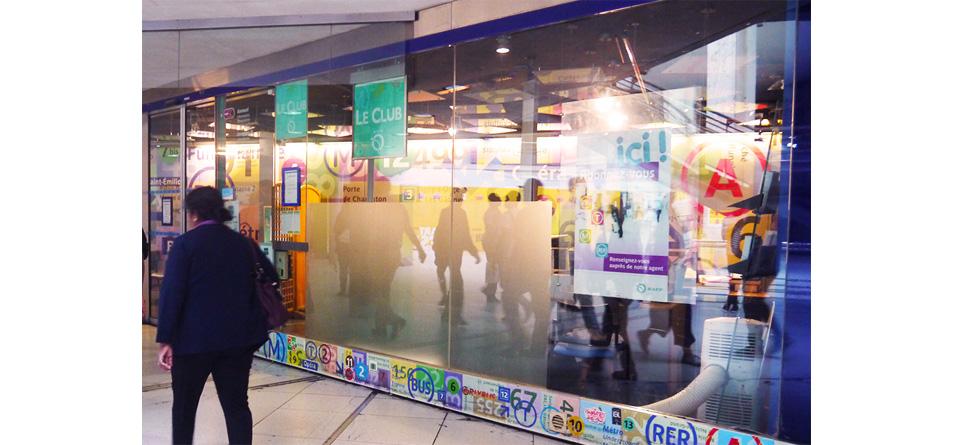 Photo courtesy of SNCF.
Le Club RATP can help you make group purchases of Navigo passes without holding up the normal ticket line.  This Navigo service center / point of purchase is open from Monday through Saturday 7 AM - 6:30 PM, Sunday 8 AM - 6 PM.
#1
Please login or Register to Submit Answer