France TGV Map showing high speed train lines in deep purple and light purple (click to enlarge).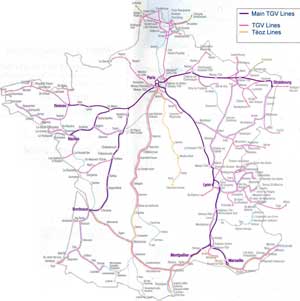 This TGV Map shows the main TGV destinations in France:
Paris
Rennes
Nantes
Bordeaux
Montpellier
Marseille
Lyon
Strasbourg
The principal France TGV routes shown on the TGV map include:
Téoz train lines, in yellow, are regular speed (110 km/h) intercity trains.  TGV train lines in purple (both light and dark), are high speed train lines, known as LGV (lignes à grandes vitesses) on which TGV trains operate at 300-320km/h depending on style of train.  New double decker (duplex) TGV trains travel at 320km/h (199mph) at full speed while the older single level TGV trains operate at 300km/h (186mph).
Many edge destinations such as Nice, Toulon, Montpellier have a portion of the TGV route run at regular speed on non-TGV specific train lines (which are less straight).  These parts of the TGV route are run at non-high speed which is about 110km/h.
What Next?
TGV Map
was last modified:
October 28th, 2019
by