The Pass Navigo Découverte, open to purchase by everyone, is available at weekly and monthly prices from Zones 1-2 to Zones 1-5. (Zone Map in PDF format)
The prices below show weekly prices, based on zones of travel. Most people will want the one of the first four options, which allow travel from central Paris (Zone 1 & 2) to progressively further destinations (Zones 3, 4 and 5). A Navigo pass with Zone 1-5 coverage will include unlimited travel to Orly and CDG airports as well as Paris Disneyland.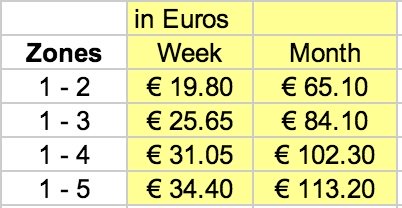 (Prices current as of January 2013)
Find out more about the Pass Navigo

What Next?
Tags: carte orange, navigo paris, navigo pass, Paris Train Pass, pass navigo, pass navigo decouverte, pass prices, passe navigo
Comments are now closed.