Transportation options between central Paris and Orly Airport (ORY) include: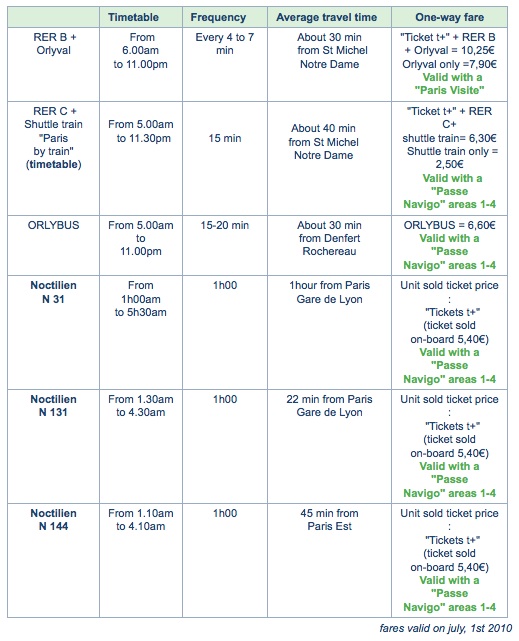 RER B + Orlyval (trains)
Orlybus
RER C + shuttle bus (train + bus)
Bus 183
Bus 285
Bus 292
Noctilien (bus)
RER B + Orlyval
Getting to Orly Airport (ORY) from Paris using the Orlyval train requires that you first get to Antony station along the RER B train line, then transferring to this dedicated rail line to Orly West (Ouest) and Orly South (Sud) terminals.
The RER B train line runs north south, bisecting Paris centrally, connecting both Paris airports Roissy-Charles de Gaulle to the north east and Paris-Orly directly south of the city.
Common starting stations for this trip would include Gare du Nord, Chatelet Les Halles, St-Michel Notre Dame, Luxembourg, and Denfert-Rochereau, all located in central Paris and all very accessible by multiple Metro, RER and bus lines. Note that the RER B line (blue line on maps) stops at all of these stations along its route southbound towards Antony.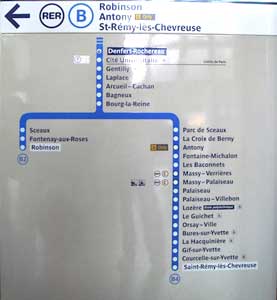 The Orlyval train is ticketed specially requiring an additional fee on top of normal Metro/RER tickets and passes. Purchasing a single one way ticket to Orly airport from any central Paris station will be 10,75€. Travelers with a 5 zone Paris Visite card can use Orlyval without any additional charges. Passe Navigo users with at least 4 zones can use this pass just until Antony station on RER B, then purchase a special ticket for Orlyval at Antony for 8,30€. (Yes, this is expensive for an 8 minute ride between Antony and Orly Sud).
The first train to Orly from Paris via RER B in direction Antony, Robinson, St-Remy-les-Chevreuse (direction for Orly airport), leaves Gare du Nord at 05:20, Chatelet Les Halles at 05:23, Saint-Michel Notre Dame at 05:25, Luxembourg at 05:27, arriving at Antony at 5:48. Just enough time to purchase tickets for Orlyval at Antony station, unless you're using the Paris Visite card.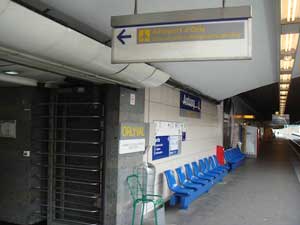 The Orlyval train platform is located at the north end of the Antony station. Thus, when you arrive at Antony via the RER B, walk towards the rear of the train. The Orlyval platform will be on your right hand side near the end of the station. Inside there will be multiple ticket vending machines and a manned ticket kiosk. The first Orlyval train leaves Antony at 06:00, arriving at Orly West at 06:08 and Orly South 2 minutes after that at 06:08.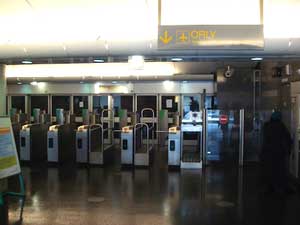 The last trains to Orly from Paris via RER B leave from Gare du Nord at 22:23, Chatelet-Les Halles at 22:26, Saint-Michel-Notre-Dame at 22:28, and Luxembourg at 22:30, arriving at Antony/Orlyval at 22:46. The last Orlyval train leaves Antony at 23:00.
Pros
Fast: approx. 38 minutes from Chatelet Les Halles
Accessible: journey can begin at several very central RER stations: Gare du Nord, Chatelet Les Halles, St-Michel Notre Dame, Luxembourg, Denfert Rochereau
Frequent: Orlyval train departs Antony every 4 to 7 minutes. Trains depart RER Stations every 10 minutes on average.
Cons
Expensive: 10,75€ from any central Paris RER station (9,60€ from Antony station).
Passes not accepted: Navigo Semaine. (Paris Visite carte 6 Zone is accepted).
Here is an official map of Orly Airport (ORY) to help guide your way upon arrival.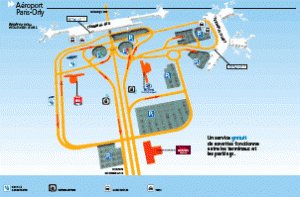 (Map courtesy of ADP)
(More information on bus options coming soon)
What Next?
Transportation between Paris and Orly (ORY) Airport
was last modified:
June 7th, 2008
by