In Paris, a train station is known as a "gare".  The word "station" in French generally refers to Metro stations. Buses and trams have stops or "arrêts".
Gares serve surface level trains traveling in and out of the city of Paris to surrounding suburbs and further out to cities both nationally around France and internationally on either high-speed TGV lines (up to 320km/h or 200mph) or normal speed train lines (roughly 110km/h or 68mph).
There are seven commonly used gares within central Paris: Gare du Nord, Gare de l'Est, Gare de Lyon, Gare d'Austerlitz, Gare Saint-Lazare, Gare Montparnasse, and Gare de Bercy.
Paris Metro stations serve one or more Metro lines and some also serve RER trains while within central Paris (Paris transport zones 1-2).
Metro (ie. subway), RER (Réseau Express Regionale – ie. above/below ground light rail), and Tram: all form part of the light rail system serving central and suburban Paris.
The Metro and RER stations within Paris have both above & below ground stations (although most are below ground).  Trams of which there are three (soon to be four with more in the works) generally have only street level stops along the western (T2), southern (T3) and northern (T1) edges of Paris & suburbs.  The exception being stops near the terminus stations where these trams are often underground or within a building.
One confusing thing about gares in Paris are the multiple types of trains operated by different authorities. Suburban trains run by the Ile-de-France regional authority are Transilien branded trains.  But, they also operate RER branded trains that serve many of those same suburbs, usually making more frequent stops. RER A trains and RER B trains are run by the Paris regional transport authority (RATP).  All other RER trains are run by Transilien.
Intercity trains or "major trains" (ie. grande lignes in French) departing from gares often share the same train platforms with the regional RER and Transilien trains.  The brands of intercity trains include: TGV (France), iDTGV (France), TGV Lyria (Franco-Swiss), Thalys (Belgium/Netherlands/Luxembourg/Germany), Eurostar (London/Paris), ICE (Germany), Intercities (France), Ter (France) and perhaps soon AVE (Spain).
Important note: Within the city of Paris, you can almost always use a 'Paris Metro Ticket t+', but if your destination requires the use of a suburban train, you will have to buy a 'Billet Origine-Destination' ticket, which is a station-to-station priced ticket. This means that a day trip to Versailles from Paris by train will require a 'billet Origine-Destination' (but a day trip to Versailles from Paris via bus can be paid for by 'ticket t+').
Hope this removes some of the mystery of Paris public transportation.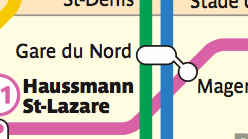 What Next?
Explanation: Train Stations in Paris
was last modified:
October 28th, 2019
by