The RER Disney train is the RER A from central Paris to Disneyland Paris at Marne La Vallée station 40km east of the city centre.
This RER Disneyland Paris city train (RER A) can be taken from popular central Paris stations:
Charles de Gaulle–Etoile (at Arc de Triomphe)
Auber (at Galeries Lafayette & Printemps)
Chatelet Les Halles
Nation
This Paris Metro-RER map shows only central Paris and the five popular RER A stations along the RER Disney line, shown as a thick red line traveling west to east across Paris city centre: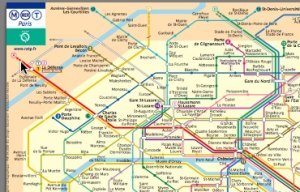 The complete Paris RER Map shows the full RER Disney line from Paris out to Marne La Vallée station, the location of Paris Disneyland: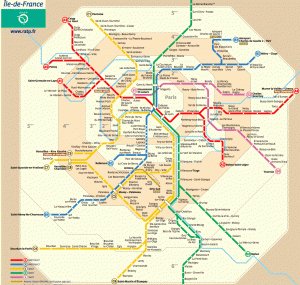 Tickets for the RER Disney train cost 7,50€ one way (as of January 2014).  Tickets for the RER A train can be purchased from any of the above RER stations, from any Metro station within Paris, from both ticket windows and from Metro ticket vending machines and RER/Transilien train ticket vending machines (accepting euro coins or smart-chip credit cards).
For a schedule or timetable for the RER Disney train, refer the RER A timetables in direction Marne La Vallée–Chessy.  Travel time along the RER Disney line from Chatelet Les Halles station to Euro Disney is about 40 minutes.
For more information on taking the RER Disney train to Paris Disneyland, see the Paris RER to Euro Disney article.


What Next?
RER Disney
was last modified:
April 4th, 2018
by