The Disneyland® RER Paris train is better known in Paris as the RER A train (one of five RER trains, A through E).
This RER map shows the Disneyland Paris RER line as the red line traveling from west to east across Paris: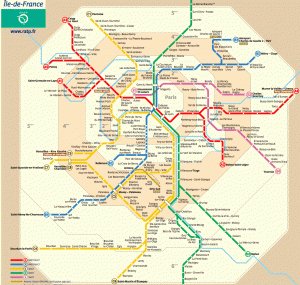 It's important to remember that the RER A line has several branching lines with different terminus stations. The terminus station for the Disneyland RER Paris line is Marne La Vallée–Chessy station located about 40km east of Paris city centre along the A4 branch of the RER A train line.
For information on the Disneyland RER Paris line tickets, timetables, maps and a guide on how to make the trip out to Paris Disneyland see the Paris RER to Disneyland article.
Limited time sale: Disneyland Paris 10-25% off hotel+tickets. Offer on sale until April 28 for arrivals until Nov 12, 2014.
What Next?