Overview
Smart card for week/month pass valid on bus, metro, RER, Ile-de-France (Transilien) trains (Not TGV)
5€ fee for card itself PLUS:
Navigo Week pass price, valid only from Monday at 00:00 to Sunday 23:59:59 (as of January, 2013)
19,80€ for Paris only (Zone 1+2)
34,40€ for Paris out to Airports CDG/ORY (up to Zone 5)

37,60

€

for all zones (up to Zone 6)

They have merged zone 5 with zone 6 reducing the maximum cost to 34,40
On sale up until Wednesday, midnight. Next week's pass, on sale from Friday onwards.
Navigo Month pass price, valid from the first day of the month through till last day of the month (as of July, 2011)
62,00€ for Paris only (Zone 1-2)
109,90€ for Paris, CDG Airport, Versailles, and Orly (via RER C & Orlybus only. Navigo is not valid for Orlyval train from Antony station on RER B train line).  This Navigo price covers Zones 1-5
Monthly Navigo Passes are on sale from the 20th day of the preceding month. For example, if it's January 20, you can purchase and apply February Navigo Monthly pass validity to your Navigo card and it will be good up through to February 28/29 (depending on leap year, oh why did I choose a month that has varying length for an example).
Zone Map (PDF)
Pass Navigo Découverte Prices in Detail
Details
The Paris train, metro, RER, tram and bus system uses a smart card called Passe Navigo Découverte for week passes. These passes are open to visitors (see note) as opposed to normal Navigo passes which are for residents of Ile-de-France only.
The Navigo Découverte pass can be purchased for a 5€ fee on top of the regular week pass prices noted above, which varies from 34,40€ for all give zones to 19,80€ for only zones 1 & 2 which covers only Paris. Five zones includes Paris and surrounding suburbs, airports Roissy-Charles de Gaulle (CDG) and Orly (ORY), Chateau Versailles, Fontainebleau, Parc Disney. The services included are any metro, RER (suburban) train, buses (RATP/Noctilien/Optile), and trams up to the zone limits of your pass.
The Navigo Découverte is sold at nearly any ticket window that normally sells tickets and passes for the Metro, RER, Ile-de-France trains. You'll need a smaller than passport size photo to be used on the pass (exact Navigo Decouverte photo size is 3cm tall by 2.5cm wide), plus a pen to write your name. There's nearly always a photo booth nearby ticket windows at major stations, costing 5€ for a set of four pictures, so be sure to get your photo taken before going to the ticket window where they'll likely have scissors handy for trimming your freshly minted photo on the pass.
The downside of the pass is its timing. The pass validity starts on Monday morning, first service (usually around 05:30) and ends the following Sunday at last service (metro trains usually arrive at their terminus station around 01:40). If you happen to be arriving mid-week, it may not make financial sense to purchase the pass. After Wednesday midnight, you cannot add zones to the pass for the current week. From Friday onwards you can only purchase zones for the following week.
If you plan on arriving Thursday – Sunday, consider buying a carnet of tickets (book of ten or twenty) that are good for Paris zones 1 & 2, or day passes called Ticket Mobilis. Another option is to buy a Paris Visite card, which is really just a more expensive Mobilis ticket that can be used for a set period of days, starting from whenever you first place the ticket into a turnstile machine. The Paris Visite cards are good for 1, 2, 3 or 5 days and for either zones 1 to 3 or all five zones.
Who can buy a Passe Navigo Découverte?
Some travelers to Paris have been getting hassled by RATP staff into buying a Carte Paris Visite by refusing to sell them a Passe Navigo Découverte.  Please don't let this happen to you.  You have the right to purchase a Passe Navigo Découverte as outlined in a publication entitled Guide Navigo, published by STIF in October 2008, the parent organization of RATP (Paris Transit Authority).
Page 9 of this document explains that the Passe Navigo Découverte is open to all travelers.  Here is the excerpt: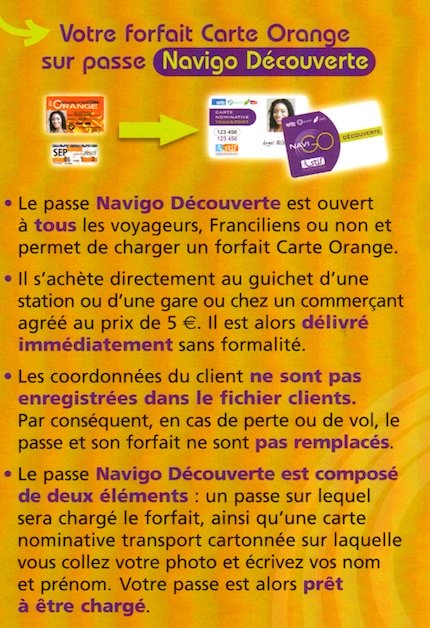 The translation of the first two points is as follows:
The pass Navigo Découverte is open to all travelers, residents of Ile-de-France or not, and are allowed to load onto it a Carte Orange subscription.
It's purchaseable directly from ticket windows from a [Metro/RER] station or a train station or an authorized resellers at a price of 5€.  It is then issued immediately without formality.
If you are concerned about hassles with purchasing a Passe Navigo Découverte when in Paris and don't wish to be forced into buying a more expensive Carte Paris Visite, print out Guide Navigo and bring it with you to Paris.  If a ticket seller tells you the Passe Navigo is only for residents, show the guide to the ticket seller.

What Next?
Tags: carte orange, Navigo Découverte, navigo paris, navigo pass, Paris Bus Pass, Paris Metro Pass, Paris Train Pass, pass navigo, passe navigo
Comments are now closed.